Machine Gun Kelly And Lil Wayne Team Up For New Song 'Ay!'
'mainstream sellout' is available for pre-order now.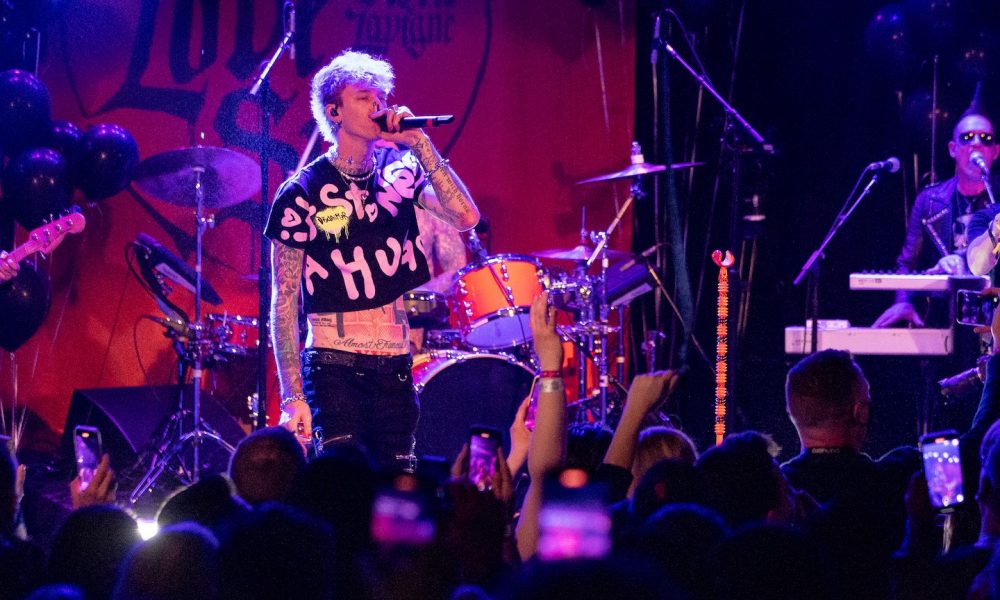 Machine Gun Kelly makes a splashy return to his hip-hop roots with a new song, "ay!," which features rap icon Lil Wayne.
The all-star collaboration previews MGK's highly anticipated sixth studio album, mainstream sellout (Bad Boy/Interscope Records), set for release on March 25, and comes as a free instant-gratification track for those who pre-order the project. Today's new song release also aligns with the reveal of mainstream sellout's cover artwork and its physical configurations.
Machine Gun Kelly & Lil Wayne - ay! (Official Music Video)
"ay!" also comes with an official music video, a visually captivating clip with MGK and his backing crew cycling through a parade amount of costume changes that compliments his natural flair and rockstar lifestyle.
"ay!" had already received massive buzz ahead of its release after MGK performed a tease snippet of the song on his Feb. 24 appearance on CBS' The Late Late Show With James Corden. In his set, he linked "ay!" in a medley with "maybe" and his current radio single, "emo girl," a collab with WILLOW. The latter is continuing its scorching start, with over 30 million streams and racing into the top 25 of alternative radio.
Just two days ago, MGK released a new EP, lockdown sessions. The project bundles three viral hit tracks that showcase the versatility behind one of the era's most impactful crossover hitmakers.
The three-pack includes "roll the windows up," a fan-favorite track previously known as "smoke and drive." The update comes with more than a name change, though. MGK tacked on a new verse and shot a music video for the song, featuring the superstar and his drummer, Rook, smoking in a car in a no-frills, straightforward clip that captures the homegrown essence of a project strictly for the fans.
In other MGK news, he's set to be a playable character in a downloadable content pack as part of the WWE 2K22 video game.
"So now you can slam me through a table as much as you want," MGK joked on Twitter. MGK is also serving as Executive Soundtrack Producer, and has picked out a 12-song tracklist featuring Bring Me The Horizon, Poppy, KennyHoopla, Turnstile, Royal Blood, and more.