Machine Gun Kelly Teams Up With WILLOW For 'Emo Girl'
The track, originally titled 'Emo Prom,' will appear on MGK's upcoming album 'Mainstream Sellout.'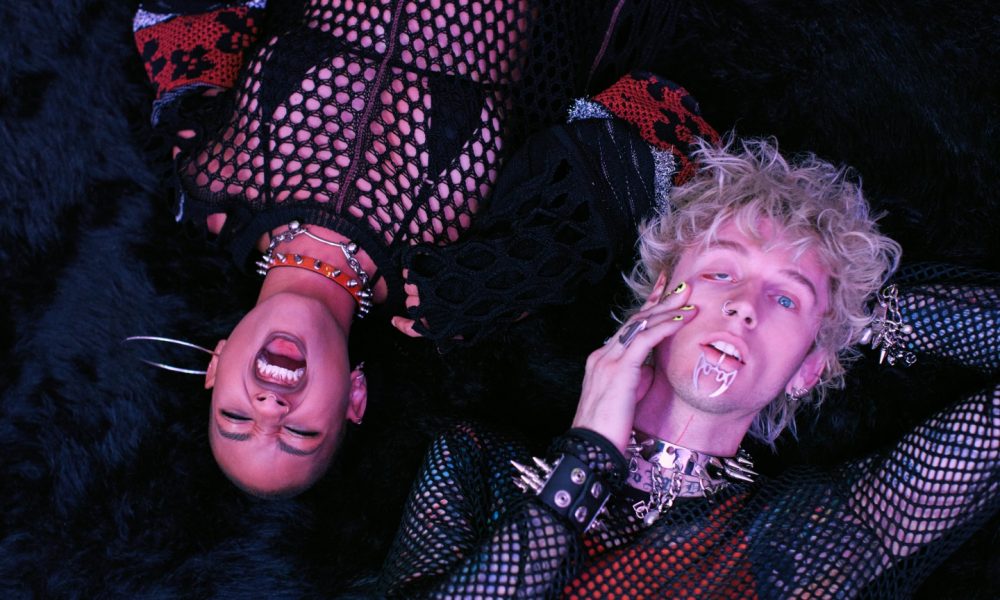 Machine Gun Kelly and WILLOW have teamed up for their first collaboration, the Travis Barker-produced rocker in love track "emo girl." The song, which opens with an intro from Machine Gun Kelly and fiancée Megan Fox, will appear on his forthcoming studio album Mainstream Sellout, executive produced by Barker and out March 25.
The verses of "emo girl" build themselves around detailed descriptions of a dream girl decked out in thigh-high fishnets and black boots, completing the look with a nose piercing and cherry-red lipstick.
Machine Gun Kelly - emo girl feat. WILLOW (Official Visualizer)
In an interview with Rolling Stone, Barker revealed that WILLOW had initially been approached for the collaboration, which was originally titled "Emo Prom," with a pre-written verse. Wanting to maintain the artistic stride she hit on her own pop punk record Lately, I Feel Everything, the singer re-wrote the verse to fit her own vision.
Rounding out her solo, she sings: "Choke-choke-choker on her neck / Kiss me, holy f–k I'm bleeding on your Blink tee / So, so, so, many regrets you tell me / You're depressed baby girl that makes two of us."
"On 'Emo Prom,' you shine," Barker told WILLOW for Rolling Stone's Musicians on Musicians. "Obviously you remember, but when we first sent it to you we were like, 'Yeah, we even have a verse written.' And your verse was insane compared to ours. It's high-risk, high-reward with what you're doing — or even what we're doing."
WILLOW added: "I'm just so grateful for people like you. Even you calling me and saying, 'Hey, I really think you would sound great on this MGK record.' Honestly, to be a Black woman and be able to come on that song and write my verse with my outlook on life — just being able to be authentically me on that song — those are the kinds of things that are going to make more people feel seen. That's the most beautiful part of music."
Machine Gun Kelly has now shared four singles from Mainstream Sellout, adding WILLOW to the project's pool of featured guests alongside CORPSE ("DAYWALKER!") and Sleeping with Sirens frontman Kellin Quinn ("love race").