Swae Lee, Tierra Whack, Moneybagg Yo, And More Join Forces For 'Madden NFL 22' Soundtrack Video
The video also features BRS Kash, Morray, and more.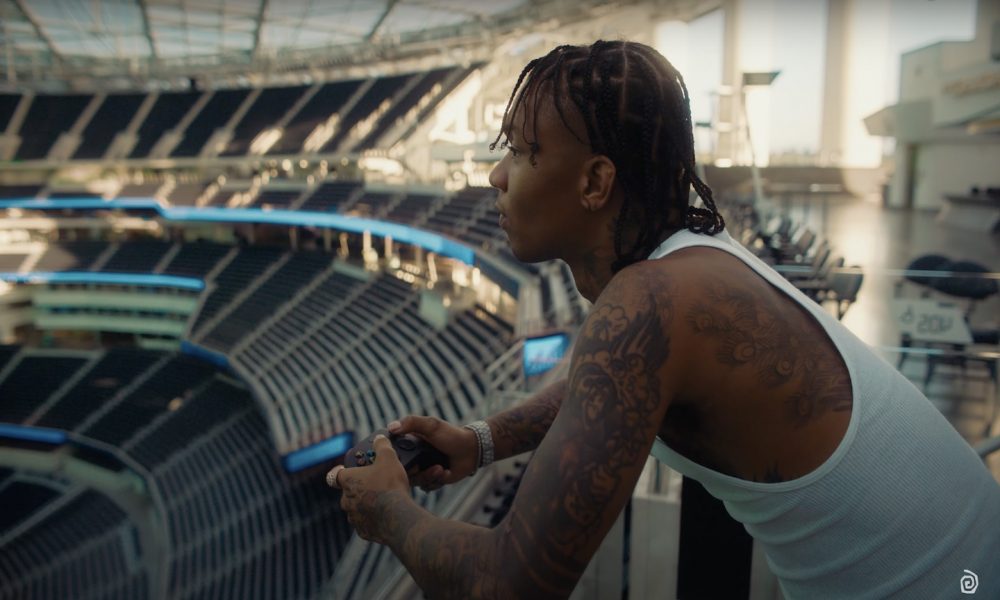 To commemorate the Madden NFL 22 soundtrack, featured stars have teamed up for a music video mashup that takes fans on a tour across the album—and the country.
The visual opens with Atlanta rapper BRS Kash performing his song "Oh No" in Atlanta's Mercedes Benz Stadium and then follows the various featured artists as they welcome us into their respective hometown arenas. The scale and production make for a truly cinematic experience, echoing the towering achievement of the soundtrack. The record was already historic—its release marked the first ever official album from EA SPORTS Madden NFL via Interscope Records—but the vibrant video adds even more to the moment.
Madden 22 Soundtrack (Official Music Video) | Swae Lee, MoneyBagg Yo, JID
This music video takes on the feel a short film, with intricate set designs and staging for every location. It's packed with memorable moments like Tierra Whack posted up in a suit with Philadelphia Eagles' mascot Swoop. Moneybagg Yo also channels the lo-fi legacy of Memphis rap, capturing the Titans' stadium in fuzzy VHS warmth.
Morray croons from the halls of Chapel Hill's Kenan Memorial Stadium. Swae Lee wields a game controller as he looks down at the SoFi gridiron in L.A. Every killer guest—including Sally Sossa, 42 Dugg, YSB Tril, and J.I.D—make their mark, causing the video to feel like a motion-picture cypher. It's a testament to the strength of the soundtrack, and to the outsized reputation Madden has in hip-hop.
This video follows quickly on the heels of the stellar Madden NFL 22 soundtrack, which features 11 exclusive songs by the aforementioned rappers and more.
"I've had a long relationship with EA Sports and I'm excited to release my new song, 'Ball is Life, ' with Jack Harlow on The Madden NFL 22 Soundtrack," said rap superstar Swae Lee.
"Over the past decades, Madden NFL has become a platform for fans to discover new music, launching new stars and establishing trends that have changed the way players play the game and how they experience NFL football itself," said Steve Schnur, President of EA Music. "Working with Interscope, one of the most forward-thinking, risk-taking labels in the industry, we've created a cohesive, innovative soundtrack that connects gaming, football and music culture for the next generation."