Megadeth Confirmed For 2023 Blue Ridge Rock Festival
This year's event is set to take place from September 7-10, 2023 in Alton, Virginia.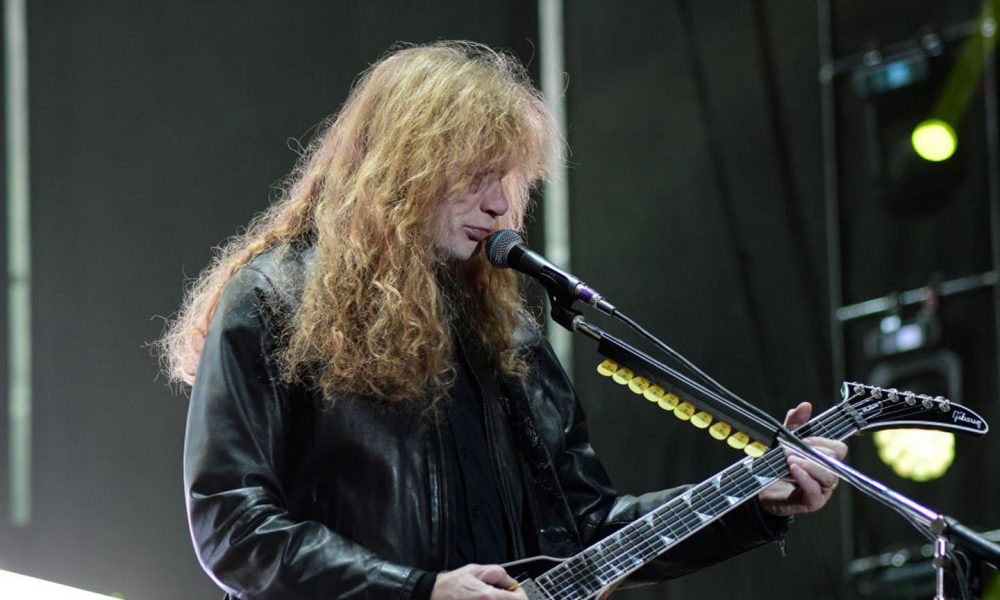 Megadeth have been confirmed for this year's edition of the Blue Ridge Rock Festival, set to take place September 7-10, 2023 in Alton, Virginia. For further information about the event, visit the event's official website.
Dave Mustaine's band are continuing to tour in support of their latest studio album, The Sick, The Dying… And The Dead!, which debuted at the top of the charts during its first week of sales, taking the No. 3 spot on the Billboard 200 as well as number ones on Top Album Sales, Top Current Albums Sales, Top Rock & Alternative Albums, Top Rock Albums and Top Hard Rock Albums. The Sick, The Dying… And The Dead! is the highest-charting Megadeth album of all time around the world, notching No. 1 In Finland, No. 2 in Australia, Poland, Switzerland, and Scotland, No. 3 in the UK and more.
Shop the best of Megadeth's discography on vinyl and more.
Megadeth recently received their thirteenth Grammy nomination for 'Best Metal Performance' for the song "We'll Be Back" from The Sick, The Dying… And The Dead!
The legendary metal act won the 2017 Grammy Award for 'Best Metal Performance' for the title track of the band's 2016 album Dystopia.
This marked the group's twelfth Grammy nomination in this category (including nominations in the discontinued "Best Hard Rock/Metal Performance" category).
Bands confirmed for the 2023 Blue Ridge Rock Festival to date include:
10 YEARS
ADEMA
AFTER THE BURIAL
ALPHA WOLF
ATREYU
ATTILA (performing "About That Life")
AVATAR
BEARTOOTH
BODYSNATCHER
BORN OF OSIRIS
BURY TOMORROW
CKY
COAL CHAMBER
COLD ("Year Of The Spider" 20th-anniversary show)
CROWN THE EMPIRE
DAYSEEKER
DOPE
DROPOUT KINGS
DROWNING POOL
ESCAPE THE FATE
FINGER ELEVEN
FIT FOR AN AUTOPSY
FLYLEAF (feat. Lacey Sturm)
GEMINI SYNDROME
HEARTSICK
JINJER
KUBLAI KHAN TX
LANDMVRKS
LIKE MOTHS TO FLAMES
MEGADETH
MOTIONLESS IN WHITE
NO RESOLVE
NONPOINT
PANTERA
PARKWAY DRIVE
PATIENT SIXTY-SEVEN
SCOTT STAPP
SENSES FAIL
SPIRITBOX
STABBING WESTWARD
STATIC-X
TANTRIC
TAPROOT (reunion show)
TECH N9NE
THE AMITY AFFLICTION
THE GHOST INSIDE
TRUSTCOMPANY
UPON A BURNING BODY
VINCE NEIL
VV
WOE, IS ME (original lineup reunion)
Listen to the best of Megadeth on Apple Music and Spotify.