Migos Bring Their Electric Energy To 'NPR's Tiny Desk (Home)' Series
The group performed three songs from 'Culture III.'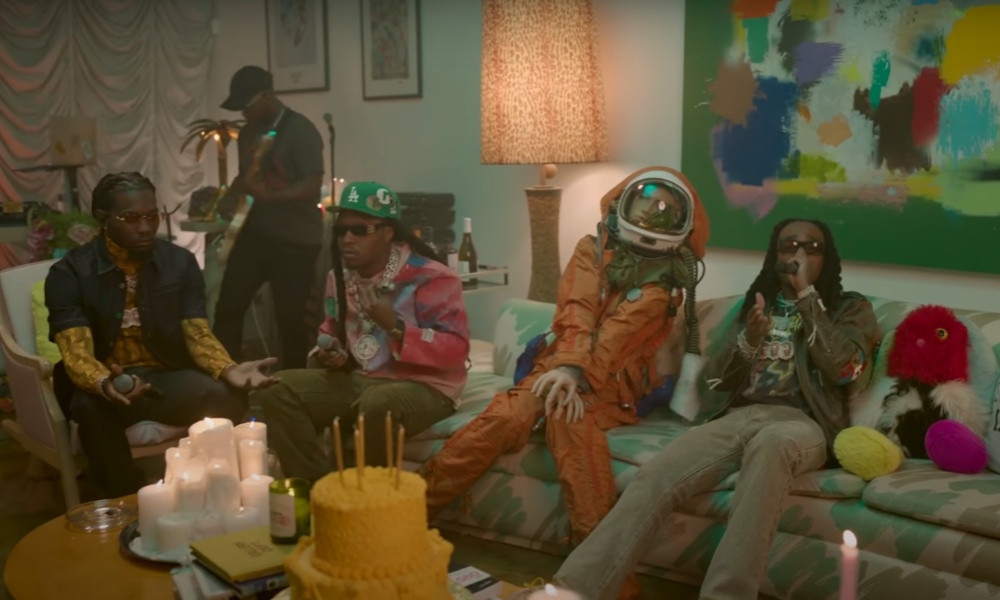 Migos brought their electric energy to NPR's Tiny Desk (At Home) series, performing hits from their beloved catalog. The trio performed in a living room with a number of lit candles and a mannequin of a female astronaut situated between them. It was a classic performance from one of the most creative trios in rap.
Says LaTesha Harris of NPR regarding the video: "Their performance showcases why we first fell in love with the Atlanta trap trio: charismatic synchronization, playful braggadocio and, of course, their exhilarating resurrection of the triplet flow. In 2013, Migos released the breakout single 'Versace' before grinding their way up to 2015's Yung Rich Nation.
In 2017, Migos firmly pulled everyone and their mama into their orbit; Culture, especially its inescapable lead single, 'Bad and Boujee' laid the foundation for contemporary rap's reckoning. Culture II dropped a year later, and the trilogy concluded with Culture III, released this past June. Legendary producer collective 1500 or Nothin' bring the best part of the new album to life in this long-waited Tiny Desk, as Larrance 'Rance' Dopson, Lamar 'My Guy Mars' Edwards, Quintin 'Q' Gulledge, and Chris Payton — as well as Migos mainstay DJ Durel — deliver chest-thudding support."
Migos: Tiny Desk (Home) Concert
Back in July, Migos announced the lineup for their first-ever four-day Las Vegas getaway Culture III, October 14-17. Partnering with experience curator Pollen Presents, Migos is celebrating the third installment of their acclaimed Culture series with a packed itinerary of events including pool parties and club takeovers at Drai's Beachclub & Nightclub and Area 15.
Migos has hand-picked some of the industry's biggest heavy-weights to join them in Vegas for a packed schedule of exciting concerts. Guests include fellow ATL rapper and singer Gunna, acclaimed vocalist and online personality Lil Yachty, "Bad and Boujee" video star and rising hip-hop star Rubi Rose, chart-topping hitmaker Kash Doll, and rising Memphis rapper Duke Deuce who has become well-known for his crunk heavy sound.
Listen to the best of Migos on Apple Music and Spotify.