Latin Jazz Great Mongo Santamaría's 'Sofrito' For Remastered Vinyl Edition
The 1976 album is described as a 'soulful, kaleidoscopic Latin jazz session.'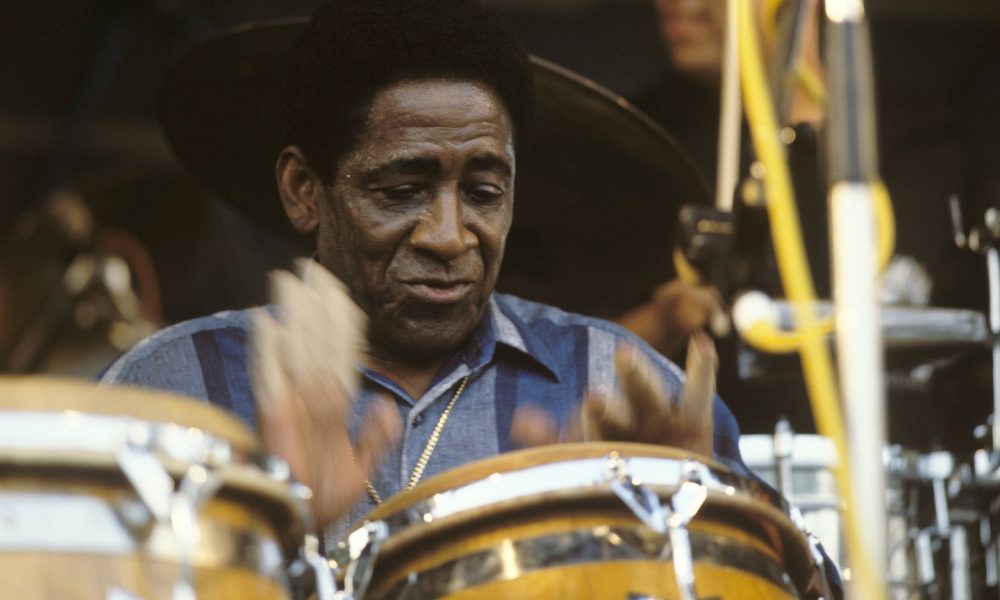 Sofrito, the 1976 album by Latin jazz great Mongo Santamaría, is to be reissued in a remastered vinyl edition on May 13 by Craft Latino, the Latin repertoire arm of Craft Recordings.
This highlight of the Cuban percussionist and bandleader's distinguished discography has had lacquers cut by Kevin Gray at Cohearent Audio, and i's pressed on 180 gram audiophile quality vinyl. A special bundle offer including a limited edition Sofrito T-shirt is available exclusively at the Fania store. A 180 gram Salsa Roja Red Vinyl exclusive variant will be released by Vinyl Me, Please.
Publicity for Sofrito describes it as a "soulful, kaleidoscopic Latin jazz session…at a time when most Afro-Caribbean giants were flirting a little too closely with disco and easy listening, the Cuban percussionist's cosmopolitan vision struck an enviable balance between the stylistic exploration of the era and a sobering commitment to the essence of Latin jazz roots…Sofrito grooves like few other records, and stands today as a paradigm of tasty 70s fusion."
The album arrived well over 20 years into Santamaría's celebrated career as both a bandleader and as a cherished collaborator with such artists as Tito Puente, the Fania All-Stars, Dizzy Gillespie, and Cal Tjader. He is often best known for his version of Herbie Hancock's "Watermelon Man," which climbed to No.10 on the Billboard Hot 100 in 1962. That recording was inducted into the Grammy Hall of Fame in 1998.
Sofrito had echoes of releases by Puente, Chick Corea's Return to Forever, and Gato Barbieri, and showed Santamaría's generosity in providing space for his band members to shine. They included keyboardist Armen Donelian and bassist William Allen, as well as producer Marty Sheller.
Santamaría continued to record, both in his own name and with other artists, until the late 1990s, before passing away in 2003 at the age of 85. This first vinyl reissue of Sofrito will bring his name to even more admirers of his huge contribution to the history of Latin jazz.
Pre-order the vinyl reissue of Sofrito, which is released on May 13.