Neil Diamond Presents Multi-Format 'Hot August Night III'
The great American singer-songwriter's 2012 return visit to the Greek Theatre in Los Angeles is captured on new multi-disc set.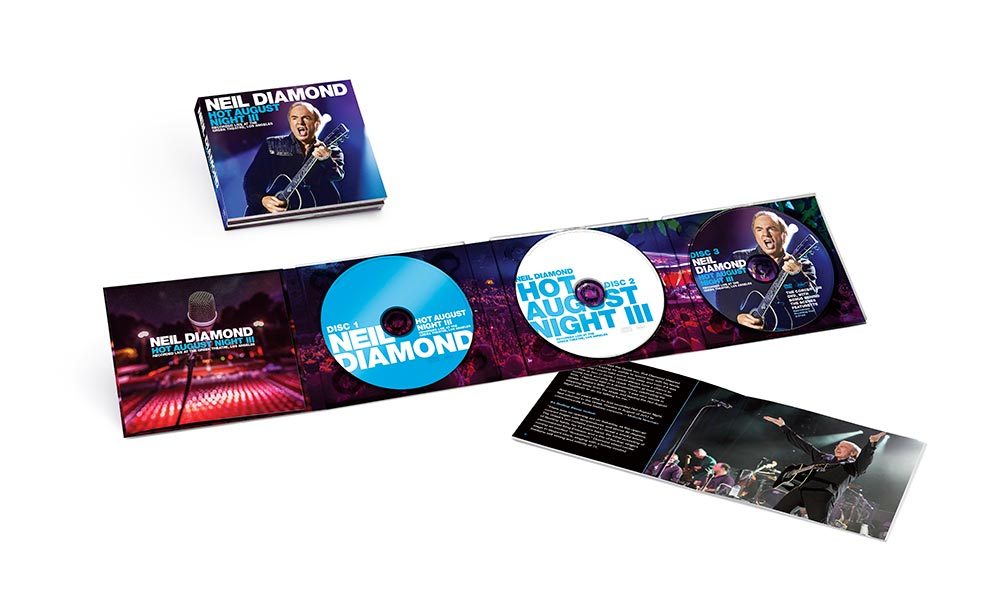 The triumphant return by Neil Diamond to the Greek Theatre in Los Angeles in August 2012 will be marked by Capitol/UMe's 17 August release of the live concert DVD/CD Blu-Ray multi-disc set Hot August Night III. The show marked Diamond's 40th anniversary celebration of the original multi-platinum-Hot August Night album, recorded in the same location in 1972.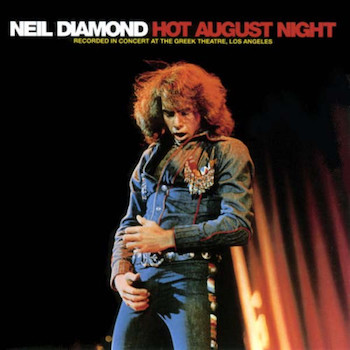 The new release will feature 33 songs, 31 of which number among the greatest hits of the storied American entertainer. Hot August Night III runs over two hours and 20 minutes and will be available in multiple audio/video configurations, including 2CD, 2CD + 1DVD and 2CD +1 Blu-ray editions, as well as digital and download iterations. The video content in the multi-disc set features behind-the scenes footage with both the band and the crew.
"His voice remains powerful and accurate," wrote Billboard of Diamond's 2012 show. "He reaches towards the baritone register for emphasis, just as he did in the '70s…he never falters in delivering every line with conviction." The album features such career songs as 'Sweet Caroline,' 'Cracklin' Rosie,' 'I Am…I Said,' 'Forever In Blue Jeans' and 'You Don't Bring Me Flowers.'
Diamond has worldwide album sales estimated at 130 million, with 38 top 40 US hits and 16 top top ten albums. The original Hot August Night was a landmark release in his progression to becoming one of the premium songwriters and performers of the past 50 years. It entered the US charts in December 1972 and reached No. 5 during an epic 78-week chart stay. Hot August Night II was released in 1987 and became another of Diamond's platinum-selling albums.
Pre-order Hot August Night III here.
The track listing for the album is as follows:
Disc 1: 
1. Overture
2. Soolaimon
3. Beautiful Noise
4. Forever in Blue Jeans
5. Love On The Rocks
6. Hello Again
7. September Morn
8. Play Me
9. Shilo
10. Red, Red Wine
11. You Got To Me
12. Girl, You'll Be A Woman Soon
13. Thank The Lord For The Night Time
14. Cherry, Cherry
15. Kentucky Woman
16. Solitary Man
17. Glory Road
18. Chelsea Morning
19. I'm A Believer
20. Happy Birthday Rose
21. Cracklin' Rosie
Disc 2:
1. And The Grass Won't Pay No Mind
2. Pretty Amazing Grace
3. We
4. Stones
5. You Don't Bring Me Flowers
6. Holly Holy
7. Morningside
8. Crunchy Granola Suite
9. Sweet Caroline
10. Sweet Caroline – Reprise
11. I Am…I Said
12. Walk Off
13. America
14. Brother Love's Travelling Salvation Show
15. I've Been This Way Before
16. Walk Off
17. Band Bows
18. Audience Exit
Explore our Neil Diamond Artist Page.
Format:
UK English