Landmark Musical 'Oklahoma' Celebrates 75th Anniversary With Deluxe Reissue
Thanks to the timeless songs of Richard Rodgers and Oscar Hammerstein II, Oklahoma! ushered in a golden era of American musicals.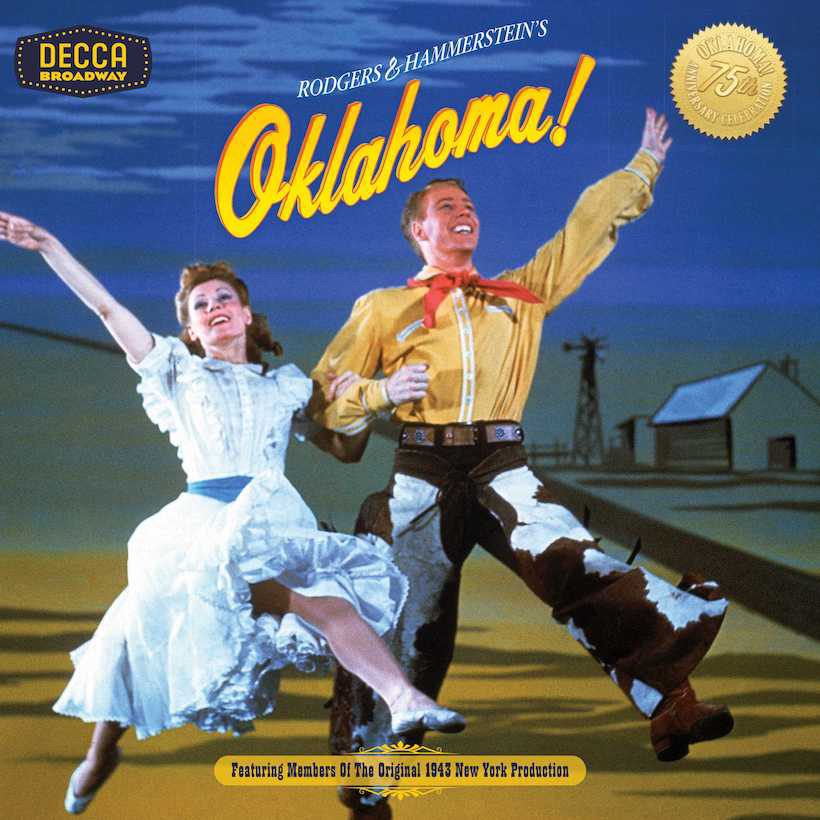 Oh what a beautiful mornin' it is for musical fans thanks to the original Broadway cast recording of Oklahoma! receiving a deluxe reissue to celebrate its 75th anniversary on 25 May via Verve Records/UMe.
Thanks to the timeless songs of Richard Rodgers and Oscar Hammerstein II, Oklahoma! ushered in a golden era of American musicals and marked the first time a show's cast and orchestra came together in a recording studio. The initial 1943 release was a smash success and became the first "Broadway cast album".
Now the original 1943 album has been remastered and upgraded with three additional tracks that were included on a second volume in 1945 for a complete 19-track collection available on CD and digitally.
The three songs – 'It's A Scandal! It's A Outrage!', 'Lonely Room' and 'The Farmer And The Cowman' – were originally dropped when Decca released the soundtrack as a 12" and are now included on the deluxe anniversary reissue. It also boasts four alternate track versions and new expansive liner notes by Ted Chapin, President of the Rodgers And Hammerstein Organization.
Alfred Drake Sings "Oh What a Beautiful Mornin'" Rare video clip
"Oklahoma! ended up being the right show, in the right hands, at the right time," writes Chapin. "The impact it had on the art form was monumental, even if its innovations strike us today as the norm. If it hadn't been for this show, it's hard to speculate what other musical would have pushed the dramatic possibilities of the American musical so far."
Following on the heels of the film soundtrack reissue, the original cast recording will also be released on vinyl for the first time in almost four decades and feature the original show sequence.
The original Broadway production of Oklahoma! was not only an unprecedented success, but proved to the rest of the world that American theatre was a force to be reckoned with. It ran for five years on Broadway and spawned countless revivals, touring companies and an Academy-award winning film.
Featuring iconic stage talent such as Alfred Drake "the greatest singing actor the American musical theatre has ever produced" as the charismatic Curly, stage turned film actor Howard Da Silva, Joan Roberts and Celeste Holm, coupled with the iconic music and lyrics of Rodgers and Hammerstein, Oklahoma! remains one of the most beloved musicals of all time.
Oklahoma! is out on 25 May and available to pre-order here. Scroll down for the full tracklisting.
Oklahoma! CD tracklisting:
1. Overture
2. Oh, What A Beautiful Mornin'
3. The Surrey With The Fringe On Top
4. Kansas City
5. I Cain't Say No
6. Many A New Day
7. It's A Scandal! It's A Outrage!
8. People Will Say We're In Love
9. Pore Jud Is Daid
10. Lonely Room
11. Out Of My Dreams
12. The Farmer And The Cowman
13. All Er Nuthin'
14. Oklahoma!
15. Finale
Bonus Tracks
16. The Surrey With The Fringe On Top (alt.)
17. I Cain't Say No (alt.)
18. Pore Jud Is Daid (alt.)
19. Finale (alt.)
Oklahoma! vinyl tracklisting
Side One
1. Oh, What A Beautiful Mornin'
2. The Surrey With The Fringe On Top
3. Kansas City
4. I Cain't Say No
5. Many A New Day
6. It's A Scandal! It's A Outrage!
7. People Will Say We're In Love
Side Two
1. Pore Jud Is Daid
2. Lonely Room
3. Out Of My Dreams
4. The Farmer And The Cowman
5. All Er Nuthin'
6. Oklahoma!
7. Finale
Format:
UK English