See Olivia And Dhani Harrison In 'Gnome' Mini-Doc For 'All Things Must Pass'
The Harrisons discuss what went into the making of the living art installation in London's Duke of York Square.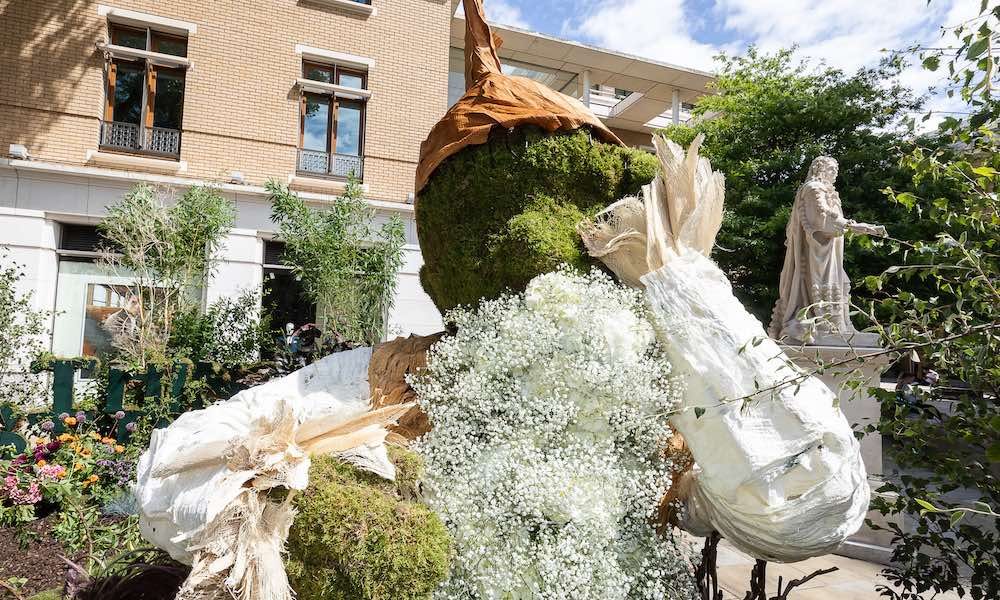 As the 50th anniversary deluxe editions of George Harrison's All Things Must Pass add spectacular worldwide chart success to overwhelming media reviews, a new mini-documentary shows the creation of the gnome installation that recreates the album's cover.
The clip, released today (17), features Olivia and Dhani Harrison talking about the famous All Things Must Pass artwork, featuring George sitting among garden gnomes in his Friar Park home. They and floral artist Ruth Davis also discuss what went into the making of the living art installation in London's Duke of York Square, which features gigantic versions of two gnomes created from flowers and foliage. The installation, designed by Davis, of All For Love London, and her team, is on public display in Duke of York Square until this Friday, August 20.
George Harrison All Things Must Pass 50th Anniversary Gnome Garden, London, UK
As reported, the 50th anniversary reissue of the album, released on August 6 via Capitol/UMe, gave it a No. 7 entry to the Billboard 200. Additionally, it arrived at No.1 on Billboard's Top Rock Albums, Catalog Albums, and Tastemaker Albums charts and No.2 on Top Albums Sales and Vinyl Albums.
The new editions of the album also lead to a No.6 debut in the UK, No.2 in Germany, No.3 in both Belgium and Switzerland, and No.5 in the Netherlands. Bruce Resnikoff, president & CEO of UMe, says: "UMe is honored to be entrusted by the Harrison Estate with celebrating such an important and influential album."
Rolling Stone's review of the remastered and expanded classic noted: "People used to argue whether this triple album should have been edited down to one or two records – but this edition makes you believe it should have been a quadruple album."
Salon added: "Remixed by Grammy Award-winning engineer Paul Hicks, the deluxe edition of All Things Must Pass is chock-full of musical revelations. In Hicks' hands, the original album shimmers into life with the wider sonic palette made possible by technologies that would have been unimaginable five decades earlier."
Buy or stream the 50th anniversary editions of All Things Must Pass.