'We Were Coming Out Of A Coma': Paul Stanley Revisits KISS's 'Creatures Of The Night'
'We felt fortified. We felt we had a purpose and a crusade to win back fans, stomp our eight-inch heels, and declare who we are and what we are.'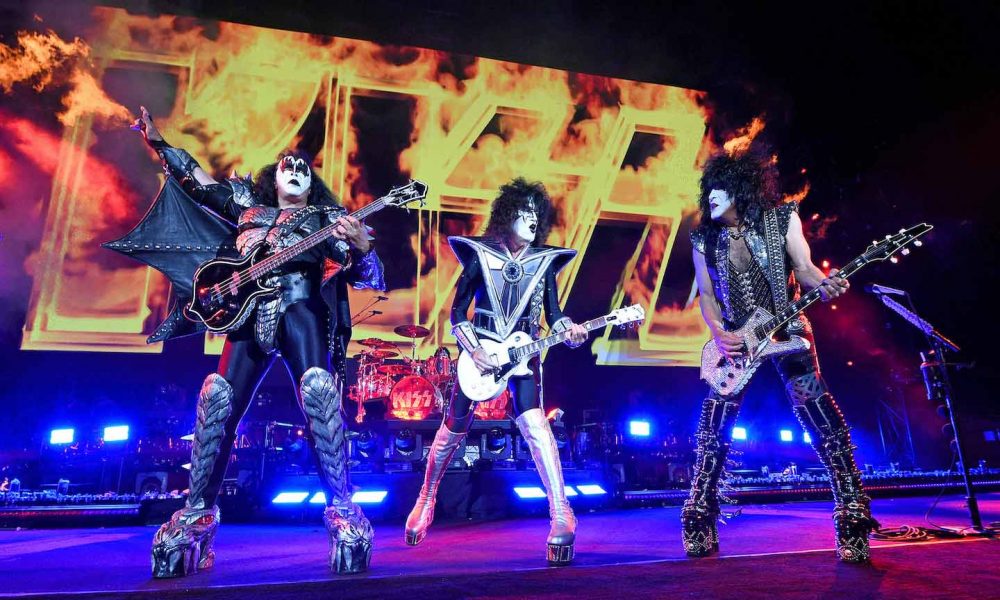 In the early 80s, KISS was all over the musical map. On Unmasked, they were practically a power-pop band, while their '81 follow-up, Music from The Elder, was an epic art-rock saga. And they ended the previous decade by scoring one of their biggest hits with the rock-disco throb of "I Was Made for Lovin' You." But in 1982, Creatures of the Night brought them back to the hard-rocking basics that forged their legend.
For its 40th anniversary, they've unleashed a Super Deluxe Edition overflowing with outtakes, alternate mixes and takes, demos, concert recordings from the Creatures tour, and a plethora of memorabilia bound to make KISS Army veterans swoon.
We sat down with Paul Stanley to discuss where his band was at circa Creatures Of the Night and what the anniversary version has in store for KISS obsessives.
How would you describe the place the band was at during the creation of Creatures of the Night?
We were coming out of a coma. I think we suddenly realized how much we had veered away from what the band started as and what we believed in. We had really become complacent and more concerned with enjoying some vapid rewards of success than making great music and staying true to our roots. We were stumbling around, and suddenly, I think we just found ourselves going, "What the hell are we doing here? And look what we're on the verge of losing."
We had forsaken our fans, and we had, in a sense, betrayed the people who made us what we were. That's a shock to wake up from. I think we had to go, "Hey, we f__ed up. We got lost." We had this great [new] drummer, Eric Carr, and we thought, "For God's sake, let's make an album that's rooted in the music we love and really make a declaration of rebirth."
Eric was still new at the time, and now there was a new guitarist, Vinnie Vincent. How did they affect the sound of the band?
Clearly, Eric was a drummer in the tradition of a lot of British rock drummers, much more so than any American counterparts. It gave us the opportunity to tap into the roots of what inspired us. He was disheartened by what we had done. He thought he was joining a rock band, and we wound up doing The Elder. So, he was thrilled to be doing Creatures.
Vinnie wasn't a member of the band when we did Creatures, so we were literally auditioning guitar players in the studio and having them play on different tracks. We had Robben Ford, who's a phenomenal guitar player, play on "I Still Love You," and Steve Farris played the solo on "Creatures of the Night," which is one of the great solos. Vinnie co-wrote some of the songs and was a great person to co-write with, but he was never considered a band member until we were faced with a tour and had no choice but to grab somebody.
Kiss - Creatures Of The Night (Visualizer)
What I hear on Creatures Of the Night is a band that's simultaneously relieved and overjoyed to be getting back to basics and playing to its strengths and having a real feeling of exultation about that.
Very much so. We were about as down as we could be, and the only way out was up. So, the idea that we had nobody to answer to in terms of what kind of album we made…it felt exhilarating. It felt freeing and very creatively life-affirming. To write those kinds of songs felt really genuine because it was a part of us that we had missed for so long and didn't even realize it. Like I said, before we started the album, it was kind of like waking up from a coma; you're fuzzy-headed and thinking, "What the hell happened?" So, we knew what we wanted to do, and we were determined to do it.
There's so much to this package: alternate takes, demos, alternate mixes, outtakes, and instrumental tracks. Together they tell a story and capture a snapshot of the band in that period. What was the process of putting all those together for this project?
Luckily, we had some people in our camp who were archivists and knew where to track things down. These tidbits are of great interest to certain people, and maybe they fill in some of the backstories. In that way, I think it fleshes out what Creatures of the Night was all about. Creatures was us firing on all cylinders and having demos and alternate mixes, and what have you – it just makes for a complete experience for the people who are interested in that.
What sets this reissue project apart from the ones you've done before?
This is much more comprehensive than anything other than the Destroyer package, which pretty much was the template for this. This just seemed like the next step. Clearly, some people want to know more than just experiencing the finished product. Putting together a time capsule, if you will, is something that gives insight. I'm always fascinated with behind-the-scenes. When you see a film that you love, when you see the magic in a film, I'm almost more curious to see how they did it.
For Creatures, you wrote a bunch of songs with Adam Mitchell from The Paupers, among other things. A guy who was best known at the time for writing songs for Olivia Newton-John might have seemed like a surprising choice for your collaborator. How did that partnership come about, and what was your working dynamic like?
We've always had the philosophy that doing things the normal way isn't how we operate. We've broken those rules so often I could give you a shopping list. [Creatures producer] Michael James Jackson was so left field that most people just scratched their heads at the idea of us being involved with somebody who had done the Canadian band Red Rider and also Jesse Colin Young from The Youngbloods, things that didn't have any real clear relationship to what we were doing. But Michael felt right. [KISS'S manager] Bill Aucoin had no experience as a band manager; he'd never done anything like that. So, we've always trusted our instincts.
And Michael suggested Adam. Adam was just a terrific songwriter. I'm not one of those people who believes that as a writer, you stay in your lane. If you're a good writer, you can write anything. Adam and I got together and knocked out a bunch of really good songs. I've always believed that there had to be a signature song for each album. Most of the time, it was a song that I would come up with. "Love Gun," for example. "Detroit Rock City." We needed a song that encapsulated, and kind of gave a preview as to what the whole album was, both in terms of attitude and sonics. Adam and I wrote "Creatures" quickly. From "Creatures" we did "Danger," and we just had a ball writing.
Kiss - Danger (Visualizer)
Going back to Michael, I know that you guys were close, and I'm very sorry for your loss [Michael James Jackson in 2022]. Can you talk about his effect on the band at that time, and his impact on the album?
Gene and I would sometimes be banging heads. So, it was always great, we thought, to bring in a producer, to almost be a mediator, and also the final voice, the final decision, and we would abide by it. Michael was musical, although his background couldn't have been more different. I think that the same rules and fundamentals apply to any kind of music you make, and that's what separates good songs from just mindless riffing or mindless jamming. So, Michael was of that school, of a song school, and he was very much a calming and intelligent ingredient in this stew.
Michael's background was much more folk music, if you will, or folkish kind of music, and that's part of my wheelhouse. That's part of what I grew up listening to and part of what I played at one point. So, that was an ingredient that would serve quite well on the album. It helped make the difference between just a heavy, mindless album and something that had melodic content and classic structure to the songs. And he was a great guy. I loved Michael.
How does this package expand the picture of the band, and what does it reveal about Creatures-era Kiss?
Maybe, for some, how serious we take what we do, and that it's not one-dimensional and not done lightly. We work at things, plan them, and try different things, and it's an all-consuming endeavor. We don't take what we do lightly, ever. We don't like things to look labored over, but they're labored over.
One of the really fun things on this set is those tour sound effects: the tank, the turbine, the siren, the bells, and the flames. Can you explain how some of those things fit into the show at the time?
There were times, for example, when we couldn't use certain actual explosives and needed an audio simulation. It's never a substitute, but there were times we used those to enhance what we were doing. I've always believed in enhancing whatever we needed to [in order] to give it the impact it needs.
That goes back to KISS Alive!. There were people who were aghast that the album was worked on, but it was worked on to enhance the experience. Not to fake anything, but so that you truly felt it was the experience of being at a show. The KISS experience goes so much beyond just a live recording; we had to do it on steroids. As far as a live show, there are times when we would need sounds. There were key moments when you might want gears moving, or a chain pulled up. So yeah, we had a library, a catalog of sounds.
I Love It Loud (Live In Rockford, Illinois 12/31/82)
Going back to that idea that we were talking about earlier of you guys being back in your comfort zone, some version of that feeling comes through on the live tracks when you're playing the Creatures material. What was it like on stage for you guys at that point?
We felt fortified. We felt we had a purpose and a crusade to win back fans, stomp our eight-inch heels, and declare who we are and what we are. My only hitch with some of those live recordings is they're so damn fast. I've seen some of the videos from live shows, and it's breakneck speed. They're a bit manic, but hey, we were manic. We were free. All of a sudden, we were free of our own chains. We were the ones who had made the poor decisions. We were the ones who had made wrong turns, and now we were free. We were back. Regardless of whether we would be embraced immediately by the fans, or new fans, we felt liberated.
This conversation was edited for length.
Buy or stream the 40th-anniversary reissue of Creatures of the Night.