Public Image Ltd (PiL) Announce UK Tour, New Album 'End Of World'
The band's new album is set for release through the band's own PiL Official imprint on August 11.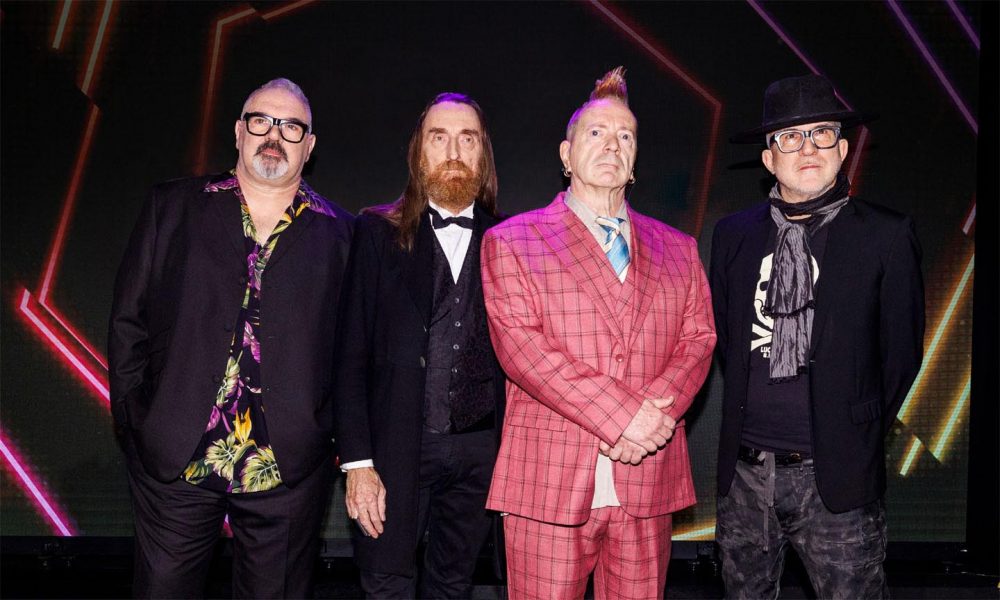 Public Image Ltd. (PiL) will be releasing their 11th studio album and first album in 8 years, End Of World, following the sad passing of frontman John Lydon's wife of more than 4 decades, Nora Forster, on April 5. End of World will be released on August 11, 2023 on PiL Official via Cargo UK Distribution, followed by a 38-date UK and European Tour.
Earlier this year, PiL released "Hawaii," the most personal piece of songwriting and accompanying artwork that John Lydon has ever shared. The song is a love letter to John's wife Nora, who sadly passed away from Alzheimer's on Wednesday April 5. A pensive, personal yet universal love song that has resonated with many since its release in January, the song sees Lydon reflecting on their lifetime well spent and in particular one of their happiest moments together in Hawaii.
John said, "Nora loved the album, she wouldn't have wanted us to postpone it or change any of our plans." Previously he has said of "Hawaii," "It is dedicated to everyone going through tough times on the journey of life, with the person they care for the most."
The band began writing and recording End Of World in 2018, during their 40th anniversary tour. After the COVID lockdown, the band regrouped in the studio and, as Lydon now says "there was just this massive explosion of ideas." The result finds PiL set to release 13 of the best tracks they have ever written. The announcement comes with the release of new single "Penge," which Lydon has described as, "something of a mediaeval Viking epic."
Celebrating their 40-year anniversary in 2018, the band is widely regarded as one of the most innovative and influential bands of all time.
PiL's music and vision has earned them 5 UK Top 20 singles and 5 UK Top 20 albums. With a shifting line-up and unique sound – fusing genres ranging from rock, dance, folk, pop and dub – Lydon guided the band from their debut album First Issue in 1978 and 1979's influential Metal Box through to 1992's That What Is Not, before a 17 year hiatus.
Lydon reactivated PiL in 2009, touring extensively worldwide and releasing two critically acclaimed albums This is PiL in 2012 followed by their 10th studio album What The World Needs Now… in 2015, which peaked at number 29 in the official UK album charts and picked up fantastic acclaim from both press and public. In 2018 PiL celebrated their 40th anniversary with a career-spanning box set and documentary, both called The Public Image Is Rotten and a 32-date UK/Europe tour, plus dates in Japan.
PiL: UK Tour Dates 2023:
Mon Sept 11 – Swansea, Patti Pavillion
Tue Sept 12 – Margate, Dreamland
Wed Sept 13 – Lincoln – Engine Shed
Fri Sept 15 – Blackburn, King Georges Hall
Sat Sept 16 – Buckley, Tivoli
Mon Sept 18 – Sunderland, Fire Station
Tue Sept 19 – Aberdeen, Beach Ballroom
Thurs Sept 21 – Edinburgh, O2 Academy
Fri Sept 22 – Manchester, O2 Ritz
Sat Sept 23 – Holmfirth, Picture Dome
Mon Sept 25 – Coventry, HMV
Tues Sept 26 – Brighton, CHALK
Thurs Sept 28 – Bristol, O2 Academy
Fri Sept 29 – Torquay, Foundry
Sat Sept 30 – London, The Forum
Listen to the best of PiL on Apple Music and Spotify.