Ramblin' Man Fair 2019, Sunday Recap: Foreigner, Airbourne And A Heavy Dose Of The Blues
Day three of Ramblin' Man Fair 2019 had a welcome laidback vibe… until Airbourne napalmed the audience with the most enjoyable set of the weekend.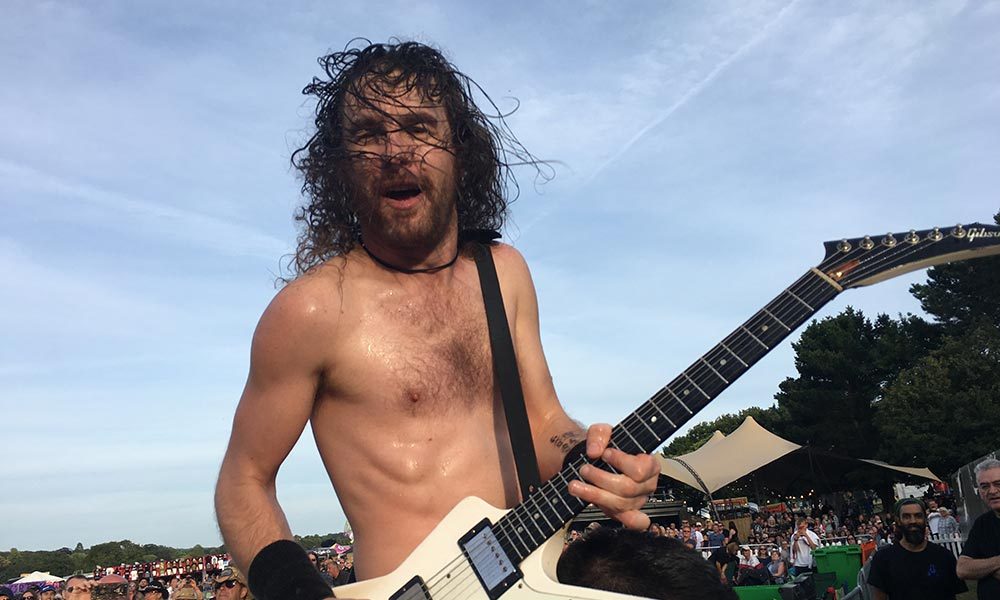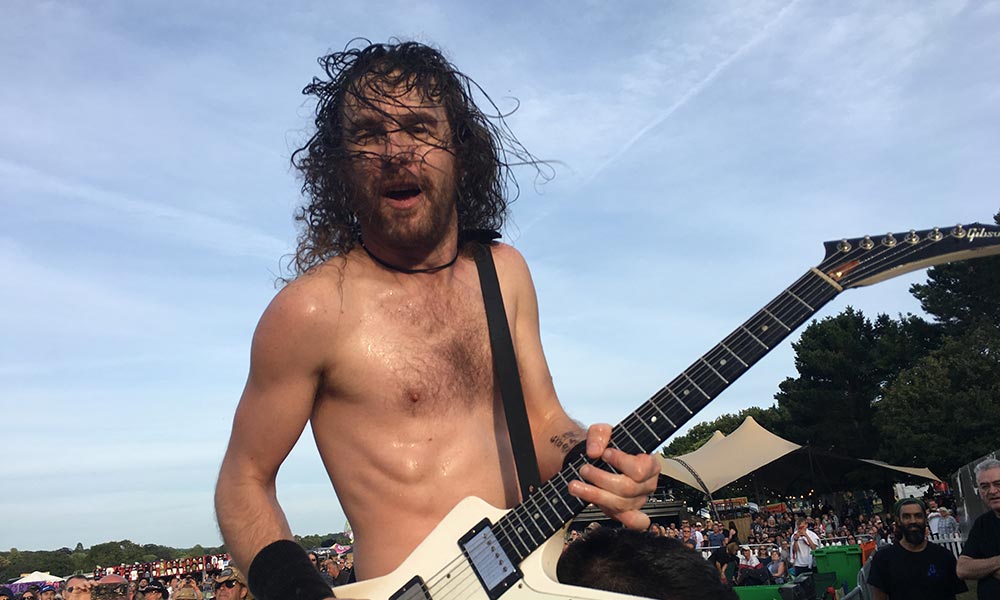 There were plenty of sore heads and feet as the fields opened for day three of Ramblin' Man Fair. For those ramblers looking to take a load off, the smart move was to spend the early part of Sunday afternoon sitting near the blues stage – the perfect way to hear great music without having to risk over-exerting yourself. For a while, you'd have been forgiven for thinking that Sunday would shape up to be the most low-key day of the weekend… Then a band called Airbourne dropped a s__t ton of sonic bombs and all hell broke loose.
The question was: could Foreigner launch a successful counter-attack as they brought 2019's Ramblin' Man Fair to a close? Read on to find out…
Elles Bailey (Blues Stage)
Loaded with organ-drenched soulful blues that belied her Bristol roots, Elles Bailey's performance made a decent case for the River Avon as the UK's answer to the Delta. She's only two albums in, but her husky voice carried a lifetime's worth of experience the likes of which she's clearly putting into her third record. Teasing the forthcoming release with a defiant anthem-in-the-making, 'Woman Like Me', Bailey proved that, among the current crop of young blues artists, there really is no one quite like her…
Chantel McGregor (Blues Stage)
… But neither is there anyone like Chantel McGregor. Leading her power trio into the deep waters of heavy, late 60s blues-rock, her psych-tinged solos almost ripped a new hole in the space-time continuum. Fans are also awaiting her third record – it's been four years since 2015's Lose Control. If she can bottle her current live sound for that, she might well be headed for another dimension all together.
Living Colour (Main Stage)
We'd seen hints of the funk during Saturday's Ramblin' Man, but Living Colour brought the real deal, wrapped in Vernon Reid's coruscating guitar. The whole funk-metal thing can have varying degrees of success, but for Living Colour the combination is seamless. Oh, and has anyone heard how good Corey Glover's voice is these days? Yes, the whole of Kent has. Phenomenal.
Chris Robinson Band (Main Stage)
The dirty rumour doing the rounds was that Chris Robinson would play a set of Black Crowes songs. As unlikely as it was untrue, the group's less melodic take on the slower end of the Crowes' songs was nevertheless well matched for a late Sunday-afternoon slump. One for the Deadheads in the audience.
Everlast (Blues Stage)
Even 20-plus years after Whitey Ford Sings The Blues helped him switch from hip-hop frontman to bona fide blues solo artist, it still seems nuts that this is the guy who brought House Of Pain's 'Jump Around' to the world. Though Everlast's four-piece featured a DJ where the bassist usually stands, his down'n'dirty guitar and husky growl ensured there was no mistaking the man's blues pedigree.
Airbourne (Main Stage)
Airbourne's message was also loud and clear: it's all for rock'n'roll. In front of an imposing bank of Marshall stacks, frontman Joel O'Keefe knew he had just one mission: to give the Ramblin' Man audience the best show of the weekend. Amid a relentlessly full-throttle set, he launched beers into the crowd, launched himself into the crowd, and launched riff after neck-breaking riff into the crowd. Original? Well… O'Keefe himself admitted to charges in the negative. Enjoyable? Hands down it was the most fun both crowd and band alike seemed to have all Fair.
Foreigner (Main Stage)
One of Ramblin' Man's greatest assets is its lack of interest in musical boundaries. It's not often you get a festival where one artist can name The Band as their biggest inspiration, and another can name AC/DC – and both can feel right at home. But only one band in 2019's Ramblin' Man line-up had a song that spoke to fans of every musical persuasion. Ladies and gentlemen, Foreigner…
But if 'I Want To Know What Love Is' easily drew the biggest singalong of the whole event, the Anglo-Americans' soft-rock set felt a little out of step with everything that had come before. You can't argue with their precision musicianship, nor the group's intention to push the production costs through the roof… As arguably the biggest act in Ramblin' Man's history, that was partly expected, and Foreigner threw everything at it – including water-drenched tom-toms. But there's a thin line between epic and overblown, and their set felt more Vegas residency than Ramblin' Man fields to us. But what do we know? Even the security guard was singing that song at the top of his lungs at 10 o'clock at night, and the guy had barely cracked a smile all weekend. You have to be doing something right to elicit that kind of response.
Feeling lucky? Here's your chance to win a guitar signed by many of the artists who played at Ramblin' Man this year, including Airbourne, Allman Betts Band, Foreigner and Kenny Wayne Shepherd.
Format:
UK English