Rihanna Reveals Super Bowl Details At Press Conference
Rihanna also unveiled a new teaser trailer for her performance.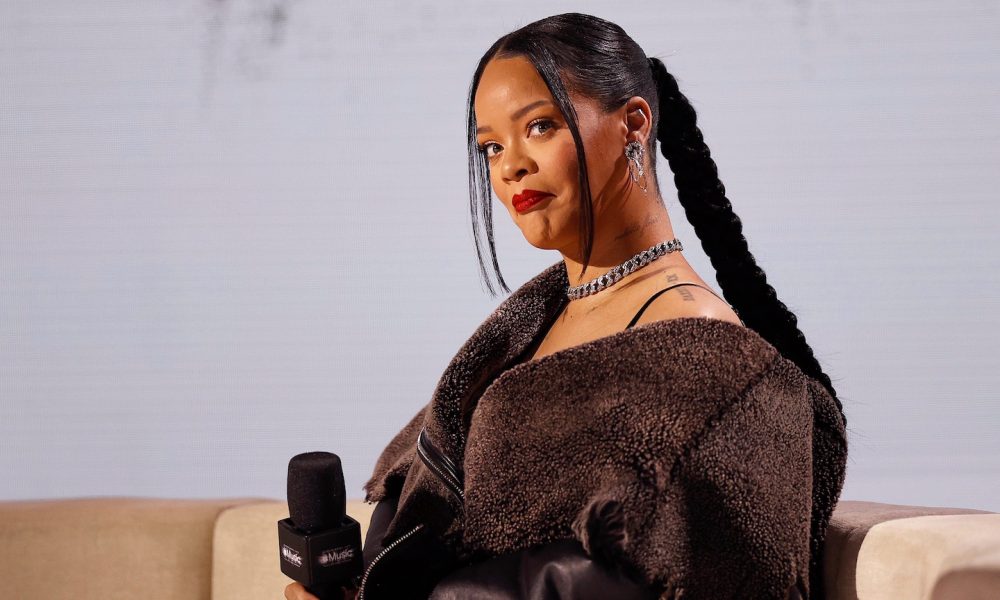 Things are getting exciting in Rihanna land. Today, February 9, the superstar singer stopped by Apple Music for a press conference discussing her Super Bowl halftime preparations. Additionally, the streaming service unveiled the latest teaser trailer for her wildly anticipated show.
Shop the best of Rihanna's discography on vinyl and more.
In the press conference, she revealed that she has been hard at work on the halftime show, finding little time for sleep. She jokingly said that she is relying on her Fenty beauty line to stay looking sharp. She also revealed that she has gone through 39 iterations of a setlist for the show, which makes sense considering the number of hits in her discography.
"Run This Town" - The Road to Halftime Starts on Rihanna Drive | Apple Music
The new trailer features a young child at home on Rihanna Way in Barbados. She steals her mother's sunglasses before strutting down the street. The visual is accompanied by the Jay-Z hit "Run This Town," which features RiRi on the chorus. At the end of the video, the young girl flies a kite above a cemetery, before a quote from Rihanna floats across the screen. It reads, "My whole life was shaped on this very road. I was just a little girl flying kites in the cemetery…But I had big dreams."
In January, RiRi shared the first teaser hyping up her performance. The clip, which also premiered on Apple Music, features the singer appears as a silhouette in a large, empty room. She then begins to walk forward and takes in a number of comments from fans eager for new music.
"Dude, Rihanna, we've waited for you," said one voice, before a newscaster adds, "It's been six years since the nine-time Grammy-winner dropped an album."
Rihanna–who's wearing a show-stopping green furry coat, motions for silence before her 2016 ANTI hit "Needed Me" begins to play.
Rihanna was initially announced as the headliner for the the Super Bowl LVII halftime show in September. The pop star took to Instagram on that day to share a photo her tattooed hand holding up a football. Shortly after, the NFL changed their slogan on Instagram from "National Football League" to "National Fenty League."
Listen to the best of Rihanna on Apple Music and Spotify.