'Röad Crew' Beer Inspired By Motörhead Set For Retail In UK Supermarkets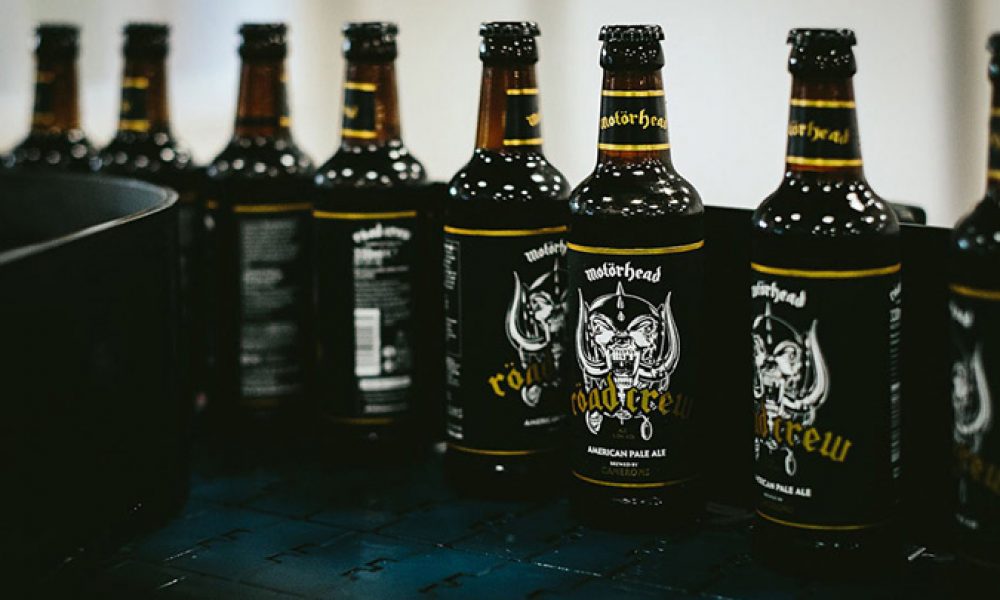 A beer inspired by the legendary heavy metal band Motörhead is due to hit the shelves of a major national supermarket chain in the UK.
Entitled Röad Crew, the new beer has been produced by Cameron's Brewery in Hartlepool in the north-east of England. The brewery say they are delighted to announce they have secured a new national listing for the new brew, which was first launched in 330ml bottles in December 2016.
Röad Crew is due to feature in 300 Morrisons supermarkets from September 2017 onwards.  The new national supermarket deal follows the brewers' successful limited edition Röad Crew 'gift tins' which were sold by the same supermarket giant for Father's Day.
In addition, the gift tins, which include a branded pint glass and bottle, will feature again in Morrisons' branches on the run up to Christmas this year.
Cameron's have worked closely with former Motörhead members Phil Campbell and Mikkey Dee to develop the beer, with both attending the brewers' launches in London and Newcastle earlier this year.
Motorhead - No Sleep 'Til Hammersmith - We Are The Road Crew - Video
Since its launch Cameron's have seen distribution for the brand grow rapidly with the beer being exported to 19 countries. Röad Crew has also featured on a variety of cask guest ale programmes with many major brewers and pub companies in the UK. It has appeared at music festivals and events such as Motörhead Day, Download and Amplified Festival.
Yousef Doubooni, head of marketing for Cameron's, said: "We have been overwhelmed by the response for this beer. We knew it would prove popular given the passionate fan base for Motörhead, but it has still taken us by surprise how quickly we have gained distribution for the brand."
"We still have a number of opportunities to explore and the challenge now is keeping up with the demand," he continued. "What means the most to us is the positive feedback we have had on the beer and merchandise from Motörhead fans.
"It is great seeing pictures of people from all across the world enjoying this and we share a lot of these images on our social media platforms. We are looking to grow distribution for this brand even further across the UK and also around the world.  Röad Crew has been exported to many European countries as well as Japan so far and we are looking at new partner distributors in North/South America, Australia and China."
Explore Our Motörhead Artist Page
Format:
UK English