New Podcast Will Air Rock & Roll Hall Of Fame Speeches From N.W.A., Queen, And More
'Rock & Roll Hall of Fame Induction Vault' debuts ahead of Saturday's 2020 induction ceremony.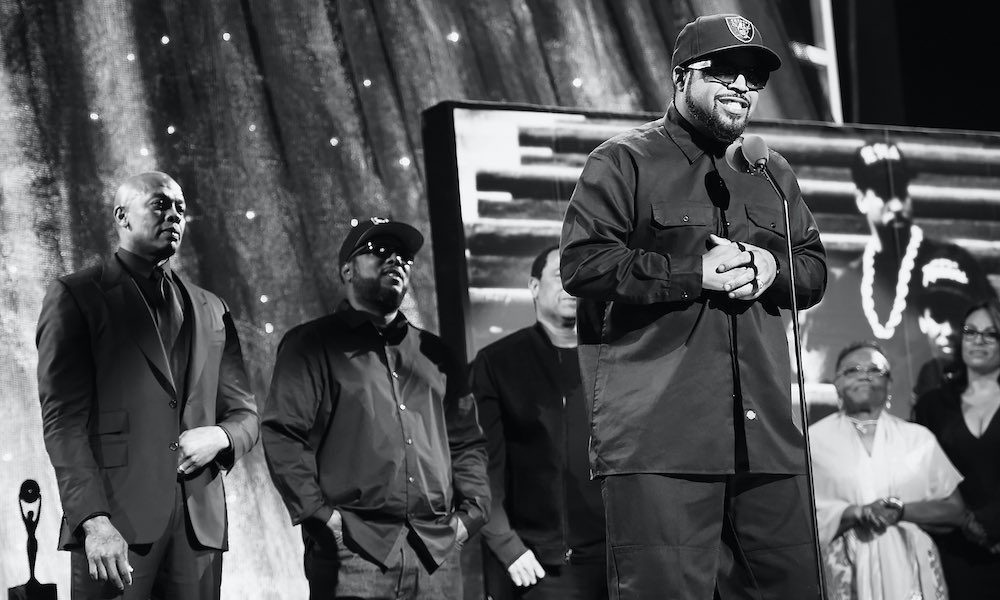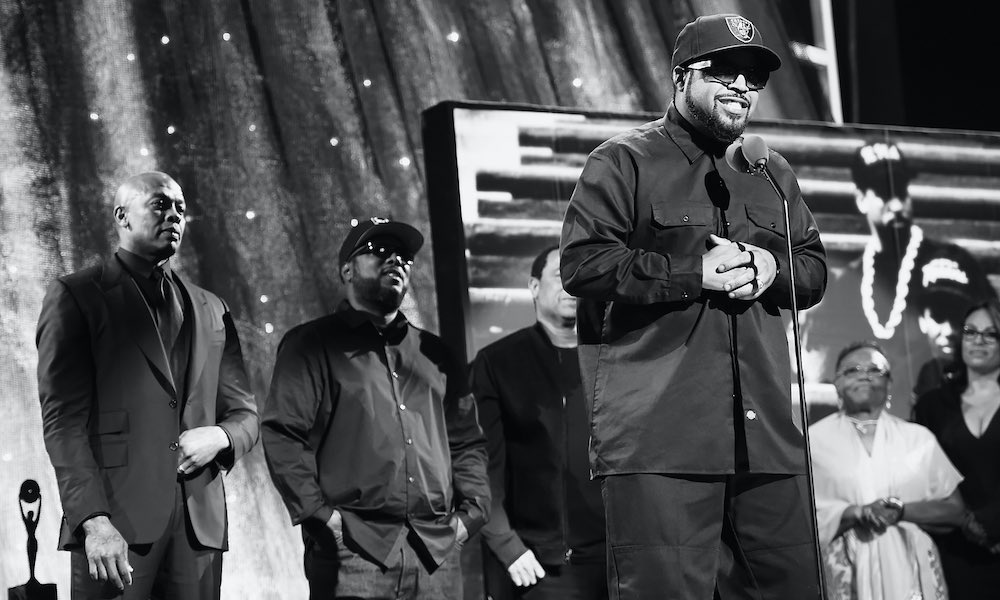 Ahead of HBO's 35th Annual Rock & Roll Hall of Fame Induction Ceremony special this Saturday, a new podcast will offer music fans historic speeches from years of Rock & Roll Hall Of Fame ceremonies. Presented by iHeartRadio, Rock & Roll Hall of Fame Induction Vault will offer words by legendary inductees as well as their presenters. The podcast launches this Friday, November 6 with speeches from 2019 inductee Stevie Nicks, and her presenter, Harry Styles.
We're proud to announce the launch of "RRHOF Induction Vault," our podcast on @iHeartRadio dropping 11/6 in time for the weekend's Induction Ceremony. This series will bring you closer to the unedited speeches from past ceremonies. Get details: https://t.co/Pn1yElZZ6p pic.twitter.com/72MdUb5KOY

— Rock Hall (@rockhall) November 5, 2020
Spanning artists from a diverse selection of genres, the series will shine a spotlight on each inductee's multi-generational influence, thanks to the words of their presenters. The first season will offer 20 pairs of speeches from some of the world's biggest artists, including The Beatles – inducted by Mick Jagger, N.W.A with Kendrick Lamar, The Staple Singers with Lauryn Hill, Stevie Wonder with Paul Simon, Queen with Dave Grohl and Taylor Hawkins of the Foo Fighters, and Janet Jackson, inducted by Janelle Monae.
"Each year, rock's highest honor, induction into the Rock & Roll Hall of Fame, is bestowed upon a handful of artists, cementing their legacy for eternity," said Greg Harris, President and CEO of the Rock & Roll Hall of Fame. "That night, they are celebrated by their peers and the contemporary artists they have influenced. All share mutual admiration for these legends who have dedicated their lives to rock'n'roll."
Conal Byrne, President of the iHeartPodcast Network for iHeartMedia, added, "Over the past 35 years, the Rock & Roll Hall of Fame Induction ceremonies have become renowned for their impassioned and sometimes outrageous acceptance speeches. We're thrilled to bring the most iconic moments of past and present music infamy to fans around the world and continue to share what's made the event special in the past and for years to come."
While this year's induction ceremony will not be in-person, amid the pandemic, the class of 2020 will instead be celebrated with a star-studded virtual ceremony, airing this Saturday, November 7 on HBO.
Participants will include Ringo Starr, Iggy Pop, St. Vincent, Bruce Springsteen, Dave Grohl, Alicia Keys, Nancy Wilson, Gwen Stefani, Luke Bryan, Adam Levine, Billy Idol, and Brad Paisley, among others.
This year's inductees include Depeche Mode, the Doobie Brothers, Whitney Houston, Nine Inch Nails, The Notorious B.I.G., and T. Rex, as well as Ahmet Ertegun Award winners Jon Landau and Irving Azoff. Springsteen will speak on behalf of Landau while Diddy will celebrate the life of Notorious B.I.G.
The Rock & Roll Hall of Fame 2020 Induction Ceremony airs on November 7 at 8 p.m. Eastern on HBO.
Scroll down to view the lineup of guests on Season One of the Rock & Roll Hall of Fame Induction Vault. To listen, visit the official website. 
• Stevie Nicks & Harry Styles
• The Beatles & Mick Jagger
• N.W.A. & Kendrick Lamar
• The Eagles & Jimmy Buffett
• Queen & Dave Grohl & Taylor Hawkins of the Foo Fighters
• Prince & Alicia Keys & Outkast
• Stevie Wonder & Paul Simon
• Joan Jett & The Blackhearts & Miley Cyrus
• Janet Jackson & Janelle Monae
• Bruce Springsteen & Bono
• Tupac Shakur & Snoop Dogg
• Jackson 5 & Diana Ross
• The Cure & Trent Reznor of Nine Inch Nails
• Bonnie Raitt & Melissa Etheridge
• The Staple Singers & Lauryn Hill
• Pearl Jam & David Letterman
• Joan Baez & Jackson Browne
• Metallica & Flea of Red Hot Chili Peppers
• Gladys Knight & The Pips & Mariah Carey
• The Moody Blues & Ann Wilson of Heart