The Rolling Stones' Famous, Secret 1977 El Mocambo Shows For Full Release
Only four performances from the gigs have ever been officially available before.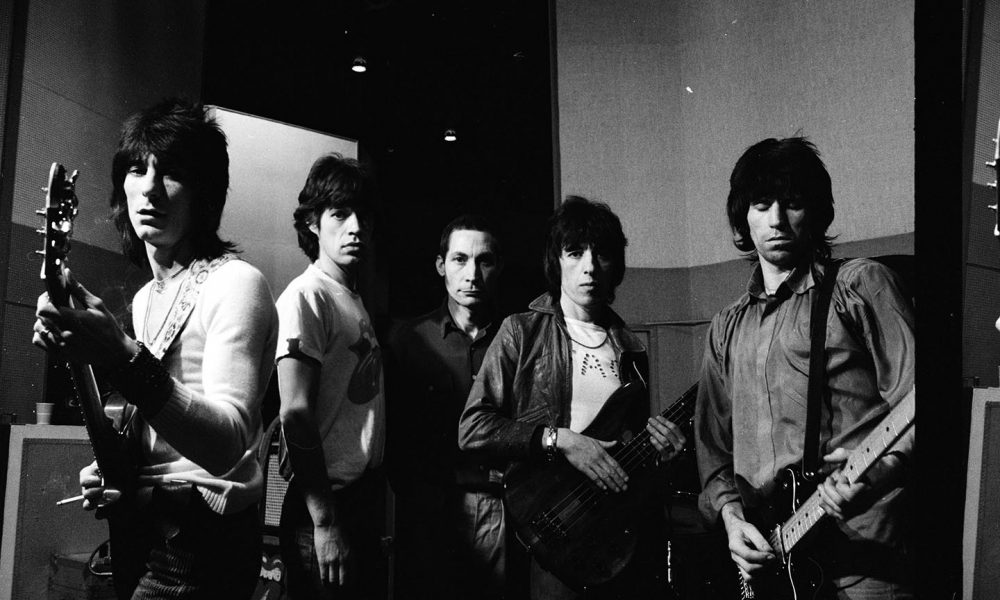 The Rolling Stones' famous, secret 1977 shows at the 300-capacity Toronto club the El Mocambo are to be released for the first time on May 13. Live At The El Mocambo will be available on double CD, 4 LP black vinyl, 4 LP neon vinyl and digitally.
The releases feature the whole of the show on March 5, as well as three bonus tracks from the March 4 gig, newly mixed by Bob Clearmountain. The new album is a mouthwatering prospect for Stones fans, commemorating an unforgettable chapter in the band's incredible history, as only four performances from the gigs have ever been officially available before. "Mannish Boy," "Crackin' Up," "Little Red Rooster," and "Around and Around" formed one side of the Love You Live double LP released in September 1977, which otherwise comprised performances from concerts in 1975 and 1976.
It's Only Rock 'N' Roll (But I Like It)
Live At The El Mocambo is previewed by the appearance today of two intimate, powerful tracks from the event, "It's Only Rock 'N' Roll" and "Rip This Joint," now available on all digital services. The May release comes as the Stones prepare for their 60th anniversary celebrations and the summer European tour that will open in Madrid on June 1.
The El Mocambo shows became reality as the Rolling Stones and their entourage landed on the club, a fixture of the Toronto music scene since the 1940s, as the location for two secret performances. A local radio contest was organized in the Canadian city in which the prize was tickets to see local rock heroes April Wine. They would be supported by an unknown band called the Cockroaches, who of course turned out to be the Stones, who duly headlined with April Wine opening for them.
Rip This Joint (Live At The El Mocambo 1977)
The varied setlist included the aforementioned covers, which turned the clock back to the band's early club days along with Stones anthems such as "Let's Spend The Night Together" and "Tumbling Dice." There was more blues with versions of Big Maceo's "Worried Life Blues" and Willie Dixon's "Little Red Rooster." Other highlights included "Honky Tonk Women," "Hot Stuff" and the live debut of "Worried About You," not heard as a studio track until 1981's Tattoo You.
Pre-order Live At The El Mocambo, which is released on May 13.
The full tracklist is:
1. Honky Tonk Women (Live at the El Mocambo 1977)
2. All Down The Line (Live at the El Mocambo 1977)
3. Hand Of Fate (Live at the El Mocambo 1977)
4. Route 66 (Live at the El Mocambo 1977)
5. Fool To Cry (Live at the El Mocambo 1977)
6. Crazy Mama (Live at the El Mocambo 1977)
7. Mannish Boy (Live at the El Mocambo 1977)
8. Crackin' Up (Live at the El Mocambo 1977)
9. Dance Little Sister (Live at the El Mocambo 1977)
10. Around And Around (Live at the El Mocambo 1977)
11. Tumbling Dice (Live at the El Mocambo 1977)
12. Hot Stuff (Live at the El Mocambo 1977)
13. Star Star (Live at the El Mocambo 1977)
14. Let's Spend The Night Together (Live at the El Mocambo 1977)
15. Worried Life Blues (Live at the El Mocambo 1977)
16. Little Red Rooster (Live at the El Mocambo 1977)
17. It's Only Rock 'N' Roll (But I Like It) (Live at the El Mocambo 1977)
18. Rip This Joint (Live at the El Mocambo 1977)
19. Brown Sugar (Live at the El Mocambo 1977)
20. Jumpin' Jack Flash (Live at the El Mocambo 1977)
21. Melody (Live at the El Mocambo 1977)
22. Luxury (Live at the El Mocambo 1977)
23. Worried About You (Live at the El Mocambo 1977)