Rush Artist Hugh Syme Discusses 'Moving Pictures' Sleeve Design In New Video
Expanded 40th anniversary editions of 'Moving Pictures' will be released on April 15 through UMe/Mercury Records.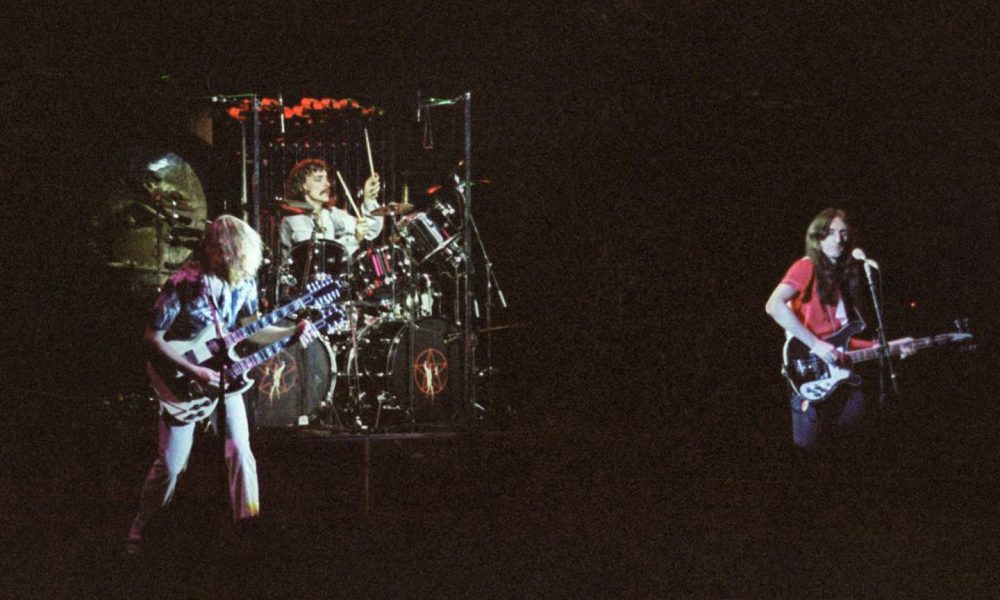 Rush's long time sleeve artist Hugh Syme has revealed the details behind creation of the band's iconic Moving Pictures artwork in a new video, which you can check in full below.
"At the time they gave me the [album] title, I pretty immediately knew what I wanted to do with the cover", Hugh Syme reveals in the video.
"Our aspiration was to make this look like a big deal", he explains. "I would have liked to go to Europe, to have gone somewhere that looked like a centuries old art gallery, but we [ended up using] the neo-classical architecture of the legislative building of Toronto's Queen's Park. There were three arches, which was thematically pretty cool."
Moving Pictures, Rush's eighth studio album, was originally released on February 12, 1981, and its adventurous-yet-accessible music catapulted the forward-thinking Canadian band to even newer heights as it began navigating the demands of a new decade.
Rush - Behind The Cover: Moving Pictures
The album's seven songs expertly blended Rush's intrinsic prowess for channeling its progressive roots into radio-friendly arrangements, a template the band had mastered to a T all throughout its previous album, 1980's deservedly lauded Permanent Waves. Moving Pictures was also the second of many Rush recording sessions at Le Studio in Morin-Heights, Quebec, which was ultimately nicknamed the trio's own personal Abbey Road recording studio.
On April 15, UMe/Mercury and Anthem Records label groups continue the extensive Rush 40th-anniversary album series with new, expanded editions of Moving Pictures, embodying its well-deserved classic album status. Moving Pictures – 40th Anniversary will be available to fans in six distinct configurations, including the Super Deluxe Edition, three-CD Deluxe Edition, five-LP Deluxe Edition, one-LP Edition, Digital Deluxe Edition, and the Dolby Atmos Digital Edition.
Rush have sold more than 25 million albums in the U.S. alone, with worldwide sales estimated at 45 million (and counting), and have been awarded 24 gold, 14 platinum, and three multi-platinum album distinctions. They have also received seven Grammy nominations, and the band was inducted into the Canadian Music Hall Of Fame in 1994 and the Rock And Roll Hall Of Fame in 2013.