Sam Smith And Demi Lovato Premiere 'I'm Ready' Single And Video
The duo take part in their own, colourful Olympics in the joyful anthem's video.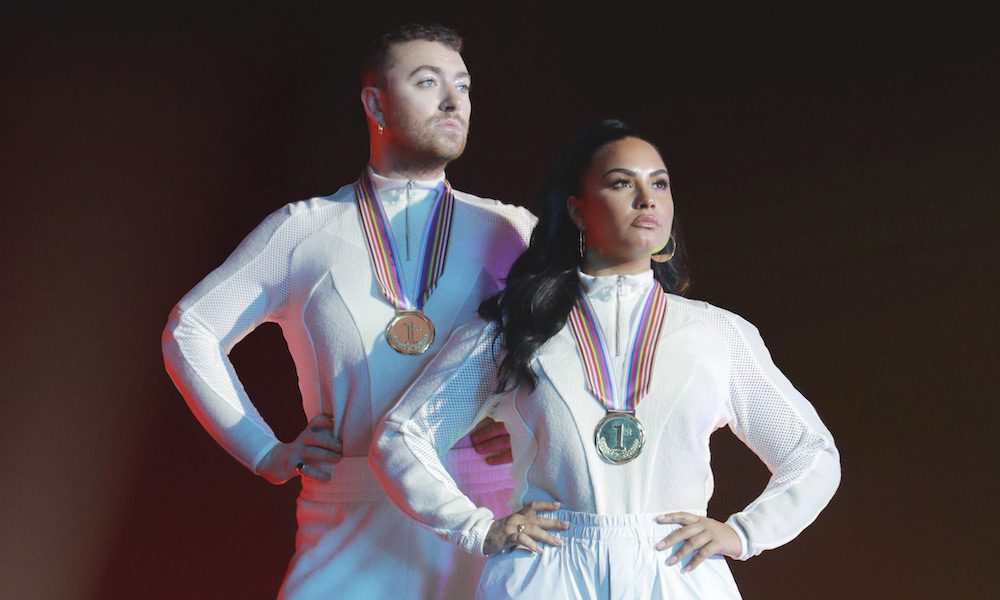 After teasing a collaboration on Sunday, Sam Smith and Demi Lovato have released their anticipated new single, 'I'm Ready', along with a stunning, Olympics-themed video. The anthemic song, in which the artists each declare that they are ready for love, features a joyful gospel choir, pulsating basslines, poignant lyrics and emotive vocals from two of music's most acclaimed stars.
Helmed by the award-winning director Jora Frantzis, whose credits include videos for Cardi B and Rosalia, the 'I'm Ready' video features impressive choreography by Sean Bankhead, who has worked with everyone from Migos and Normani to Kehlani and Missy Elliot. In addition to plenty of coordinated group dance moves, Smith, Lovato and a host of characters play out a variety of Olympic sports – including wrestling, diving, synchronised swimming, gymnastics and a 100m race. In the song's climax, the two stars take part in a medal ceremony.
Sam Smith, Demi Lovato - I'm Ready (Official Music Video)
'I'm Ready' is a bold declaration about being ready to be loved by the right person. Smith opens the duet, singing, "It's a cold night in my bed in the heat of the summer/I've been waiting patiently for a beautiful lover/He's not a cheater/A believer/He's a warm, warm-blooded achiever". In the chorus, a jubilant gospel choir soars around the duo as they announce, "I'm ready…For someone to love me".
Smith and Lovato have long been fans of each other. In 2017, Lovato performed a cover of Smith's 'Too Good at Goodbyes' during a BBC Radio 1 Live Lounge session. The 'Stay With Me' singer-songwriter quickly sang Lovato's praises on social media. The duo did a Zoom-enabled discussion before the track went live, expressing their desire for future collaborations. "I want to do 'Fix A Heart With You', that's my dream," shared Smith.
Both artists have had a busy 2020 so far. Lovato proclaimed her comeback with two high-profile appearances in February, debuting her powerhouse ballad 'Anyone' at the Grammy Awards, followed by a performance of the National Anthem at the Super Bowl LIV. In March, the Grammy-nominated artist released an upbeat new single, 'I Love Me'.
Smith, meanwhile, has released a trove of new singles over the recent months, including the bouncy 'How Do You Sleep?', a cover of Donna Summer's 1977 anthem, 'I Feel Love' and a collaboration with Normani, 'Dancing With A Stranger'.
In late March, the artist announced on social media that they would be pushing the release of their third studio album, and revising its title, in light of the COVID-19 pandemic. Originally titled To Die For, the LP was slated for a 1 May release date. On Valentine's Day, Smith released the single 'To Die For', and later shared an acoustic rendition of the song. Smith has not confirmed if the former title track will remain on the revised album.
Listen to the Best of Sam Smith on Apple Music and Spotify.
Format:
UK English