Sebastián Yatra Receives Platinum Plaque For 'VAGABUNDO'
Yatra received the plaque from Gayle King.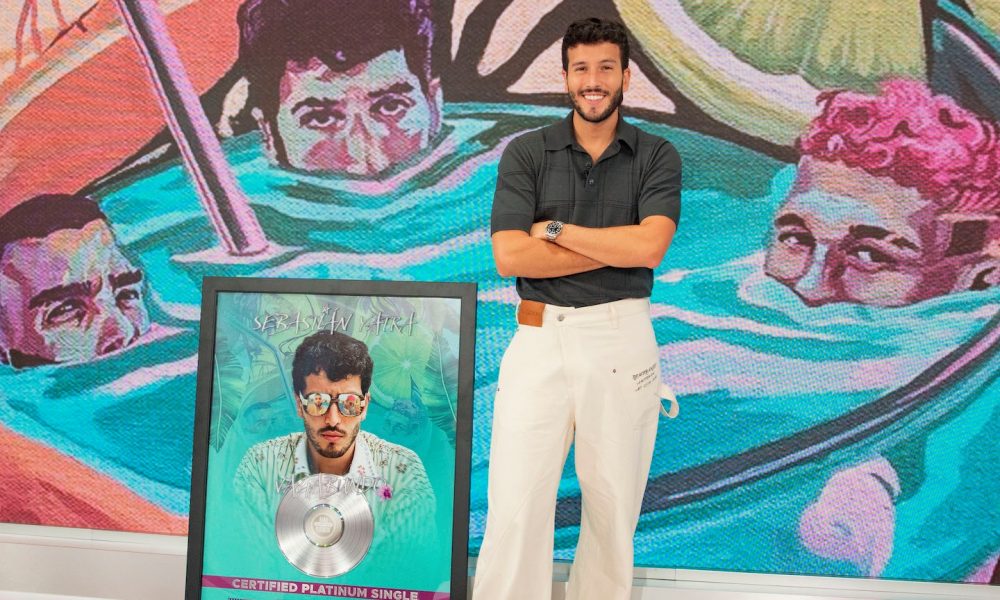 Sebastián Yatra stopped by CBS Mornings, on which famed media personality Gayle King presented the multi-talented artist with an RIAA certified Latin Platinum plaque for his latest smash single, "VAGABUNDO." The track boasts 226 million global streams to date. It's 2x Platinum in Spain and holds multiple Gold certifications across Latin America.
Also, the chart-topper was nominated for two new Billboard Latin Music Awards for Latin Pop Artist of the Year and Latin Pop Song of the Year with "Una Noche Sin Pensar," his first release of the year which celebrated a No.1 on Latin Pop Airplay.
If that's not enough, Yatra participated in the "Stars Of The Open," where he was invited by his friend Carlos Alcaraz to the US Open. Yatra joined the world No.1 player and current Wimbledon title holder on the court for an exhibition charity match last night (August 27), benefiting Ukraine relief efforts. Rafael Nadal trained him for the special night.
This summer, Sebastián has performed sing-alongs to the catchy "VAGABUNDO" "na-na-na-na-na" melody to hundreds of thousands of fans at sold-out international festival crowds and the same energy went into the sold-out concert this past Friday, "Sounds Of The Open Presented By Chase," during the US Open's "Fan Week."
As the single continues to dominate the streaming charts, Alcaraz named "VAGABUNDO" as his favorite song of the summer in a recent interview, and it also landed at No.1 on the official Wimbledon playlist.
The single is a celebration of three major Colombian artists, with his collaborators Manuel Turizo and Beéle. The track trended No.4 on Youtube and has accumulated more than 70 million views.
At the end of July, the singer shined at the Kings & Queens League finals with an unforgettable surprise performance in front of 57,000 people.
Yatra was the unannounced special guest that Manuel Turizo brought out and together, alongside Beéle, they sang the song of the summer, "Vagabundo." Millions of people of all corners of the world tuned into the live stream of the performance to see the Colombians sing.