Second Volume of 'A Capitol Christmas' Set For Festive Release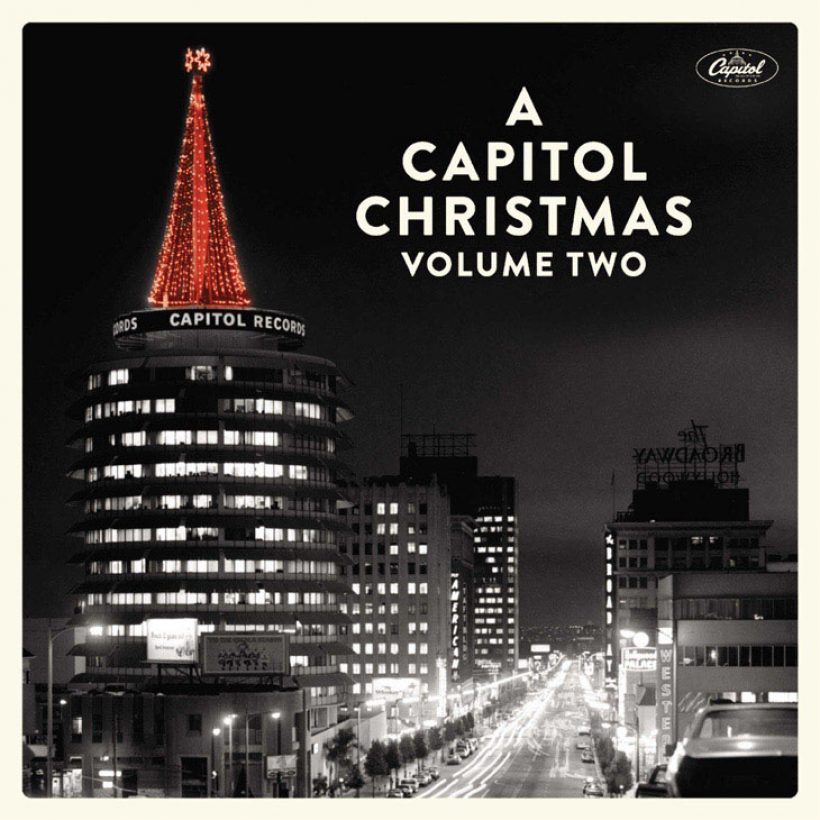 Capitol Records' celebration of its 75th anniversary continues with the 1 December release of A Capitol Christmas Volume 2, a collection of 24 timeless holiday and seasonal classics sung by the label's unmatched list of legends.
Available now digitally, on 2CD, and as a double LP in gatefold cover, the album brings together some of pop music's most iconic holiday songs with extremely rare recordings originally issued in very limited release. Volume 2's list of singers includes Glen Campbell, The Beach Boys, Wayne Newton, Lena Horne, Dinah Shore, Nancy Wilson, Johnny Mercer, The Louvin Brothers and many more, with each contribution lovingly chronicled in liner notes provided by compilation producer Jay Landers.
A fitting companion to last year's timeless collection, A Capitol Christmas Volume 2 continues to mine Capitol's deep reservoir of holiday and seasonal standards sung by millions of celebrants each winter. The album features Wayne Newton's jubilant takes on the rockabilly Christmas classic 'Jingle Bell Rock' and perennial favorite 'Rudolph, the Red-Nosed Reindeer,' both originally released in 1966 on his first holiday album, Songs For A Merry Christmas, three years after his debut record on Capitol.
Glen Campbell was one of Capitol's most iconic stars of the '60s and '70s, recording a remarkable 40 albums for the label. In 1968, on the heels of a string of hit albums – the Grammy Award-winning By The Time I Get To Phoenix and Gentle On My Mind and the #1 record Wichita Lineman – Campbell teamed back up with Capitol's in-house producer and arranger Al De Lory for That Christmas Feeling. The album is showcased here with Campbell's exquisite rendition of the Elvis Presley-immortalized 'Blue Christmas' and the lesser known 'Old Toy Trains,' which was written by his good friend Roger Miller and shows off a different side of the singer.
Second only to the Beatles, The Beach Boys were Capitol's most popular recording act from the '60s until the end of the decade. For their fifth Capitol release, Brian Wilson turned his attention to the holidays, asking Four Freshmen's arranger, Dick Reynolds, to write the charts for a 40-piece orchestra. The result was 1964's The Beach Boys' Christmas Album which featured their sunny take on 'Frosty the Snowman' and Wilson's original 'Christmas Day,' which marked rhythm guitarist Al Jardine's debut as a lead singer, both included here.
The album spotlights some of the best of Capitol's Christmas recordings from the 1940s, '50 and '60s and transports listeners to a simpler time. Take thirteen-year-old Molly Bee's 'I Saw Mommy Kissing Santa Claus,' which caused a stir in 1952 when the song's lyrics were condemned by the Catholic Church of Boston, but has survived to become a modern holiday classic, as easily recognizable as more traditional fare like 'White Christmas.' Irving Berlin's iconic song is represented here with a tranquil guitar and vocal-driven version by six-string legend Les Paul and his foil Mary Ford. Other chestnuts include crooner Al Martino's lush, orchestral 'Silver Bells' and Guy Lombardo and His Royal Canadians instrumental 'Auld Lang Syne,' a song so ubiquitous it's the soundtrack to New Year's Eve around the world.
Wayne Newton - Jingle Bell Rock (Capitol Records 1966)
In addition to the beloved seasonal standards, the holiday compilation also features rare and interesting takes throughout like Nancy Wilson's perfect interpretation of Frank Sinatra's 'The Christmas Waltz,' a true rarity that only appeared on a December 1968 limited-press promotional LP, The Capitol Disc Jockey Album. Elsewhere, Dinah Shore delivers a lightly swinging rendition of 'Jingle Bells' originally issued on an unknown number of complimentary vinyl discs that were distributed as Christmas cards in Chevrolet dealerships around North America.
These are just a few of the treats collected on A Capitol Christmas Volume 2, which in total proffers two dozen magical recordings that have helped to make the season bright for generations, bringing joy to the hearts and ears.
The physical and digital editions of A Capitol Christmas Volume 2 are released on 1 December. Scroll down to read the full track-listings and order here.
A Capitol Christmas Volume 2 Cd/Digital Track Listing:
'Jingle Bell Rock' – Wayne Newton
'Blue Christmas' – Glen Campbell
'The Christmas Waltz' – Nancy Wilson
'Frosty The Snowman' – The Beach Boys
'Christmas All Alone' – The Lettermen
'Jingle Bells' – Dinah Shore
'I Saw Mommy Kissing Santa Claus' – Molly Bee
'A Marshmallow World' – Ray Anthony and his Orchestra
'Winter Wonderland' – Johnny Mercer and The Pied Pipers
'I've Got My Love to Keep Me Warm' – The Starlighters
'Have Yourself a Merry Little Christmas' – Lena Horne
'Rudolph, The Red Nosed Reindeer' – Wayne Newton
'Christmas Day' – The Beach Boys
'Old Toy Trains' – Glen Campbell
'Away in a Manger' – The Louvin Brothers
'Silver Bells' – Al Martino
'I Heard the Bells on Christmas Day' – Fred Waring and the Pennsylvanians
'What Are You Doing New Year's Eve?' – Lena Horne
'Do You Hear What I Hear?' – Sonny James
'Song of the Sleigh Bells' – June Hutton & Axel Stordahl
'Love Turns Winter to Spring' – The Four Freshmen
'White Christmas' – Les Paul & Mary Ford
'Count Your Blessings (Instead of Sheep)' – Gordon MacRae
'Auld Lang Syne' – Guy Lombardo and His Royal Canadians
A Capitol Christmas Vol. 2 LP Track Listing:
SIDE A
'Jingle Bell Rock' – Wayne Newton
'Blue Christmas' – Glen Campbell
'The Christmas Waltz' – Nancy Wilson
'Frosty The Snowman' – The Beach Boys
'Christmas All Alone' – The Lettermen
'Jingle Bells' – Dinah Shore
SIDE B
'I Saw Mommy Kissing Santa Claus' – Molly Bee
'A Marshmallow World' – Ray Anthony and his Orchestra
'Winter Wonderland' – Johnny Mercer and The Pied Pipers
'I've Got My Love to Keep Me Warm' – The Starlighters
'Have Yourself a Merry Little Christmas' – Lena Horne
'Rudolph, The Red Nosed Reindeer' – Wayne Newton
SIDE C
'Christmas Day' – The Beach Boys
'Old Toy Trains' – Glen Campbell
'Away in a Manger' – The Louvin Brothers
'Silver Bells' – Al Martino
'I Heard the Bells on Christmas Day' – Fred Waring and the Pennsylvanians
'What Are You Doing New Year's Eve?' – Lena Horne
SIDE D
'Do You Hear What I Hear?' – Sonny James
'Song of the Sleigh Bells' – June Hutton & Axel Stordahl
'Love Turns Winter to Spring' – The Four Freshmen
'White Christmas' – Les Paul & Mary Ford
'Count Your Blessings (Instead of Sheep)' – Gordon MacRae
'Auld Lang Syne' – Guy Lombardo and His Royal Canadians
Format:
UK English