Slayer's 'Seasons In The Abyss' Gets Christmas Rendition From Members Of Dream Theater And More
The track is titled 'Seasons Greetings In The Abyss.'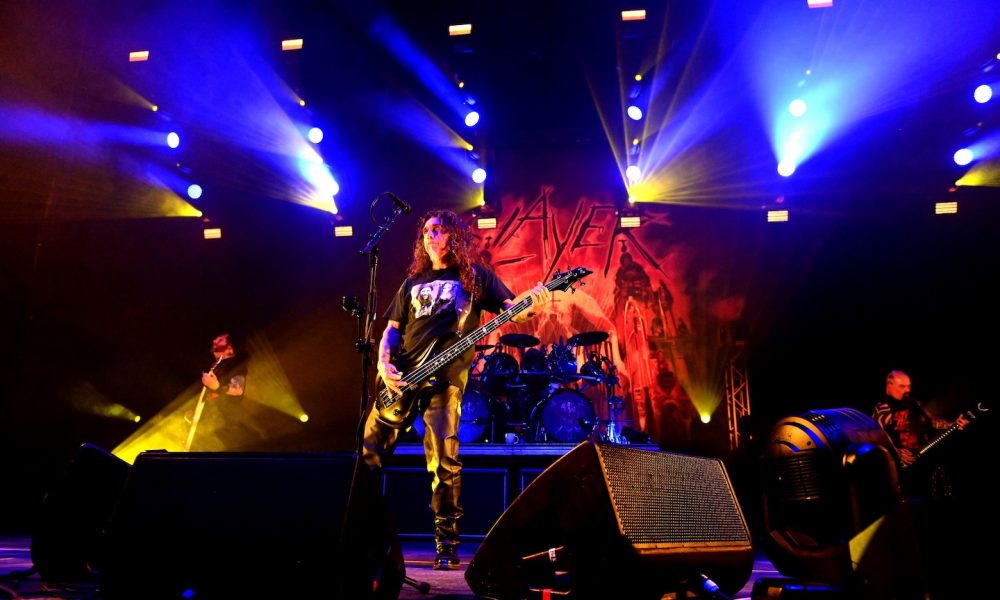 Members of Haken, Dream Theater, Protest The Hero, Cradle Of Filth and Inhuman Conditioned have released a festive version of a Slayer's "Seasons In The Abyss."
"Seasons Greetings In The Abyss" combines the music of Slayer's "Seasons In The Abyss" with alternate lyrics penned by artist and illustrator Dan Goldsworthy (Accept, Alestrom, Sylosis) and Charlie Griffiths of Haken, who also both take on guitar duties.
Sleigher - Seasons Greetings In The Abyss
Vocals are performed by Canadian singer Rody "Angel Of Breath" Walker of Protest The Hero and tuba is supplied by Haken drummer Ray "Nin Blood" Hearne.
Cradle Of Filth's Dani-el "Awaits" Firth and Inhuman Condition drummer Jeramie "Klerry" Kling fill out the ensemble and special guest Jordan "Captor Of Synth" Rudess of Dream Theater adds in a keyboard solo.
Griffiths had this to say about the collaboration: "Injecting this song with some Christmas cheer worked better than any of us expected! Apparently [Slayer guitarist] Jeff Hanneman loved Christmas, so hopefully he would approve of our tribute and I hope we help to spread some musical merriment during yet another Christmas of uncertainty in the pandemic abyss. Thanks to all the guys for joining in with the fun and to Scott Atkins for mixing! Eternal gratitude to the all the members of Slayer and we wish everyone a Merrytory Yuletide!"
In other news, Slayer recently embarked on a farewell tour and released a trailer for the last leg of the ceremonious run. As uDiscover Music previously reported, the thrash metal giants have lined up a total of 19 dates across the US throughout November and December. The new clip features live footage as well as guest appearances from actors Jessica Pimentel and Danny Trejo and you can check it out below.
Jessica Pimentel and Danny Trejo are both confirmed Slayer fans. Pimentel is perhaps best known for her role as Maria Ruiz on the Netflix original series Orange Is the New Black, but she is also the lead singer of the heavy metal band Alekhine's Gun and backing vocalist in the band Brujeria.
Explore Our Slayer Artist Page.