Staple Singers' 'Be Altitude: Respect Yourself' For 50th Anniversary Edition
This classic of soul and gospel history will be pressed on 180 gram vinyl.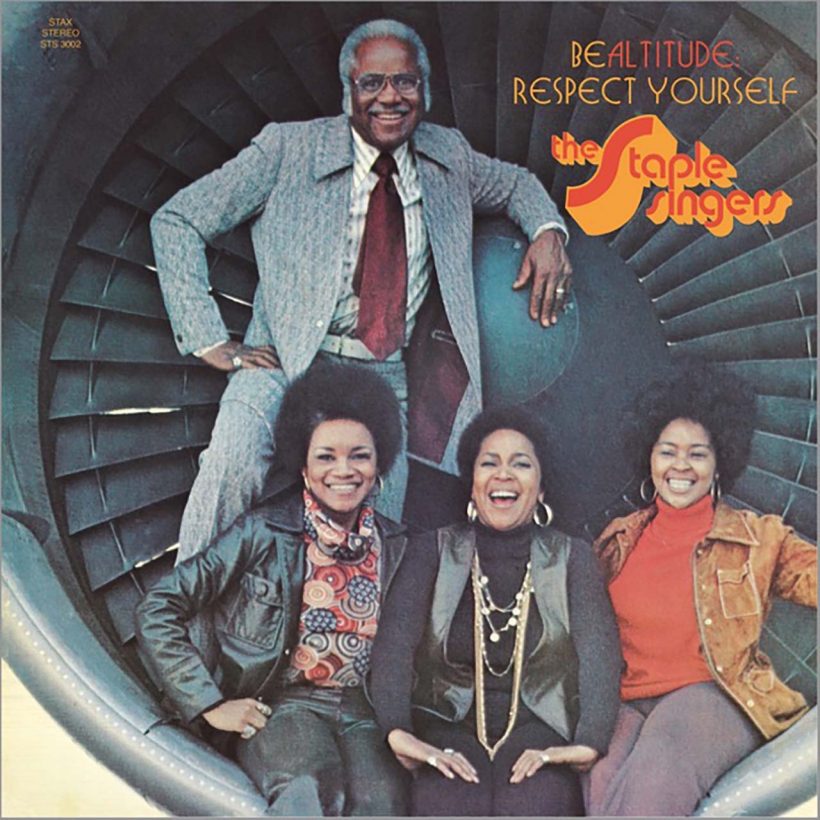 Stax Records and Craft Recordings have announced a 50th anniversary edition, for June 24 release, of the Staple Singers' bestselling 1972 title Be Altitude: Respect Yourself. This classic of soul and gospel history will be pressed on 180 gram vinyl, with all-analog remastering from the original stereo tapes by Jeff Powell at Take Out Vinyl.
The LP includes such enduring signatures of the peerless family group's career as "I'll Take You There" and "Respect Yourself," with instrumentation by the Muscle Shoals Rhythm Section and the Memphis Horns. The album was the Staples' fourth with Stax, and was a new high in the coming together of their gospel roots, socially conscious lyricism and pop-friendly R&B sensibility.
Be Altitude owed much of that sonic coalescence to producer and Stax label executive Al Bell, who signed the Staple Singers to the storied Memphis label in 1968. It brought the group new international stardom and featured some of their signature hits after more than two decades of amassing a broad base of devotees, going back to 1948, when Roebuck "Pops" Staples and daughters Cleotha and Mavis and son Pervis (later replaced by sister Yvonne) began singing in churches across Chicago.
Over the ensuing decade, the Staples became one of the leading gospel groups in America via both their tireless touring and a wealth of releases. They then became key voices of the Civil Rights movement with powerful songs calling for equality, also reaching the counterculture movement and many popular folk and rock artists of the time.
Their first two Stax albums, Soul Folk in Action and We'll Get Over, struggled to achieve significant commercial success, before Bell took over as producer for their self-titled 1971 set. He brought Pops, Mavis, Yvonne, and Cleotha to Muscle Shoals studio in Alabama and its great musicians, leading to the group's first Top Ten album and single on the R&B charts.
Bell and the Staples returned to Muscle Shoals for the follow-up, joined by the widely-traveled Muscle Shoals Rhythm Section and the Memphis Horns, and on Valentine's Day 1972, Be Altitude: Respect Yourself was released. Its title was a nod to the Beatitudes, eight blessings proclaimed by Jesus in the Sermon on the Mount, as recounted in the Gospel of Matthew.
The LP's inspiring and uplifting feel was typified by the upfront lead single "Respect Yourself," written by soul star Luther Ingram and singer-songwriter Mack Rice, which delivered a message of empowerment and self-respect aimed particularly at the African American community. Released in October 1971, it reached No.2 on Billboard's R&B chart and No.12 on the Hot 100.
Bell's own "I'll Take You There," released alongside the album, cut a joyful path to No.1 on both the R&B and pop charts to become the biggest crossover hit to date. The funky "This World" was another US R&B Top Ten hit, while more overtly gospel-preaching tracks included Pops Staples' "Who Do You Think You Are (Jesus Christ the Superstar)?"
Be Altitude: Respect Yourself became the group's highest-charting album on the Billboard 200, peaking at No.19, and No.3 R&B. Both "Respect Yourself" and "I'll Take You There" are still frequently covered, sampled, and heard in films, TV shows and political campaigns. Both have been inducted into the Grammy Hall of Fame, "I'll Take You There" in 1999 and "Respect Yourself" in 2002, and included in Rolling Stone's 500 Greatest Songs of All Time.
Two more Stax albums by the Staple Singers followed in 1973's Be What You Are and 1974's City in the Sky, before the label's closure in 1975. The group continued to record and reach new audiences through the mid-80s and were inducted into the Rock & Roll Hall of Fame in 1999 and the Gospel Hall of Fame in 2018. In 1992, they were given the Rhythm & Blues Foundation's Pioneer Award and 2005 brought a Grammy Lifetime Achievement Award. Their sole living member, Mavis Staples, continues the group's legacy as a prolific solo artist and Kennedy Center honoree.
Pre-order the 50th anniversary edition of Be Altitude: Respect Yourself, which is released on June 24.