Taylor Swift Delivers Commencement Speech To NYU Graduates
The singer-songwriter also received an honorary doctorate in fine arts.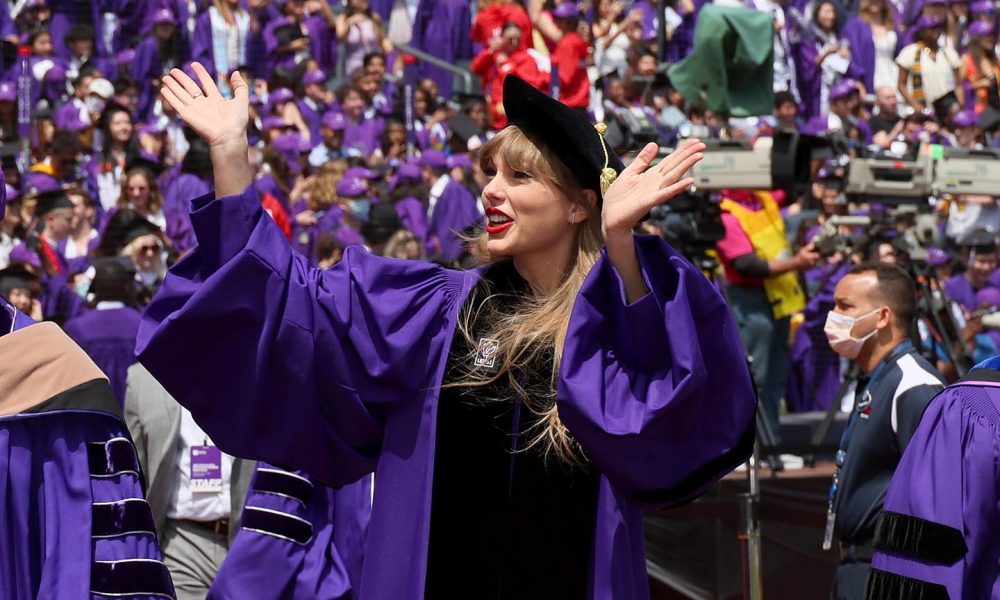 Taylor Swift received an honorary Doctor of Fine Arts from New York University on Wednesday, and also served as the commencement speaker for the graduating class of 2022. Read highlights from her inspiring speech below, as reported by Rolling Stone.
Swift, on longing for a "normal" college experience, as someone who began her career at an early age:
"I never got to have the normal college experience, per se. I went to public high school until tenth grade and finished my education doing homeschool work on the floors of airport terminals. Then I went out on the road on a radio tour, which sounds incredibly glamorous but in reality it consisted of a rental car, motels, and my mom and I pretending to have loud mother-daughter fights with each other during boarding so no one would want the empty seat between us on Southwest.
As a kid, I always thought I would go away to college, imagining the posters I'd hang on the wall of my freshmen dorm. I even set the ending of my music video for my song 'Love Story' at my fantasy imaginary college, where I meet a male model reading a book on the grass and with one single glance, we realize we had been in love in our past lives. Which is exactly what you guys all experienced at some point in the last four years, right?"
Swift's advice to this year's college graduates:
"I try not to give anyone unsolicited advice unless they ask for it. I'll go into this more later. I guess I have been officially solicited in this situation, to impart whatever wisdom I might have and tell you the things that helped me in my life so far. Please bear in mind that I, in no way, feel qualified to tell you what to do. You've worked and struggled and sacrificed and studied and dreamed your way here today and so, you know what you're doing. You'll do things differently than I did them and for different reasons.
So I won't tell you what to do because no one likes that. I will, however, give you some life hacks I wish I knew when I was starting out my dreams of a career, and navigating life, love, pressure, choices, shame, hope and friendship.
The first of which is…life can be heavy, especially if you try to carry it all at once. Part of growing up and moving into new chapters of your life is about catch and release. What I mean by that is, knowing what things to keep, and what things to release. You can't carry all things, all grudges, all updates on your ex, all enviable promotions your school bully got at the hedge fund his uncle started. Decide what is yours to hold and let the rest go. Oftentimes the good things in your life are lighter anyway, so there's more room for them. One toxic relationship can outweigh so many wonderful, simple joys. You get to pick what your life has time and room for. Be discerning.
Secondly, learn to live alongside cringe. No matter how hard you try to avoid being cringe, you will look back on your life and cringe retrospectively. Cringe is unavoidable over a lifetime. Even the term 'cringe' might someday be deemed 'cringe.'
I promise you, you're probably doing or wearing something right now that you will look back on later and find revolting and hilarious. You can't avoid it, so don't try to. For example, I had a phase where, for the entirety of 2012, I dressed like a 1950s housewife. But you know what? I was having fun. Trends and phases are fun. Looking back and laughing is fun.
And while we're talking about things that make us squirm but really shouldn't, I'd like to say that I'm a big advocate for not hiding your enthusiasm for things. It seems to me that there is a false stigma around eagerness in our culture of 'unbothered ambivalence.' This outlook perpetuates the idea that it's not cool to 'want it.' That people who don't try hard are fundamentally more chic than people who do. And I wouldn't know because I have been a lot of things but I've never been an expert on 'chic.' But I'm the one who's up here so you have to listen to me when I say this: Never be ashamed of trying. Effortlessness is a myth. The people who wanted it the least were the ones I wanted to date and be friends with in high school. The people who want it most are the people I now hire to work for my company. "
Swift on life's challenges actually being a blessing in disguise:
"The times I was told no or wasn't included, wasn't chosen, didn't win, didn't make the cut…looking back, it really feels like those moments were as important, if not more crucial, than the moments I was told 'yes.'
Not being invited to the parties and sleepovers in my hometown made me feel hopelessly lonely, but because I felt alone, I would sit in my room and write the songs that would get me a ticket somewhere else. Having label executives in Nashville tell me that only 35-year-old housewives listen to country music and there was no place for a 13-year-old on their roster made me cry in the car on the way home.
But then I'd post my songs on my MySpace — yes, MySpace — and would message with other teenagers like me who loved country music, but just didn't have anyone singing from their perspective. Having journalists write in-depth, oftentimes critical, pieces about who they perceive me to be made me feel like I was living in some weird simulation, but it also made me look inward to learn about who I actually am. Having the world treat my love life like a spectator sport in which I lose every single game was not a great way to date in my teens and twenties, but it taught me to protect my private life fiercely. Being publicly humiliated over and over again at a young age was excruciatingly painful but it forced me to devalue the ridiculous notion of minute by minute, ever-fluctuating social relevance and likability. Getting canceled on the internet and nearly losing my career gave me an excellent knowledge of all the types of wine."
Swift has yet to announce which one of her albums she'll re-record next, but she recently unveiled the Taylor's Version of 1989's "This Love," which premiered in the trailer for upcoming teen rom-com The Summer I Turned Pretty. She also released an original song, "Carolina," that was featured in the trailer for Where the Crawdads Sing.