Three Hit-Filled Keith Urban Albums Come To Vinyl
The release of 'Graffiti U' and two earlier albums means that the country superstar's entire catalogue is now on vinyl.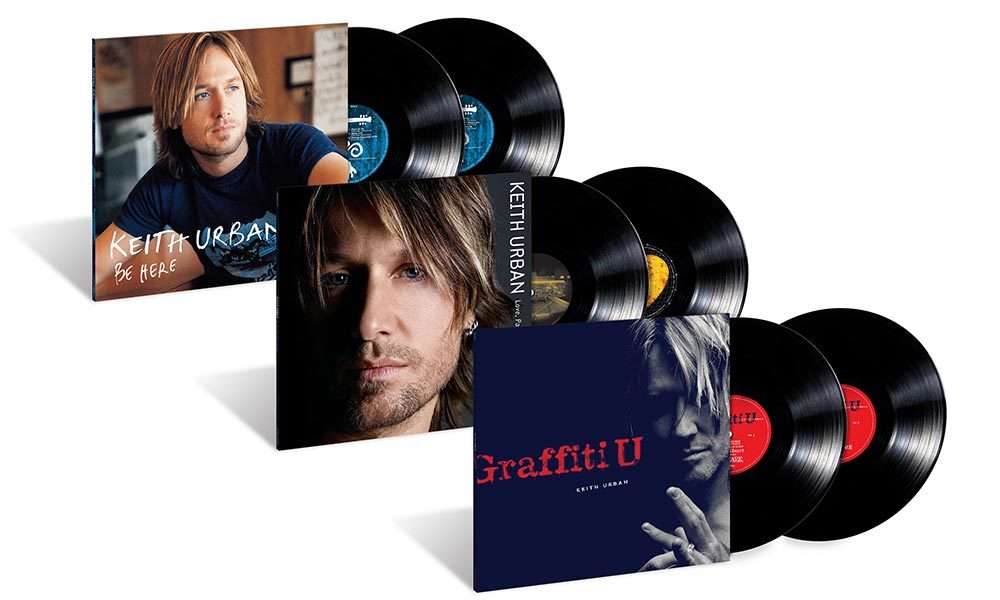 Three hit-laden albums in the stellar career of country giant Keith Urban are newly available as black vinyl releases from Capitol Nashville/UMe. They are his current, ninth studio set Graffiti U, 2006's Love, Pain & The Whole Crazy Thing and 2004's Be Here.
Each of the titles has been expanded to 2LP editions in order to present the music in the highest quality, Joining the already-available Fuse, Get Closer and Golden Road, the new editions mean that Urban's entire album catalogue is now available on vinyl.
Graffiti U currently stands among the top ten bestselling albums of any genre in 2018, and includes the hits 'Female,' 'Parallel Line' and its latest featured track 'Coming Home.' The latter song highlights the American singer-songwriter Julia Michaels, and quotes a memorable riff from Merle Haggard's country standard 'Mama Tried.'
The vinyl editions also embrace two of the albums that helped Urban on his unstoppable route to the top of the country world. Love, Pain & The Whole Crazy Thing included the No. 1 single 'Once in a Lifetime' and the top five hits 'I Told You So,' 'Everybody' and the Grammy-winning 'Stupid Boy.'  Be Here was a quadruple platinum-selling success, fuelled by no fewer than three No. 1 country singles, 'Days Go By,' 'Better Life' and 'Making Memories of Us,' written by Rodney Crowell. 
Graffiti U, 2006 's Love, Pain & The Whole Crazy Thing and Be Here are available now as standard weight, 2LP black vinyl editions. Scroll down to read the track lists, and buy them here.
Graffiti U:
LP1
SIDE A
1. Coming Home (featuring Julia Michaels)
2. Never Comin' Down
3. Same Heart
4. (My Wave Intro)
5. My Wave (featuring Shy Carter)
SIDE B
6. Parallel Line
7. Drop Top (featuring Kassi Ashton)
8. Way Too Long
LP2
SIDE C
9. Horses (featuring Lindsay Ell)
10. Gemini
11. (Texas Time Intro)
12. Texas Time
SIDE D
13. Love The Way It Hurts (So Good)
13. Female
15. Steal My Thunder
Love, Pain & The Whole Crazy Thing:
LP1
SIDE A
1. Once In A Lifetime
2. Shine
3. I Told You So
SIDE B
4. I Can't Stop Loving You
5. Won't You Let You Down
6. Faster Car
7. Stupid Boy
LP2
SIDE C
8. Used To The Pain
9. Raise The Barn (feat. Ronnie Dunn)
10. God Made Woman
SIDE D
11. Tu Compania
12. Everybody
13. Got It Right This Time

Be Here:
LP1
SIDE A
1. Days Go By
2. Better Life
3. Making Memories of Us
SIDE B
4. God's Been Good to Me
5. The Hard Way
6. You're My Better Half
LP2
SIDE C
7. I Could Fly
8. Tonight I Wanna Cry
9. She's Gotta Be
SIDE D
10. Nobody Drinks Alone
11. Country Comfort
12. Live To Love Another Day
13. These Are The Days
Explore our Keith Urban Artist Page.
Format:
UK English