Toby Keith To Follow Live Comeback With '100% Songwriter' Compilation
The collection includes many of the best-loved hits of the Songwriters Hall of Fame and Nashville Songwriters Hall of Fame inductee.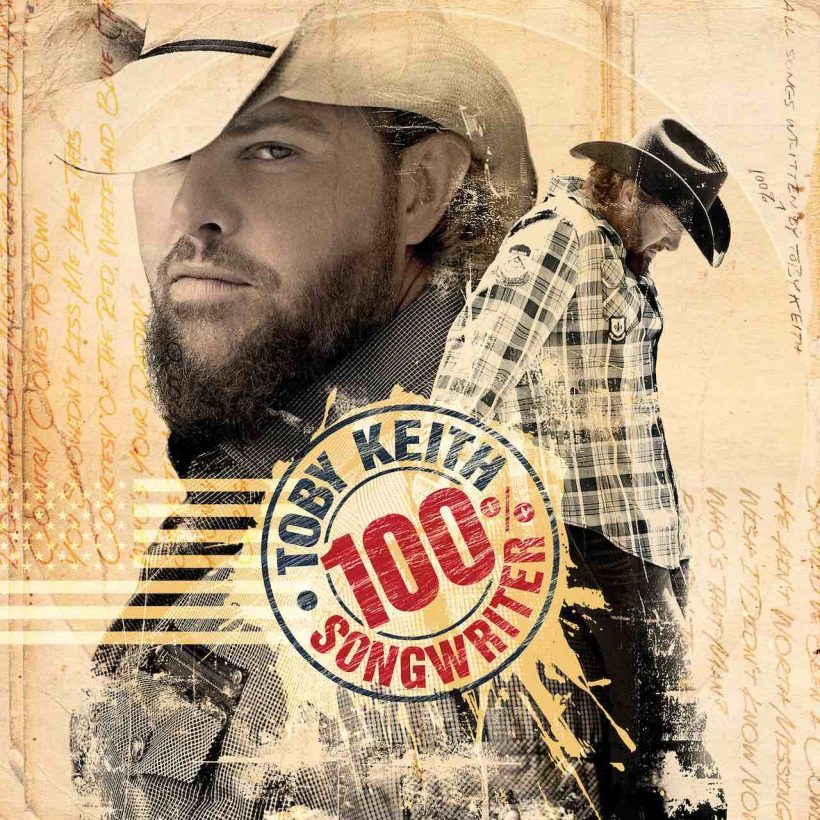 Country music figurehead Toby Keith has announced the November 3 release of his 100% Songwriter compilation, on Mercury Nashville/UMe, in vinyl and digital editions.
The 13-track collection includes many of the best-loved hits of the Songwriters Hall of Fame and Nashville Songwriters Hall of Fame inductee. It showcases Keith as a solo songwriter, all the way back to his first single and No.1 smash, 1993's "Should've Been A Cowboy," which he wrote in a motel bathroom in Dodge City, KS. That single has recently been certified triple platinum by the RIAA.
That hit raised the curtain on a career that has brought Keith sales of more than 40 million albums, 52 Top 10 hits and 32 No.1s. Marking 30 years since that first hit, he will be celebrated in an extended editorial section of Country Aircheck's print special for October. Keith is also due to be honored as "Country Icon" at next week's inaugural People's Choice Country Awards in Nashville, which will air on NBC.
Toby Keith - Who's Your Daddy? (Official Music Video)
The new collection includes favorites from his self-titled debut album through to 2006's White Trash With Money. The video for Keith's 2002 No.1 "Who's Your Daddy?" – his sixth consecutive country chart-topper – has been shared in remastered HD format. Another track from 100% Songwriter, the 1994 No.1 "Who's That Man?," follows next month. A number of other music videos of Keith's hits have been remastered and shared over the summer.
Another song on the anthology, "Courtesy of the Red, White And Blue (The Angry American)" – which has just been certified quadruple platinum by the RIAA – has its handwritten lyrics featured, along with Keith's Takamine American Flag guitar and the digital version of the song's video, in the traveling Songwriters Hall of Fame exhibit The Power Of A Song. After closing at the Grammy Museum in Los Angeles on September 4, it opens at Nashville's Belmont University on September 28, and will run there until May 9.
Keith is now returning to performing mode after the longest stretch off the road of his career, due to health reasons, He recently performed two hometown pop-up concerts in Norman, Oklahoma of more than two hours each, on consecutive nights in Hollywood Corners, the 1920s roadhouse that the star converted into a bar and music venue in 2015.
Keith has also recently purchased and rebranded the bait and tackle brand Luck E Strike, well-known for its Redman Spinner Bait. Fans can pre-order T-shirts, sweatshirts, keychains and more as the company ramps up production on its new American-made product line, due to be launched soon.
Pre-0rder 100% Songwriter, which is released on November 3.
The full tracklist is:
1. Should've Been A Cowboy, from Toby Keith
2. He Ain't Worth Missin', Toby Keith
3. Wish I Didn't Know Now, Toby Keith
4. Who's That Man?, Boomtown
5. Big Ol' Truck, Boomtown
6. Does That Blue Moon Ever Shine On You, Blue Moon
7. Country Comes To Town, How Do You Like Me Now?!
8. You Shouldn't Kiss Me Like This, How Do You Like Me Now?!
9. Courtesy Of The Red, White and Blue (The Angry American), Unleashed
10. Who's Your Daddy?, Unleashed
11. Stays In Mexico, Greatest Hits 2
12. Honkytonk U, Honkytonk U
13. Crash Here Tonight, White Trash With Money