Toby Keith
The country singer and songwriter from Moore, Oklahoma has notched multiple chart-topping hits over the course of his career.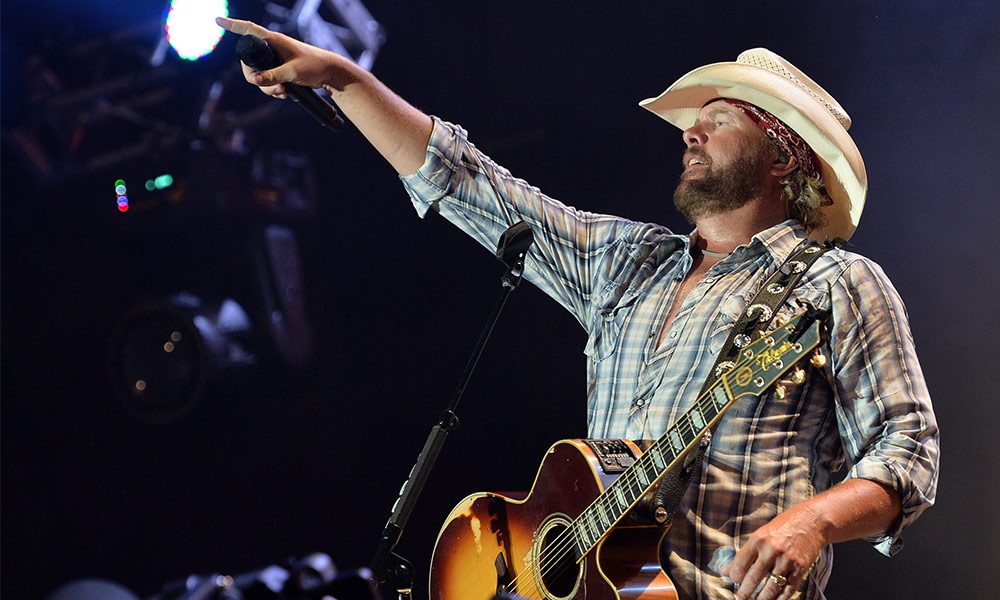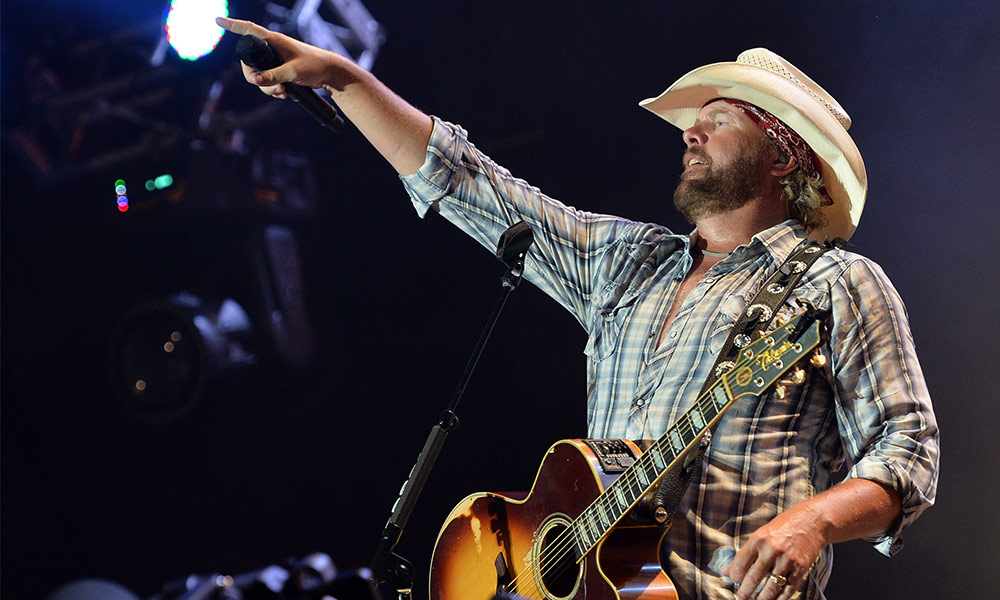 Toby Keith Covel is one of those bad boys of country music that eventually turns things around. A relative latecomer to the scene in that he didn't start recording in earnest until his early twenties, Keith is famous for rowdy album titles that sound like hip hop bravado but he's a work in progress rather than just a piece of work. His album sales exceed 40 million worldwide and he's notched up an impressive range of number ones in the long-form and singles charts. His list of awards is no less impressive whether at the American Music Awards, the CMA or the Academy of Country Music. He also backs up his image by doing good philanthropic work for the underprivileged and for children with cancer and while he's famously a patriot he doesn't necessarily foist his views via his music and may, in fact, be apolitical by nature, as he gets older.
Our catalogue is packed with Keith's best work – from the earliest successes like Pull My Chain through to the classic crossover American Ride. A far more esoteric act than his cowboy hat image suggests – he's worked with Willie Nelson and Sting – Keith is a wealthy man with a wealth of talent. Just for good measure, Mr Keith has appeared with honour in two movies – Broken Bridges and Beer for My Horses and owns the restaurant franchise I Love This Bar and Grill as well as a successful clothing range. You could say he is the Jay-Z of country music. Or you might better say he is the one and only Toby Keith.
Hailing from Clinton, Oklahoma and raised all around the mid-South, Toby Keith was more likely to have been a football player or an oilman than a successful country artist but when those other avenues petered out he returned to his love of the honkytonks and wound up peddling demos in Nashville where Mercury Records man Harold Shedd liked what he heard. His self-titled debut album was preceded by the single 'Should've Been A Cowboy' which not only went to number one, it also became the most-played country song of the decade, followed up the charts by 'He Ain't Worth Missing', 'A Little Less Talk and a Lot More Action' and 'Wish I Didn't Know'. Suddenly the whole of America was buzzing on this new talent and he matched his promise on the debut with Boomtown (1994) and Blue Moon (1996) from whence 'Me Too' soared to the top again. Backed by hotshots like Sonny Garrish, Reggie Young and Brent Mason, Keith's canny fusion of female-friendly ballads with a surprisingly sensitive inner core that also allowed his road band Easy Money to shine.
Dream Walkin' is a tad more pure country in flavour with plenty of steel guitars to drive his muse along. The title track and his Sting cover, 'I'm So Happy I Can't Stop Crying' (which features the latter on bass and vocals) gave notice that Keith was in it for the long haul and so it proved. His tougher new sound begins to emerge on 'How Do You Like Me Now?!', 'Country Comes to Town', appealing to the blue-collar  American heartland where buyers hankered after a man's man.
We're particularly keen on Unleashed (2002) since it includes the gloriously over the top 'Courtesy of the Red, White and Blue (The Angry American)' – US troops overseas favourite, as well his duet with Willie Nelson, the gallivanting 'Beer For My Horses' – a barroom favourite in anyone's money and his biggest Number One hit. But listen beyond any rhetoric and you'll hear a decent man dealing with real-life problems as well as big issues and also making darn sure the music fits the picture.
Right up in the country stratosphere now we mention his 20th Century Masters – The Millennium Collection: The Best of Toby Keith. The ideal introduction to the man and his work this 12-cut wonder is a massive seller in its own right and if it's the hits to date you're after you will find them stacked up and ready to go right here.
Back to ongoing business, we find Keith bossing his patch on the excellent Shock'n Y'all (2003) – one of the great modern drinking albums. Now casting himself as a somewhat rebellious and rowdy version of the old school Outlaw brigade of country renegade, Keith manages to revel in and debunk his perceived image as a redneck (he patently isn't) while sending himself up on occasion though he's never been afraid to take the bull by the horns – witness his infamous run-in with the Dixie Chicks. 'I Love This Bar', 'Whiskey Girl' and 'American Soldier' cover one side of his waterfront but the funky 'Sweet', 'Baddest Boots' and the hilarious 'The Critic' all cause a different stir. A bit of confrontation is to be welcomed in any sphere of music and if sometimes Country steers clear of too much controversy it doesn't when Toby's in town.
Once he's graduated from Honkytonk University and gifted the world the fine White Trash With Money (2006) we're on his case again via Big Dog Daddy (2007).
Hardly mellowed but still kicking over the traces with a smile this self-produced outing on his own Show Dog Nashville imprint includes some of his finest songs to date – namely 'High Maintenance Woman', the fast and funky 'Get My Drink On' and the clever wordplay of 'Wouldn't Want to Be Ya'.
With one of his acclaimed Christmas albums and a Greatest Hits in the bag, Toby's right on it with That Don't Make Me A Bad Guy (2008) where he continues to utilise his tried and trusted specialist players as he returns to the ballad form that suits him just as well as his roughneck side. That fact is borne out by the hits within: 'She Never Cried in Front of Me', 'God Love Her' and 'Lost You Anyway' have got just the right amalgam of tear jerkin' and chain jerkin' to make them real.
Our journey with Toby Keith arrives at 2009's American Ride which again contains the proper blend of swagger and sweetness that make sure this artist stands out of the crowd. He rocks his own mythology on 'Loaded' and 'Cryin' For Me (Wayman's Song)' – the latter a poignant tribute to jazz musician and basketball player Wayman Tisdale – and generally delivers his usual strong and touching performance.
With his penchant for the masculine and the colloquial it's too easy to see Toby Keith as a myopic tub-thumper but we hope you'll have realised by now that he's a far more rounded and gifted artist than that. His albums contain food for thought, plenty of opinions and a whole load of ace country playing and memorable songwriting. Needless to say, this album hit number one again. So, maybe he shoulda been a cowboy but we're mighty glad he became a country star. A damn good one at that.
More recently, albums the likes of Bullets In The Gun, Clancy's Tavern and Hope On The Rocks have kept Keith on top of his game. All come with bonus tracks in the deluxe versions, as does the super-successful Drinks After Work, which always goes down well.
In 2015, Keith went for broke on 35 MPH Town, which included an excellent cast of sidemen, among them Robert Greenidge on steel drums, Jimmy Buffett's featured vocal on "Sailboat For Sale" and a fat brass and string section. "Drunk Americans", the title cut and "Beautiful Stranger" all did the business, as did Keith's charitable core foundations and his live act. The passing of Merle Haggard was no doubt a blow, but this man Keith can fill some considerable boots.
Words: Max Bell
Format:
UK English