Toby Keith Shares 'America' EP Amid Slew Of RIAA Certifications
The RIAA has awarded Keith a total of 20 new certifications across 17 titles.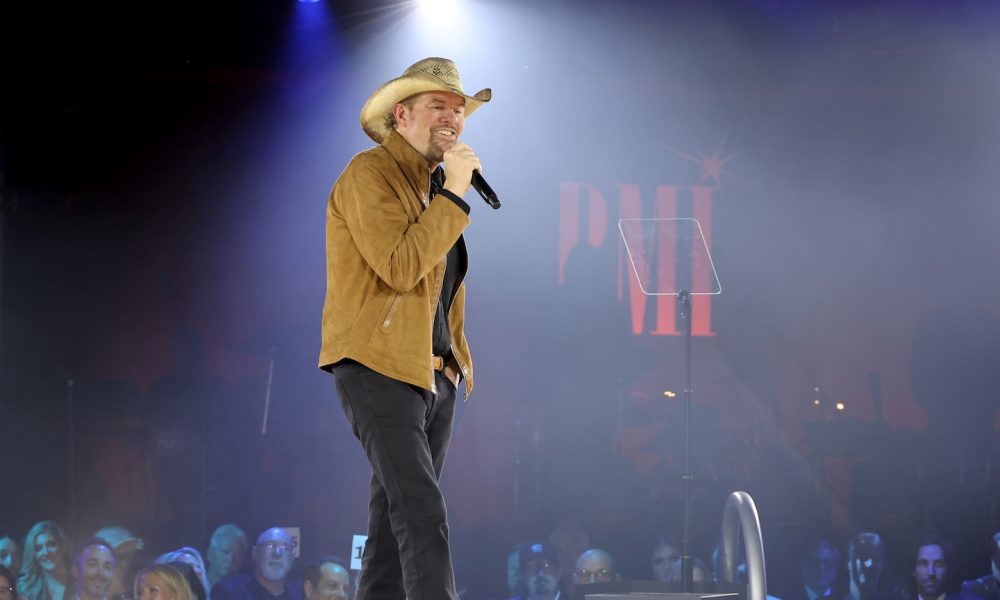 Toby Keith's six-song America EP is now on release, featuring songs with themes held dear by the country music figurehead, from a catalog that has sold some 40 million albums. The recordings of the Songwriters Hall of Fame inductee have generated global streams of some 10 billion.
Toby Keith - I Love This Bar
All six of the tracks are among a weighty list of new gold and platinum single certifications for Keith, newly awarded by the RIAA, comprising a total of 20 certifications across 17 titles. Fifteen of those songs were written by Keith, of which five are solo compositions. He also wrote or co-wrote all six songs on the America EP, for which the tracklisting is:
1. Courtesy Of The Red, White And Blue (The Angry American)
2. Should've Been A Cowboy
3. American Soldier
4. As Good As I Once Was
5. I Love This Bar
6. Beer For My Horses
Buy or stream Toby Keith's America EP.
The full list of Keith's new RIAA certifications is:
RIAA certifications:
"American Soldier" (Toby Keith, Chuck Cannon) – Double Platinum
"As Good As I Once Was" (Keith, Scotty Emerick) – Triple Platinum
"Beer For My Horses" (Keith, Emerick) – Double Platinum
"Bullets In The Gun" (Keith, Rivers Rutherford) – Gold
"Courtesy Of The Red, White And Blue (The Angry American)" (Keith) – Triple Platinum
"Get Drunk And Be Somebody" (Keith, Emerick) – Gold
"How Do You Like Me Now?!" (Keith, Cannon) – Platinum & Double Platinum
"I Love This Bar" (Keith, Emerick) – Platinum & Double Platinum
"I Wanna Talk About Me" (Bobby Braddock) – Platinum
"Made In America" (Keith, Bobby Pinson, Scott Reeves) – Platinum
"Red Solo Cup" (Brett Beavers, Jim Beavers, Brad Warren, Brett Warren) – Triple Platinum
"She's A Hottie" (Keith, Pinson) – Gold
"Should've Been A Cowboy" (Keith) – Platinum & Double Platinum
"Whiskey Girl" (Keith, Emerick) – Platinum
"Who's Your Daddy" (Keith) – Gold
"Wish I Didn't Know Now" (Keith) – Gold
"You Shouldn't Kiss Me Like This" (Keith) – Gold