'40 Tours Around The Sun' Is "Us Doing It Like Only We Can" Say Toto
Filmed in Amsterdam, '40 Tours Around The Sun' finds Toto celebrating a career landmark with fans who have "stuck with us through thick and thin".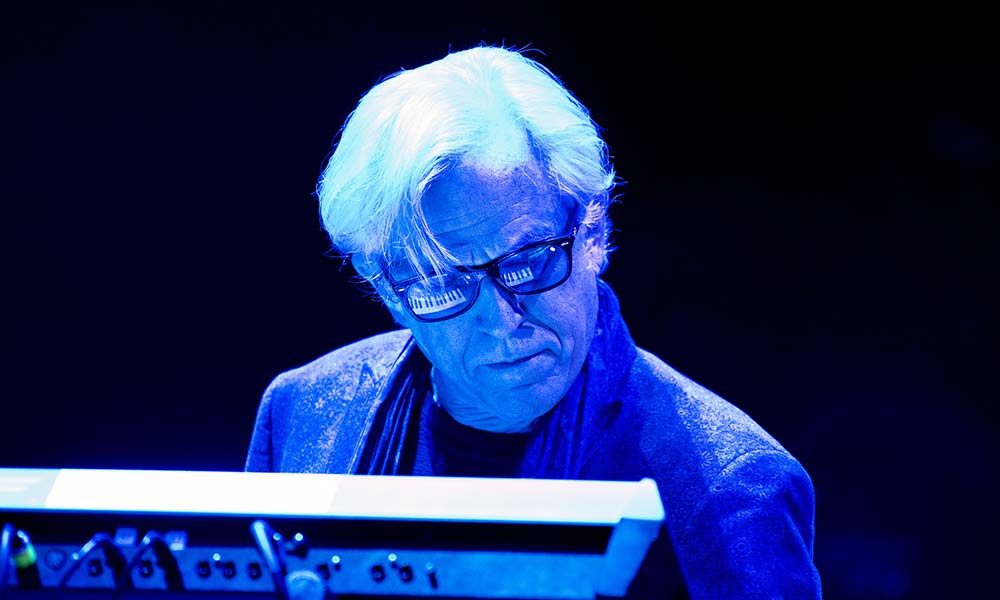 2018 was an exceptional year for Toto. In support of their comprehensive 40 Trips Around The Sun anthology, the multi-million-selling Californian rockers set off on their biggest world tour in years, performing sold-out shows for hundreds of thousands of fans across the globe. This much-publicised trek resulted in a series of career-best performances including a remarkable show filmed at Amsterdam's Ziggo Dome, on 17 March 2018, and released through Eagle Rock as 40 Tours Around The Sun.
Lavishly shot so as to make fans feel they're almost on stage with the band, 40 Tours Around The Sun showcases Toto performing a marathon two-hour set that includes their signature hits as well as deep cuts from their wider career and freshly-penned tunes such as 'Alone' and 'Spanish Sea'.
Buy 40 Tours Around The Sun right now.
Accordingly, the 40 Tours Around The Sun DVD, which also features a host of extras, makes for a cinematic triumph fans will cherish. It enshrines into legend a show that Toto's core group – vocalist Joseph Williams plus original members Steve Lukather (guitar/vocals) and the band's two keyboard maestros, Steve Porcaro and David Paich – recall with fondness.
"Our fans have stuck with us through thick and thin"
"You can tell we love playing the Ziggo Dome – it's kind of our European version of [Tokyo's] Budokan, if you will," Steve Porcaro tells uDiscover Music. "It's a place that's always magical for us, so if we were going to have a film capturing 40 Tours Around The Sun, it just had to be in Amsterdam.
"We've always had a special relationship with our fans there," he furthers. "When our first album [1978's Toto] came out, it did well in the States, but it was nothing like what was going on in northern Europe in general, which has always been this amazing hotspot for us. It's a part of the world where our fans have stuck with us through thick and thin. Whether we've been having hit records or not, they've always been there for us."
Toto - Alone (40 Tours Around The Sun)
Social media, too, has played a part in the band's ongoing renaissance. The perennial appeal of Toto's legendary hit, 'Africa' – a Billboard chart-topper in 1983, but now a widely-recognised 21st-century soft-rock classic that has racked up a gargantuan 460 million views on YouTube – has been significant, though Weezer's Billboard Hot 100 Alternative Chart-topping cover of the song didn't hurt either.
"It's been part of this phenomenal wave of popularity"
"It's been very mutually beneficial," Porcaro readily agrees. "A young fan of Weezer's started a Twitter campaign for them to cover 'Africa' after she heard our version on [Netflix's] Stranger Things. They'd already covered [our hit] 'Rosanna', which set the ball rolling. We really appreciate Weezer doing that and it's been part of this phenomenal wave of popularity that's swept us along over the past four or five years.
"Even now, almost every day we're hearing of someone doing a new version of 'Africa' and it's just remarkable," he continues. "People have sent us choral versions of the song, and recently we even heard two guys in a pizza place, just a couple of weekend warriors, doing this kick-ass version of it. It's amazing. While we've been out on the road it's felt like we've had a current hit record to promote!"
Toto - Rosanna (40 Tours Around The Sun)
40 Tours Around The Sun inevitably features consummate versions of Toto's landmark hits 'Rosanna', 'Africa' and 'Hold The Line'. Long-term fans will, however, also be drawn to the "Storyteller" section, mid-way through the show, wherein the band pull up chairs, discuss the background to some of the deeper cuts from their wider catalogue and then perform lesser-heard tracks such as 'Miss Sun', 'No Love' and Steve Porcaro's 'Human Nature' (the latter famously recorded by Michael Jackson for Thriller) in stripped-back, semi-acoustic mode.
"I'm still loving that section of the set"
"We've made the 'Storyteller' section a feature of the set throughout the whole tour," Porcaro reveals. "For a long time, we've wanted to have a segment in the middle where we strip down fan favourites from our catalogue, so we were determined to make it a reality on this tour.
"I must admit I'm still loving that section of the set. It's changed since David [Paich] took a little sabbatical at the tour's outset. Now he's back in the line-up, it's continually evolving. It's such a cool spot in the show. We can play whatever we feel like pulling out of the past and it goes down real well. Everyone loves to hear us talk about the songs and see a little of what goes on behind the curtain, so to speak."
Toto - Dune Desert Theme (40 Tours Around The Sun)
"The past few years have felt like a regeneration"
What is immediately apparent from watching 40 Tours Around The Sun is that Toto may now be celebrating four decades in the industry, but their universal appeal will only continue to filter down to new generations. Indeed, as Steve Porcaro himself admits, large swathes of their audience hadn't even have been born when 'Africa' went to No.1 early in 1983.
"We do get a lot of parents dragging their kids along and we've got a contingent of young kids who have discovered us, which is great, obviously," he enthuses.
"The past few years have been a regeneration for us and it's just been an amazing time. People still want to hear our music, because they know we always try to do the records justice, despite the passing of time, the personnel changes and heartbreak we've endured. Ultimately, it's all about the quality of the songs, so people still want to see us because they know it's us doing it like only we can."
40 Tours Around The Sun is out now and can be bought here.
Format:
UK English