A Brief History Of Sampling
Through sampling, hip-hop has the power to bring old music to new years, helping music to evolve while paying respects to the artists that came before.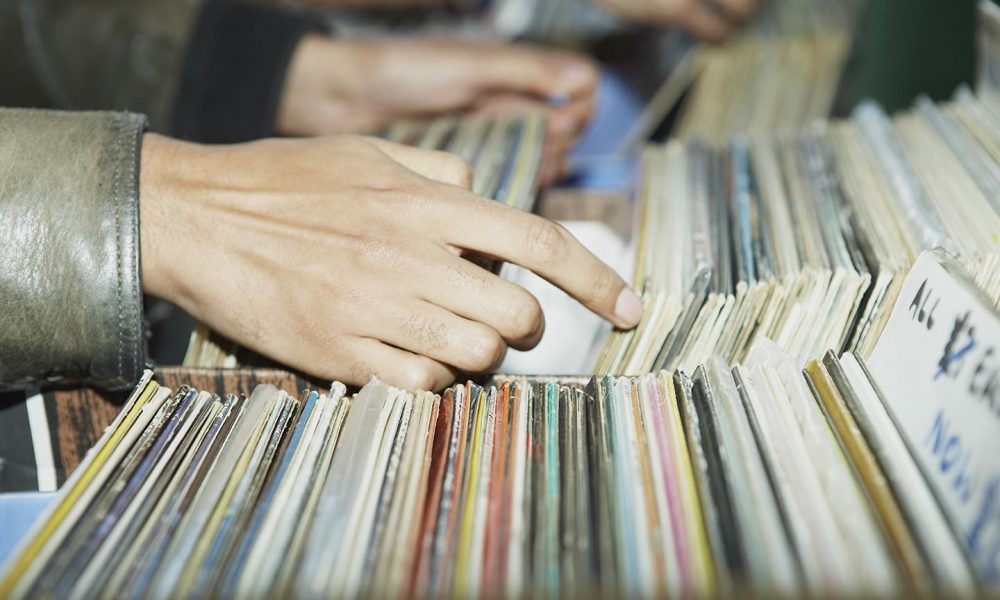 Hip-Hop: that's music that rips off other people's songs, right? Why can't these rappers write their own? Sampling is stealing!
You could look at it that way – or you could say that appropriation has fuelled the evolution of music ever since Day One. Think of all the old blues riffs that have been recycled over the ages… and then the white rock bands that supercharged those licks and helped to forge hard rock and heavy metal in the late 60s and early 70s. Or Bob Dylan: that great wordsmith who's pilfered from sources as wide-ranging as British folk song 'Scarborough Fair' and the Japanese crime memoir Confessions Of A Yakuza.
It's all part of a wider patchwork, in which something old becomes something new in the hands of a younger generation. And respects are being paid in the process: hip-hop producers wouldn't build their work on something they thought was terrible. Though many songs might now be more recognisable for a track they were later sampled in, in many cases the producers would have been looking to bring obscure gems to light, both in order to surprise their listeners and ensure that their music was fresher than anyone else's. Legendary block party DJs such as Grandmaster Flash, Kool Herc and Afrika Bambaataa would scratch out the labels on the records they were playing with, in order to keep their sources secret – and keep their punters dancing.
Hip-hop's unlikely heroes are The Shadows: a British instro combo led by bespectacled guitarist Hank Marvin, and best known for backing Cliff Richard. Their 1960 chart-topper 'Apache' was covered by The Incredible Bongo Band on their 1973 album, Bongo Rock, and it's this latter version that soon found its way into the arsenal of every block-party DJ of the 70s, the mix-masters keeping its distinctive drumbeat going ad infinitum for breakdancers (or B-boys and B-girls) to bust a move to. So important is the song in hip-hop's history that it's been claimed as the genre's "national anthem" and, in 1981, Sugar Hill Gang, the group who first took hip-hop into the charts with 'Rapper's Delight', recorded a tribute, 'Apache', capturing the spirit of those early block parties.
Other classic breakbeats came in the shape of James Brown's 1970 cut 'Funky Drummer', which provided ample beats for B-boys to break to, and which, 20 years later, lent a funky backbone to Public Enemy's incendiary 'Fight The Power'. Unsurprisingly, the self-proclaimed Minister Of New New Super Heavy Funk – and his associated acts – was mined by all and sundry during hip-hop's late 80s Golden Age, and his influence on the music remains deeply felt today, as Kendrick Lamar proved when lifting from 'The Payback' for 'King Kunta' on last year's To Pimp A Butterfly. Further hot grooves were found in Brown's offshoot acts, Marva Whitney's 'It's My Thing' providing both the hook and the title for an EPMD track; Lyn Collins' 'Think (About It)' being chopped into Rob Base And DJ E-Z Rock's endlessly infectious 'It Takes Two'; and Bobby Byrd's 'I Know You Got Soul' perhaps being more recognisable these days for its use in the Eric B And Rakim classic of the same name.
Arguably the only challenger to James Brown's status as hip-hop's go-to source was George Clinton, whose P-Funk empire has long been part of hip-hop's DNA, appearing in everything from goofy classics such as Digital Underground's 'Humpty Dance' (built around Parliament's 'Let's Play House') to gangsta rap landmarks. Indeed, the Parliafunkadelicment Thang even lent its P-Funk epithet to the G-Funk music that Dr Dre helped spearhead, a stand-out example of which is Snoop Dogg's Dre-produced 'Who Am I? (What's My Name?)', which refashioned Clinton's solo outing 'Atomic Dog' into Snoop's theme tune.
Like Digital Underground, De La Soul were another Tommy Boy-signed act that proclaimed their love for George Clinton via heavy sample use, notably on their classic single 'Me, Myself And I', which brought Funkadelic's '(Not Just) Knee Deep' to the airwaves when it was released in 1989. But though De La rose to prominence during the Golden Age – a sort of Wild West era where, briefly, anything went – they were brought up short by The Turtles, who sued the group for $1.7 million for using their 1968 recording of 'You Showed Me' in 'Transmitting Live From Mars', an album skit that barely made it past the one-minute mark.
The case was settled out of court for an undisclosed sum, and budding acts were subsequently forced to be more circumspect. Many started making their own beats, ushering in a new type of producer, but, by that point, all manner of sources had been gleefully plundered for booty-shaking booty – including classic rock's most sacred cows. Indeed, the year that De La were dragged into the courts, Beastie Boys released a high-water mark of the Golden Age, Paul's Boutique. Though their soul and funk samples were de rigueur, the Beasties, along with production duo The Dust Brothers, cast as wide a net as anyone had up to that point, looking to everyone from country icon Johnny Cash to The Beatles for source material, and coming up with masterpieces such as 'The Sounds Of Science', a dazzling patchwork that included various snippets from 'Back In The USSR', 'The End', 'Sgt Pepper's Lonely Hearts Club Band' (both the main track and its reprise) and 'When I'm 64' – and that's just the Beatles samples.
Perhaps the most famous classic rock sample is Aerosmith's 1975 single 'Walk This Way', a song that, 11 years later, Run-DMC remade entirely in collaboration with singer Steven Tyler and guitarist Joe Perry, resulting in a landmark moment that proved that both hip-hop and rock drew upon similar reserves of energy that could complement each other. Another mid-70s staple that later found new life on a Golden Age classic was Eric Clapton's cover of 'I Shot The Sheriff', which underpinned EPMD's 'Strictly Business', while the iconic bassline for Lou Reed's 'Walk On The Wild Side' helped make A Tribe Called Quest's 'Can I Kick It?' one of the most recognisable songs on the radio in 1991. Not that hip-hop's rock samples have been limited to well-worn riffs from the obvious names: Public Enemy merged thrash metal's raw power with their own righteous fury when, in 1988, they sampled Slayer's 'Angel Of Death' for the coruscating intro to 'She Watch Channel Zero?!', while, 20 years later, 'Nothing Is The Same', a 1970 B-side by Grand Funk Railroad, was given entirely new context when musical polymaths The Roots sampled it for 'Rising Down', the title track to their 2008 album.
When Stetsasonic released their 1988 single 'Talkin' All That Jazz', they rebuffed the critics: "Tell the truth, James Brown was old/'Til Eric and Ra came out with 'I Got Soul'/Rap brings back old R&B/And if we would not, people could've forgot." But they also included a bassline from pianist Lonnie Liston Smith's 'Expansions', acknowledging jazz music as part of the hip-hop lexicon. Perhaps it's no surprise that, as hip-hop matured in the 90s, producers turned more frequently to jazz's more cerebral offerings for inspiration. One of the decade's stand-out releases, The Pharcyde's 1992 album, Bizarre Ride II The Pharcyde, included a remake of Louis Armstrong's 'Jeepers Creepers' chorus on 'Soul Flower (Remix)', while, on the same album, the bassline from John Coltrane and Johnny Hartman's 'Autumn Serenade' for turned up on 'Pack The Pipe'. (A little over a decade later, Atlanta duo OutKast would go so far as to properly cover Coltrane's version of 'My Favorite Things' on their double-album Speakerboxxx/The Love Below.) It also helped that, throughout the 90s and 00s, jazz music's reserves were relatively untapped, allowing producers such as J Dilla and Madlib to carve out their own territory, the former often turning to Bill Evans (as on Slum Village's 'Hoc N Pucky', which utilises an almost unrecognisably slowed-down melody from Evans' 'TTT (Twelve Tone Tune)'), while the latter was given free rein over the Blue Note catalogue when he released his Shades Of Blue remix album.
It took someone with bags of confidence to revisit well-worn tracks in the 21st Century… someone like Kanye West, who made a name for himself doing just that. In his early days, in particular, West super-charged classic soul cuts, making them more bombastic than ever before while bringing these important recordings to a new audience. By the time he turned to Ray Charles' 'I Got A Woman', he had the trick down to a fine art, making that song a central component to his all-conquering 'Gold Digger' single of 2005. When he sampled Nina Simone's cover of Billie Holiday's iconic civil-rights anthem 'Strange Fruit' on 2013's 'Blood On The Leaves' he almost made it sound more chilling than the original.
For Kanye – as for the best hip-hop artists – there are no boundaries. As West grew in statue, so did his ambitions, and, for his 2010 masterpiece, My Beautiful Dark Twisted Fantasy, he starting looking to prog rock for music that could match his outsized ideas, lighting upon Mike Oldfield's 'In High Places' for 'Dark Fantasy'. And though prog is not often the go-to source for hip-hop's guiding lights, OutKast's subtle use of Camel's 1976 recording 'Spirit Of The Water' on their 1998 track 'Da Art Of Storytellin' (Part 2)' remains a testament to the creativity of both.
Reactionary voices might have been "talkin' all that jazz" several decades ago, but now that hip-hop is as mainstream as Corn Flakes or Disney, it has the power, more than ever, to bring music "people could've forgot" to new ears. For every crate-diggin' muso looking for obscurities, there's a Kendrick Lamar single that might inspire someone to revisit the old masters (how many people set out to discover The Isley Brothers after hearing 'That Lady' sampled in 'i'?). Something old, something new, something borrowed: that's how we get from here to there.
Proto-hip-hop icon Gil Scott-Heron might have sung 'The Revolution Will Not Be Televised', but as far as the future of music is concerned, the evolution will happen in your ears.
Format:
UK English