'Revival': The Allman Brothers Band Hit The Singles Scene
'Revival (Love Is Everywhere)' emerged from the band's 'Idlewild South' album and gave them a debut on the Billboard Hot 100.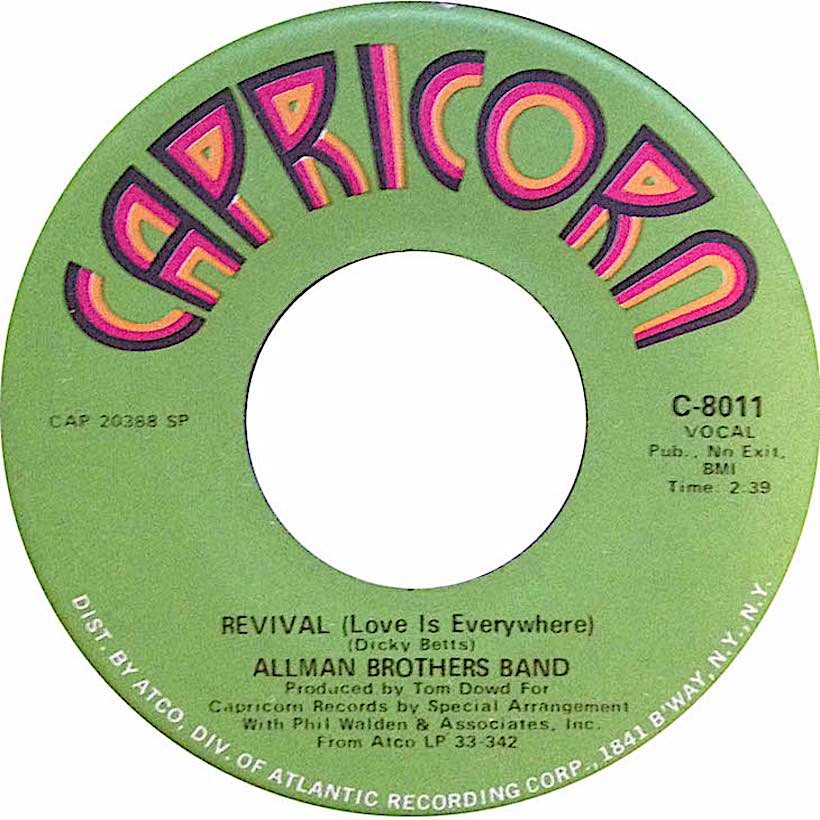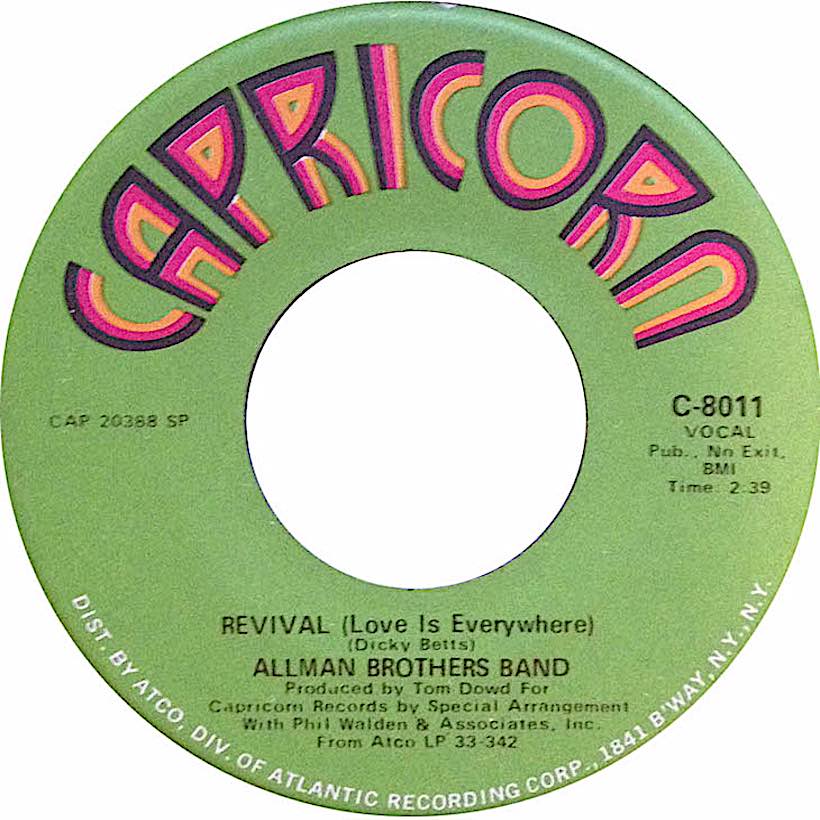 By the beginning of 1971, the buzz about the Allman Brothers Band was getting to be as undeniable as one of Duane's solos. They had made their US LP chart debut, with their first, self-titled album, 12 months earlier, following its modest No. 188 peak in the October of 1970 with Idlewild South, which reached a much-improved high of No. 38 in December. Then, a track from it peeped above the parapet and made it into the hallowed ranks of the Billboard Hot 100.
The Tom Dowd-produced album started with a Dickey Betts song called 'Revival.' Released as a Capricorn/Atco 45 with the subtitle 'Love Is Everywhere' added in parentheses to help radio programmers, the track was listed in the magazine's Bubbling Under section immediately before and after Christmas. On 9 January 1971, as airplay expanded from album and college rock outlets to a number of adventurous top 40 stations, the track broke through the pop barrier, entering the Hot 100 at No. 92. Its choral vocals in the second half gave the song something of a gospel rock feel.
That week, George Harrison was in the third of a four-week run at the top of the American singles chart with 'My Sweet Lord,' and the big new records in the top ten were the Bee Gees' 'Lonely Days' and Barbra Streisand's 'Stoney End.' The three highest new entries were all British: McGuinness Flint's 'When I'm Dead And Gone' at No. 85, the New Seekers' 'Beautiful People' at 86 and John Lennon's 'Mother' at 87.
Sad to say, 'Revival' (Love Is Everywhere)' didn't make it any higher than its entry position, holding at No. 92 a week later and then falling to No. 100 and off the chart. It would be 15 months before the group returned to the singles chart with 'Ain't Wastin' Time No More,' and the summer of '73 before 'Ramblin' Man' took them to No. 2, but the Allmans were expanding in all directions.
'Revival' is on the Allman Brothers Band's Idlewild South album, which can be bought here.
Format:
UK English