Best Anthrax Songs: 20 Mind Melting Classics
As one of the Big Four of thrash, Anthrax helped usher in a style of metal that not only dominated throughout the 80s, but lay the template for metal to come.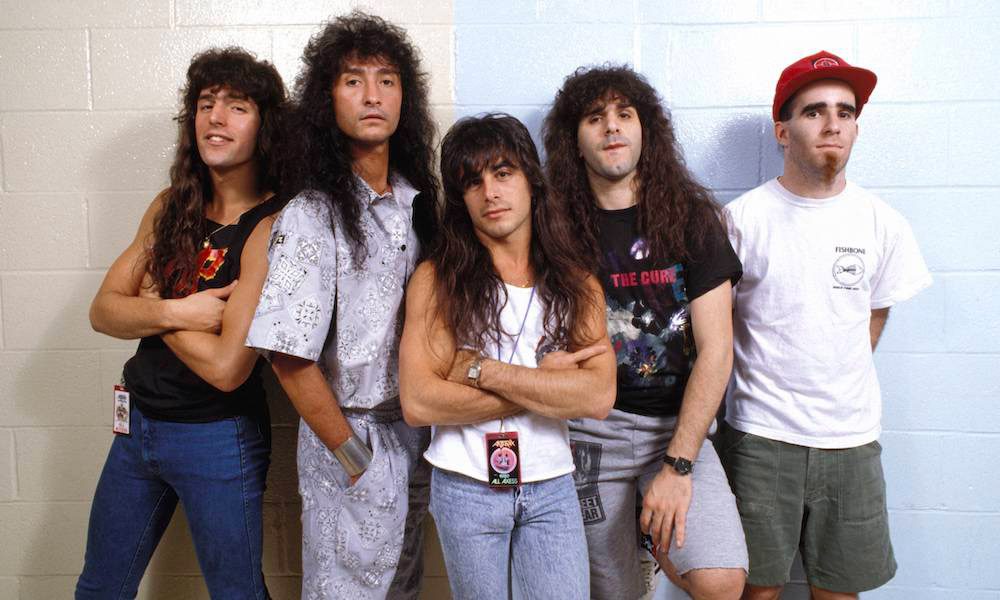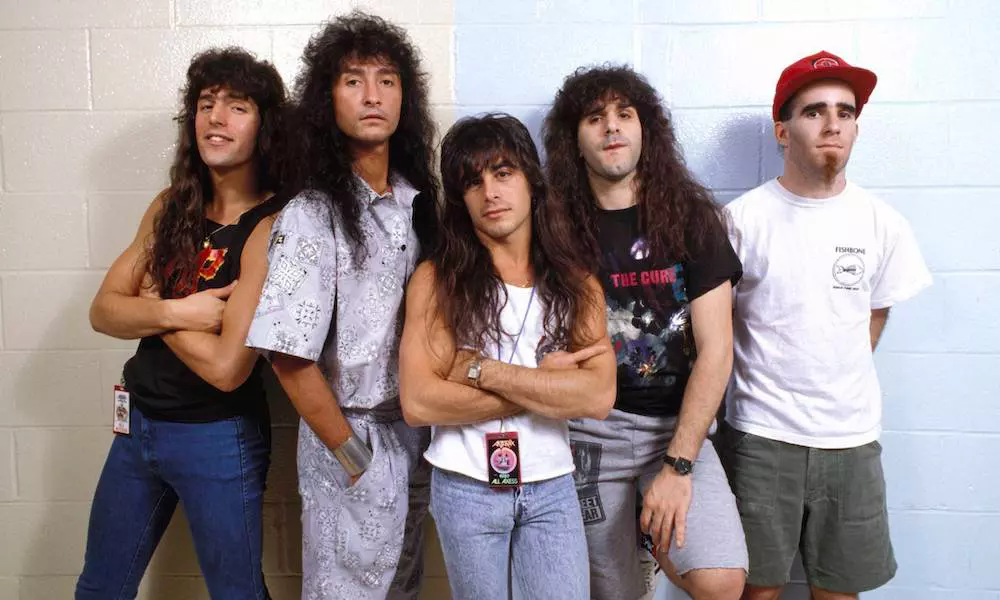 As one of the Big Four of thrash, Anthrax helped usher in a style of metal that not only dominated throughout the 80s, but lay the template for metal to come. Yet while their Big Four counterparts, Megadeth, Metallica and Slayer, were West Coast acts, Anthrax formed in New York City. It's a distinction that's stood them apart from their peers: the group remains the most notable East Coast metal act of the era, infusing the music with some distinctly New York sensibilities – not least a CBGB-indebted punk intensity to their playing. On top of that, Anthrax's grip on melody meant that, for all their aggression and astounding precision speed playing, they also wrote unavoidably hook-laden songs, making them a unique proposition among the thrash metal elite, as the best Anthrax songs attest.
Listen to the best Anthrax songs on Apple Music and Spotify.
Having formed in 1981, Anthrax spent several years settling on an established line-up – most of which was in place by the time they released their first album, Fistful Of Metal, on the independent Megaforce imprint. Centered around a core trio of guitarists and founding members Scott Ian and Dan Spitz, along with drummer Charlie Benante, the album made a name for the band on the underground metal scene and attracted major label Island, which signed the group for its sophomore effort. With vocalist Joey Belladonna and bassist Frank Bello replacing Neil Turbin and Danny Lilker, respectively, Anthrax's classic line-up was complete – and Spreading The Disease, issued in 1985, became one of thrash metal's defining works.
Capturing the band still a little bit rough around the edges, Spreading The Disease nevertheless featured all the elements that Anthrax would refine over the years – a thunderous rhythm section; Ian and Spitz's frenetic fretwork work; Joey Belladonna's soaring vocals – plus, in the brief spoken (or, rather, cackled) intro to 'Madhouse', a hint at the group's wry sense of humor. In the main, though, it confirms their versatility, with 'A.I.R.' bursting out of the traps: a collision of drums and riffs, and Belladonna asserting, "Independence means owning your decisions." 'The Enemy', meanwhile, once again displays Belladonna's range as a vocalist, while the group lock into a heavy groove behind him; 'Madhouse' is a suitably frenzied charge through its protagonist's nightmare; 'Armed And Dangerous', with its descending opening riff, builds from ballad beginnings to a wild thrash anthem replete with Charlie Benante's blast beats and the twin guitars of Scott Ian and Dan Spitz, as Belladonna asks, "Am I evil, or am I insane?"
Whatever the answer, Anthrax were in bloom. The album earned them a support slot with Metallica, after which they settled into to the studio to record their third long-player, 1987's Among The Living. Lead single 'I Am The Law' took the group into the UK chart for the first time, peaking at No.32 – a performance nearly matched by its follow-up, 'Indians', which reached No.44. Both made it clear how far Anthrax had advanced since their debut: on the former, the group switch time signatures with an ease that's almost disdainful of anything approaching simplicity; the performance is heavier, altogether more confident, while Joey Belladonna saves his showpiece vocal acrobatics for the five-minute mark – making them all the more effective for his restraint elsewhere on the track.
Meanwhile, 'Indians' sees Charlie Benante going all over the map, from tribal drumming to short, sharp blast beats, driving the band forward on a song that addresses the fate of Native Indian tribes in the US. Such was Anthrax's range that, despite remaining album tracks, 'Caught In A Mosh' and 'Efilnikufesin (N.F.L.)' could just as easily have made for further single releases – the former in particular packing a punch with its hardcore-indebted call-and-response vocals in the chorus.
Charlie Benante was the driving force behind much of the music on Anthrax's fourth album, State Of Euphoria, which explains the propulsive two singles released from that record, 'Make Me Laugh' and 'Antisocial' – the former targeting Televangelists ("Jesus saves/But only after I've been paid"), the latter just one in a line of curious choices of cover material, being originally released as a single, in 1980, by French hard rockers Trust. Indeed, the first single from Anthrax's next album, 1990's Persistence Of Time, was another cover, 'Got The Time', a gobby reimagining of a song originally recorded by British new wave icon Joe Jackson. Frank Bello's short'n'sharp bass solo further evidenced the band's whip-crack versatility, while follow-up single 'In My World' and album track 'Belly Of The Beast' were attacked with similar ferocity, the band's hardcore punk influences coming to the fore.
Less obvious an influence were Public Enemy, the incendiary New York hip-hop group, led by Chuck D, who namechecked their hometown brethren in their sonic assault, 'Bring The Noise'. Chuck and co originally took the song to No.32 in the UK in 1988, but a 1991 re-recording with Anthrax once again revealed the group to be one of the more musically adventurous of their contemporaries, while also giving them their highest UK chart entry, peaking at No.14. Released on the collection Attack Of The Killer B's, along with a cover of KISS's 'Parasite', it saw Anthrax enter the 90s as one of the most high-profile acts to emerge from thrash metal's original breed.
Anthrax & Public Enemy - Bring The Noise (Official Video)
But changes were underway. When the band returned with an album of new material, Sound Of White Noise, in 1993, Joey Belladonna had left and was replaced by John Bush, a more traditionally heavy metal vocalist. Yet with grunge reshaping the rock landscape in the early part of the 90s, Anthrax proved they could still hold their own. Less complex songwriting, with one ear on the arena-filling sound of Pearl Jam and Soundgarden, gave the group their highest placing in the US album charts (peaking at No.7), while, in the UK, the album's first single, 'Only', fought through the retro-futurism of Britpop to peak at No.36.
Anthrax - Only (Official Video)
Released in 1995, Stomp 442 was an even more stripped-back affair, as founding guitarist Dan Spitz left to become a watchmaker. The leaner, four-piece Anthrax announced themselves with the direct hit of 'Fueled'; eight years later, with the release of their 2003 outing, We've Come For Your All, Anthrax completed their transformation from masters of precision speed-playing to purveyors of a more radio-friendly sound, as encapsulated by the likes of lead single, 'Safe Home'.
An eight-year silence followed. But when Anthrax resurfaced, they once again brought the noise, reasserting their status as one of thrash metal's finest with Worship Music. Fresh off a Big Four tour with Metallica, Megadeth and Slayer, and with Joey Belladonna returning after a 20-year hiatus, Anthrax let loose in 2011 with 'Fight 'Em 'Til You Can't', a defiant, six-minute call-to-arms that harked back to thrash's 80s heyday – and which could just as well have been adopted as the band's motto throughout their entire career.
Looking for more? Discover Spreading The Disease: An Oral History Of Thrash Metal.
Format:
UK English