The Best Billy Idol Songs: A Master Of Reinvention
The acclaimed musician blends raw, anthemic rock with sleek new wave pop and dancefloor-friendly production.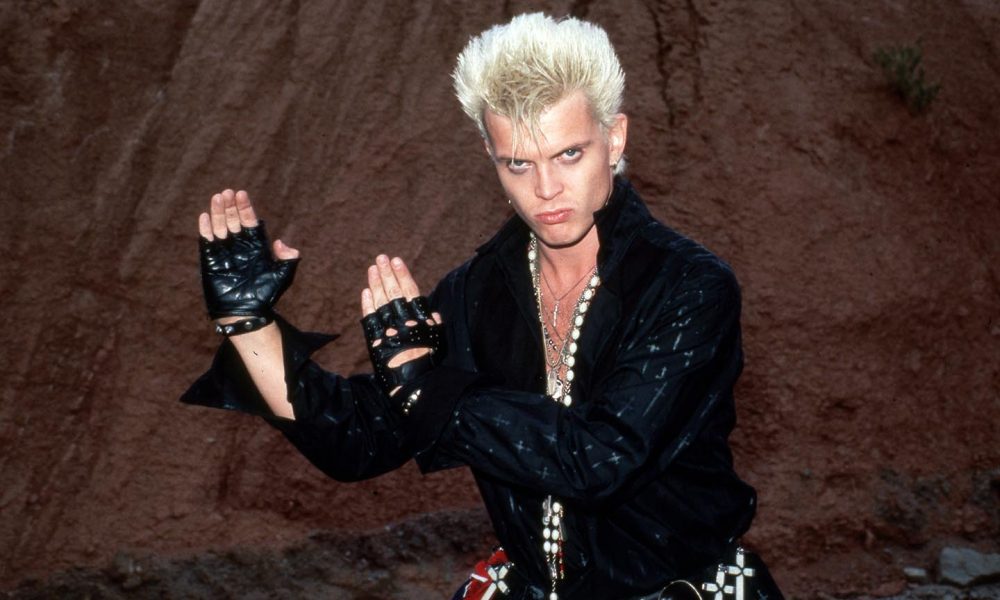 One of rock's masters of reinvention, Billy Idol has carved out a career that has spanned decades. Galvanized by punk's DIY culture, Idol (born William Broad) was initially part of staunch Sex Pistols fan group the "Bromley Contingent," before he first rose to prominence fronting London-based UK punk outfit Generation X, crafting three albums and scoring hits with tracks including "Your Generation," "King Rocker," and "Valley Of The Dolls."
Generation X enjoyed a high profile and decent sales in the U.K., but Idol made a much more significant mark when he relocated to the U.S. to launch a solo career in collaboration with long-term guitarist Steve Stevens. Forging a highly distinctive sound by blending raw, anthemic rock with sleek new wave pop and dancefloor-friendly production, Idol's music consistently hit new heights during the 1980s. Littered with hit singles, albums such as Billy Idol, Rebel Yell, Whiplash Smile, and Charmed Life all decamped in the upper echelons of the Billboard charts, while Idol's photogenic blonde sex god looks ensured he was perfectly placed to enhance his career with the coming of MTV.
Listen to the best Billy Idol songs now.
Despite this stellar success, Idol has also had to battle his demons. A horrific motorcycle crash almost cost him one of his legs in 1990 and he's also had to face down addiction issues – but he's lived on and continues to thrive. He significantly overhauled his sound with 1993's underrated Cyberpunk, while acclaimed 21st-century releases Devil's Playground and Kings & Queens Of The Underground prove he remains a force to be reckoned with. In 2023, meanwhile, his contribution to rock n' roll was recognized with a star on the prestigious Hollywood Walk Of Fame. In celebration of his many achievements through the years, here is a rundown of the best Billy Idol songs.
Cover Star
("Mony Mony," "Dancing With Myself," "To Be A Lover," "L.A. Woman")
Many of Billy Idol's most enduring tracks are self-penned affairs, but he's also a sublime interpreter of other people's songs, often recording choice cover versions which have significantly raised his profile. Idol's debut solo release, October 1981's Don't Stop EP is a notable case in point, opening with his euphoric, cheerleading take of Tommy James & The Shondells' 1968 hit "Mony Mony." This sturdy rocker has served Idol especially well, as an energized live rendition of the song later rewarded him with his lone US No. 1 single in 1987.
Idol's Don't Stop EP introduced him to the US Billboard Hot 100 and it also featured a second cover (of sorts) with a streamlined version of "Dancing With Myself," originally recorded by Generation X (as Gen X) in 1980. The band's Japanese tour in 1979 had originally inspired the song, when Idol and bassist Tony James were intrigued by the sight of Tokyo clubbers dancing with their reflections in a mirror at a nightclub instead of with other people. Producer Keith Forsey's remix of "Dancing With Myself" also showed that Idol's music could compete on the dancefloor when it broke into the Top 30 of the Billboard Hot Dance Club Play chart late in 1981.
Billy Idol - Dancing With Myself
Idol's cover of William Bell and Booker T. Jones' "I Forget To Be Your Lover," was another radical revamp. Originally a soul ballad sung by Bell, Idol turned it into an electro-tinged rockabilly lament supported by gospel backing vocals and N'Awlins-style boogie piano. Released as the trailer single for Whiplash Smile, "To Be a Lover" did extremely good business, peaking at No. 6 on the Billboard Hot 100 and also going Top 10 in Canada, Australia, and New Zealand.
Following the success of "To Be a Lover," Idol also selected a cover version for his fourth album, 1990's Charmed Life. This time, the song in question – The Doors' "L.A. Woman" – seemed a more logical fit for the singer, by this time a UK expat living in L.A. Though lacking the subtlety of The Doors' original recording, Idol and his band nonetheless worked up a pumped, steely, and largely faithful version of "L.A. Woman," though Idol replaced the song's iconic "Mr. Mojo risin'" middle section with snatches of Stick McGhee's post-war jump blues "Drinkin' Wine Spo-Dee O'Dee," later popularized by Jerry Lee Lewis.
Hitting The Sweet Spot
("Hot In The City," "White Wedding," "Rebel Yell," "Flesh For Fantasy")
After the success of his initial Don't Stop EP, Idol proved he was more than capable of pursuing a credible solo career with his self-titled debut album, produced by Keith Forsey (Sparks, Giorgio Moroder) and released in July 1982. The album's release was preceded by the timely "Hot In the City," a soulful, synth-heavy pop song with '60s overtones.
Featuring one of Idol's most seductive vocals, this eminently hooky song rewarded the singer with his first Billboard Top 30 success, though it was eclipsed by its immediate follow-up "White Wedding." This tense, smoldering rock anthem (partially inspired by Idol's then-pregnant sister) is now widely regarded as Idol's signature song, but it was actually a slow burner on release. First issued as a single in November 1982, "White Wedding" initially made Billboard's Bubbling Under The Hot 100 chart, but it only became a fully-fledged U.S. Top 40 hit when it was reissued in July 1983. It also made inroads in the global psyche when it became a U.K. Top 10 hit in 1985 following its inclusion in the Vital Idol remix collection.
Billy Idol - White Wedding (Part 1)
Strangely, "Rebel Yell," another song synonymous with Billy Idol, was only a relatively minor hit on release. Also serving as the title track from Idol's second album, this boisterous rocker was inspired by an event Idol attended at The Rolling Stones guitarist Ronnie Wood's place in New York City, where Idol witnessed Wood and Mick Jagger taking swigs from a bottle of Rebel Yell Kentucky bourbon. Though a fantastically urgent rock anthem, Idol's "Rebel Yell," actually peaked at a relatively lowly No. 46 on the Billboard Hot 100, though it later became a U.K. Top 10 hit on reissue in 1985. At least in terms of chart ratings, it was actually usurped by Rebel Yell's final single, the underrated "Flesh For Fantasy," a potent blend of rock, pop, and funk that scraped the US Top 30, which – despite lining up among the very best Billy Idol songs – is often overlooked in retrospectives of his wider career.
Idol Balladeer
("Eyes Without A Face," "Catch My Fall," "Sweet Sixteen," "Prodigal Son")
Understandably, Billy Idol is revered primarily for his ferocious rock songs, yet he's also a more than capable balladeer – often at his best when delivering slower songs full of depth and grace. Several of his biggest U.S. hits are ballads, starting with "Eyes Without A Face," the most downbeat track from Rebel Yell, which peaked at No. 4 on the Billboard Hot 100. Drawn to titles of horror movies, Idol took "Eyes Without A Face" from French director Georges Franju's 1960 film Les Yeux Sans Visage (the French title also providing part of the chorus), but his charismatic croon is seductive enough to override the potentially unsettling subject matter.
Billy Idol - Eyes Without A Face
A little more traditional in design and execution, "Catch My Fall" was chosen as the fourth and final single from Rebel Yell and, by rights, should have repeated the success of "Eyes Without A Face," yet it barely scraped the Top 50 of the Billboard Hot 100. Nonetheless, "Catch My Fall" remains one of Idol's most memorable ballads, with an arrangement building purposefully to a glorious chorus – and it's still well worth revisiting today.
By comparison, Whiplash Smile's "Sweet Sixteen" was considerably more successful on the charts, peaking at No. 20 in 1986 when chosen as the album's third single in the U.S. Taken on quality alone, it should probably have done much better, as it arguably remains Billy Idol's most finely-wrought and beautifully executed ballad. Semi-acoustic in design and imbued with gentle Tex-Mex overtones, "Sweet Little Sixteen" was a heartbreaker par excellence.
Elsewhere, one of the best Billy Idol songs to benefit from a more intimate approach is "Prodigal Blues," from 1990's Charmed Life. This expansive power ballad is effectively a rite of passage song based on a conversation Idol's father once had with Billy, which he was now having with his own son, Willem. The gist of the conversation is the father telling the son he needs to leave behind the security of the things he loves to find himself. In the song, Idol observes that he may well have been too hedonistic in doing so ("Ridin', walkin', lookin' so cool/ I guess I crossed over the borderline"), yet the fact he's still drawn to danger ("I'd do it again, wouldn't you") provides the song with an intoxicating sting in the tail.
Master Of Reinvention
("Cradle Of Love," "Shock To The System," "Adam In Chains," "Speed")
To many, Billy Idol is easily recognizable as punk's blonde sex god, but he's regularly upgraded his look along the way, and he's done the same with his music, sometimes giving it a subtle – and sometimes more radical – overhaul as he's absorbed elements of music's ever-changing trends. Indeed, he scored one of his biggest hits in 1990 with "Cradle Of Love," a song that effortlessly blended past, present, and future. Encompassing elements of raw 50s rock 'n' roll and raunchy, Ramones-esque punk, "Cradle Of Love," was quintessential Idol, but it was taken to a whole new level by Keith Forsey's sparkling, state-of-the-art production. In fact, it climbed to No. 2 on the Billboard 100 with help from future Seven and The Girl With The Dragon Tattoo director David Fincher's brilliant promo film, which became a huge hit with MTV.
Billy Idol - Cradle Of Love (Official Music Video)
"Cradle Of Love" played to Billy Idol's strengths, but he plotted a notably more radical change with his next album, 1993's Cyberpunk. Inspired at least in part by Idol's interest in the sci-fi subgenre of the same name (and its leading authors such as William Gibson and Neal Stephenson), Cyberpunk was also realized with a greater reliance upon computers and technology and the industrial music genre, which was then making stars of U.S. acts such as Nine Inch Nails. Much of the music on Cyberpunk reflected this sea change, though the record's biggest single "Shock To The System," efficiently blended the new technology of the day with a classic Idol rock anthem. It was pushed further by a strikingly futuristic video – directed by Brett Leonard and based upon the 1992 Los Angeles Riots – which received two Grammy nominations.
Cyberpunk also contained one of Idol's strangest, if equally absorbing singles in "Adam In Chains." A significant departure from Idol's traditional sound, this two-part song sprawled across six minutes, with the first part – effectively the sound of a hypnotherapist coaxing the listener into a state of relaxation – giving way to an eerie electro-pop song featuring a glacially beautiful vocal from Idol.
Cyberpunk was greeted by mixed reviews, though it yielded both critical and commercial success in Europe, where it broke into the U.K. Top 20. Back in the U.S., however, Billy Idol, would soon be back in the public eye during the mid-1990s after he co-wrote and performed the theme song for the Academy Award-winning Hollywood blockbuster Speed, starring Sandra Bullock, Keanu Reeves, and Dennis Hopper. A chugging punk anthem with a suitably explosive chorus, "Speed" represented a vintage return to form for Billy Idol and it still burns serious rubber today.
21st Century Idol
("Scream," "John Wayne," "Can't Break Me Down," "Bitter Taste")
No further studio albums emerged following Cyberpunk during the 90s, but Idol remained in demand, appearing in the live version of The Who's legendary Quadrophenia in 1996, enjoying a cameo in Adam Sandler's film The Wedding Singer in 1998, and voicing the role of Odin in the animated sci-fi film Heavy Metal 2000.
In the new century, Capitol's self-explanatory 2001 Greatest Hits sold over a million copies in the U.S. alone, proving that Idol's stock remained strong. He's since returned to the fray with some excellent new material that has bolstered his already estimable catalog, beginning with 2005's Devil's Playground – a rip-roaring rock record that reunited Idol with long-term collaborators, guitarist Steve Stevens and producer Keith Forsey, and included the anthemic and savagely impressive "Scream."
Bridging the gap between Devil's Playground and Idol's next studio album, Capitol released another Idol retrospective, Idolize Yourself, in 2008. This collection, though, included two new tracks, one of which – the storming "John Wayne" – was as good as anything from Idol's 1980s heyday. He continued upward with 2014's Kings & Queens Of The Underground. Produced by Trevor Horn and Greg Kurstin (Paul McCartney, Beck, Foo Fighters), this confident set again included a clutch of fine songs, including "Can't Break Me Down," a defiant, attitude-heavy anthem that sits comfortably with the very best Billy Idol songs.
More recently, Idol has released music through George Harrison's Dark Horse label. The EPs, The Roadside (2021) and The Cage (2022), have again showcased excellent, age-defying material, with The Roadside's stand-out track, the emotional "Bitter Taste" more than living up to Pop Matters' review that declared the song "could well prove to be one of his definitive creations." Indeed, the quality inherent in these recordings suggests that while Billy Idol has already left us a legacy to die for, he's still clearly far from finished.