The Best Indie Music Gifts This Christmas
If you're having a hard time figuring out what Christmas gift to give a die-hard fan of indie music, we've got all the inspiration you need here.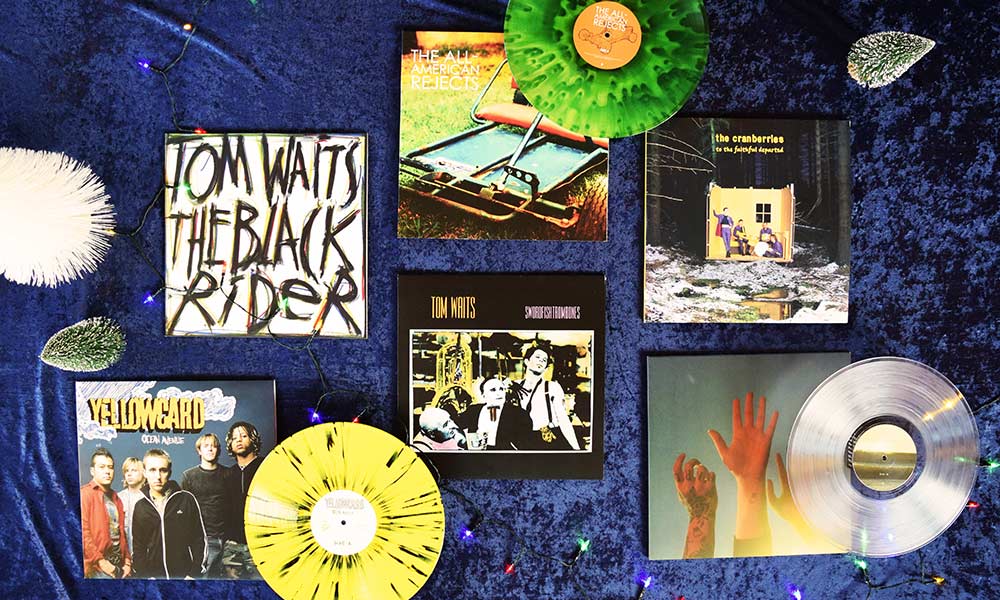 Not sure what to get the indie music fan in your life this Christmas? Check out our picks for the best indie albums and merch to give to your music-loving friends and family members this holiday season.
Tom Waits – Vinyl LPs
Tom Waits' entire groundbreaking mid-period Island Records studio catalog has been newly remastered from original tapes and released on vinyl for the first time. The reissue series was personally overseen by Tom Waits and Kathleen Brennan and includes pivotal albums Swordfishtrombones, Rain Dogs, Franks Wild Years, Bone Machine, and The Black Rider.
Lana Del Rey – Did You Know There's A Tunnel Under Ocean's Boulevard
The gift for any Lana fan or indie music-lover. Lana Del Rey's ninth album shouts out her relatives while pondering her own future and includes a number of surprising collaborators.
R.E.M. – Up (25th Anniversary Edition)
The legendary Athens rockers' bestselling album includes the U.K. Top 10 hit "Daysleeper," plus favorites "Lotus," "Suspicion," and "At My Most Beautiful. Newly remastered and expanded, the reissue also features a never-before-heard 11-song set from R.E.M.'s 1999 Party of Five taping.
Collective Soul – 7even Year Itch: Greatest Hits, 1994-2001
An essential collection from another legendary Georgia outfit, the compilation traces the apex of the band's career – from their 1993 breakthrough, "Shine," through 90s staples like "The World I Know," "December" and "Heavy," now for the first time on vinyl.
Jenny Lewis – Joy Y'all
Jenny Lewis' Blue Note/Capitol Records' debut and fifth solo album captured the joy of a singer-songwriter embarking on a new era, in a new town – and on a new label.
Sparks – The Girl Is Crying In Her Latte
If you missed their last tour, you can still get ahold of the Mael Brothers' hotly-anticipated record in years, full of intricately detailed stories within perfect three-and-a-half minute pop earworms.
The 1975 – The 1975 – Limited Edition 2LP
The 1975's audacious debut album celebrates its 10th anniversary with new limited edition formats, including a 4LP deluxe vinyl release containing 'The 1975′ plus 'Facedown' EP, 'Sex' EP, 'Music For Cars' EP & 'IV' EP, and solid white vinyl LP.
Bastille – Bad Blood X Limited Edition 1LP + 7-inch
A truly fan-first release, Bad Blood X offers an extended version of the album which catapulted Bastille from alt-pop newcomers to festival headliners. Along with the original album, it also includes a special 7-inch vinyl featuring two never-before heard demos, 'Racing Heart', and an early version of "Laura Palmer."
Social Distortion – Mommy's Little Monster
The seminal SoCal punk album includes the classics "Another State of Mind," "The Creeps (I Just Wanna Give You)," and "Mommy's Little Monster," now available on 180-gram vinyl exclusive vinyl color variants
Yellowcard – Ocean Avenue LP
Celebrating 20 years of Yellowcard's Ocean Avenue, the pop-punk staple and Y2K classic is now available on yellow and black splatter vinyl plus a bonus holographic litho of original cover.
Sum 41 – All Killer No Filler Limited Edition LP
Sum 41's smash breakthrough album is now available in custom blue & black vinyl. With classics like "In Too Deep," "Motivation," and "Fat Lip," Sum 41 cemented their place in pop punk history.
New Found Glory – Sticks And Stones Limited Edition LP
Originally released in 2002, New Found Glory's Sticks and Stones features their classic pop punk anthem, "My Friends Over You." This limited edition release is pressed on "Whirlpool" blue splatter vinyl including two bonus tracks, "Anniversary" and "Forget Everything."
No Doubt – The Beacon Street Collection LP
Produced by No Doubt and recorded in various locations in Southern California including the band's homemade studio on Beacon Avenue in Anaheim, California, the originally self-distributed The Beacon Street Collection features 10 tracks that the band released independently during the creative period prior to the debut of their blockbuster Tragic Kingdom album. Now officially available on vinyl for the first time ever.
Saves The Day – In Reverie Limited Edition LP
Twenty years after its initial release, Saves The Day's In Reverie gets a color-vinyl gatefold treatment. In Reverie was the band's only album on Dreamworks Records, and was recorded in early 2003 at both Larrabee in North Hollywood, and at Cello Studios (now EastWest) with the help of legendary producer Rob Schnapf. The gatefold features the original vinyl insert with lyrics and credits.
Bethany Cosentino – Natural Disaster
On the debut solo album from Best Coast's Bethany Cosentino, the Los Angeles-based singer/songwriter takes close account of the endless catastrophes and upheavals of modern life, offering a high-minded and open-hearted response that makes room for compassion, imagination, and a radical sense of possibility.
The Chemical Brothers – For That Beautiful Feeling
One of the most acclaimed and innovative electronic duos in the world, The Chemical Brothers, have released their tenth studio album, For That Beautiful Feeling. Recorded in the band's own studio near southern UK, this is a record that hunts for and captures that wild moment when sound overwhelms you and almost pulls you under yet ultimately let's you ride it's wave, to destinations unknown.
Snow Patrol – Final Straw (20th Anniversary Edition) 2LP
Written and recorded during a make-or-break period for the quartet, it set them on the path to becoming one of the biggest British guitar groups of the 21st century. This deluxe double LP edition of the album pressed on gold vinyl and housed in silver metallic effect gatefold sleeve has 12 additional tracks, including never before heard demos, b-sides, and the previously unreleased track "Tired." Included too are extensive new liner notes from Gary Lightbody alongside writings on Final Straw from Jo Whiley and Fiction Records MD Jim Chancellor.
Glass Animals – How To Be A Human Being (Zoetrope Limited Edition)
Ever wanted the Glass Animals' critically acclaimed second album How To Be A Human Being on zoetrope vinyl? Each side has been masterfully designed by zoetrope specialist Drew Tetz using the original album artwork.
The Killers – Day & Age
To celebrate the 15th anniversary of Day & Age, a new limited edition 1LP black pressing of the classic album is now available with an exclusive alternate cover. The album is certified platinum and includes the hit singles "Human" and "Spaceman.
Bush – Loaded: The Greatest Hits 1994-2023
With over 20 million records sold, one billion streams, and a procession of No. 1 hits, the acclaimed band stand tall as rock outliers whose imprint only widens as the years pass. Loaded provides an expansive view of the band's incredible legacy with 21 tracks spanning nearly 30 years.
The Velvet Underground & Nico – The Velvet Underground & Nico
Get The Velvet Underground & Nico's iconic album on a limited edition 'milky clear' LP in a gatefold with a 'peelable' banana on the front of the album. Recorded in 1966 during Andy Warhol's Exploding Plastic Inevitable multimedia event tour, The Velvet Underground & Nico gained attention for its experimental performance sensibilities, as well as the focus on controversial subject matter expressed in many of its songs.
Brian Eno – The Ship
A 1LP colored vinyl Edition of Brian Eno's The Ship in eco-packaging. Newly remastered by Miles Showell at Abbey Road, this release of the album celebrates Eno's first-ever solo tour, 'Ships Across Europe' in October 2023.
Jellyfish – Spilt Milk
In celebration of this album's 30 year anniversary, Jellyfish's landmark Spilt Milk returns to 180g vinyl. Mastered directly from the original analog tapes. The gatefold features lyrics and original artwork.
Stephen Wilson – The Harmony Codex
The Harmony Codex – the seventh album by Steven Wilson – is a genre-spanning collection that opens up like a musical puzzle box. Arguably the best album Wilson has made during a career that's spanned more than three decades both as a band leader and as a solo artist, it represents the apotheosis of a life spent fully absorbed in music.
Chvrches – The Bones Of What You Believe (10 Year Anniversary Editions)
This sterling debut has been fully remastered upon its 10th anniversary. Some editions contain a second LP of previously unreleased tracks and live recordings packaged in a die-cut gatefold jacket, bonus 7" clear vinyl featuring two exclusive demos of The Mother We Share plus signed art card.
Thurston Moore – Sonic Life – A Memoir
A study of a life lived in an environment of wild music and endless wonder, Sonic Life is the long-awaited memoir of iconic American musician and Sonic Youth frontman, Thurston Moore. A music-obsessed retrospective.