Best J Balvin Songs: 10 Reggaetón Pop Classics
The Colombian reggaetón pop giant is one of the most influential Latinx artists of the moment. Here are his best songs so far.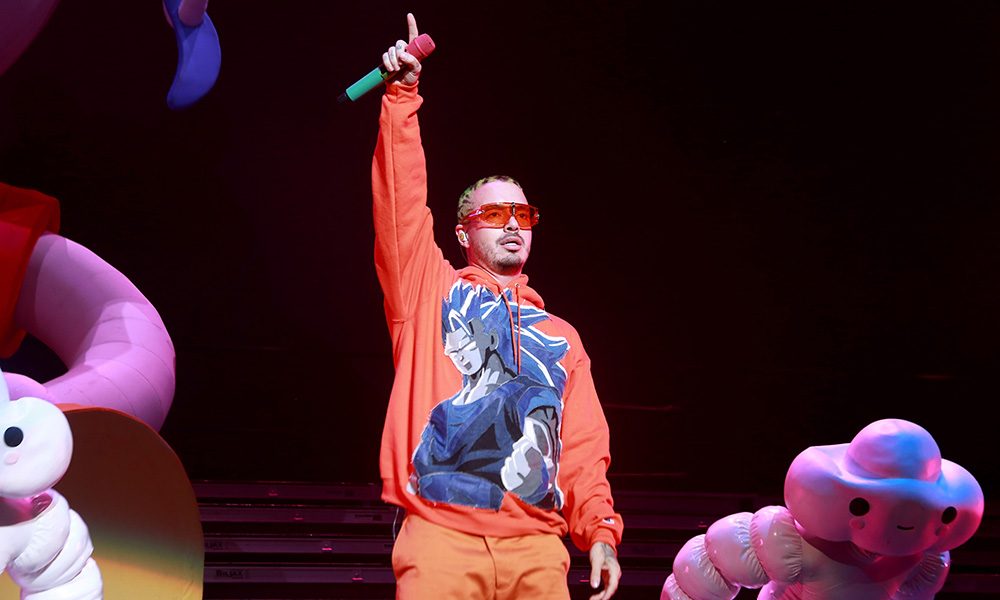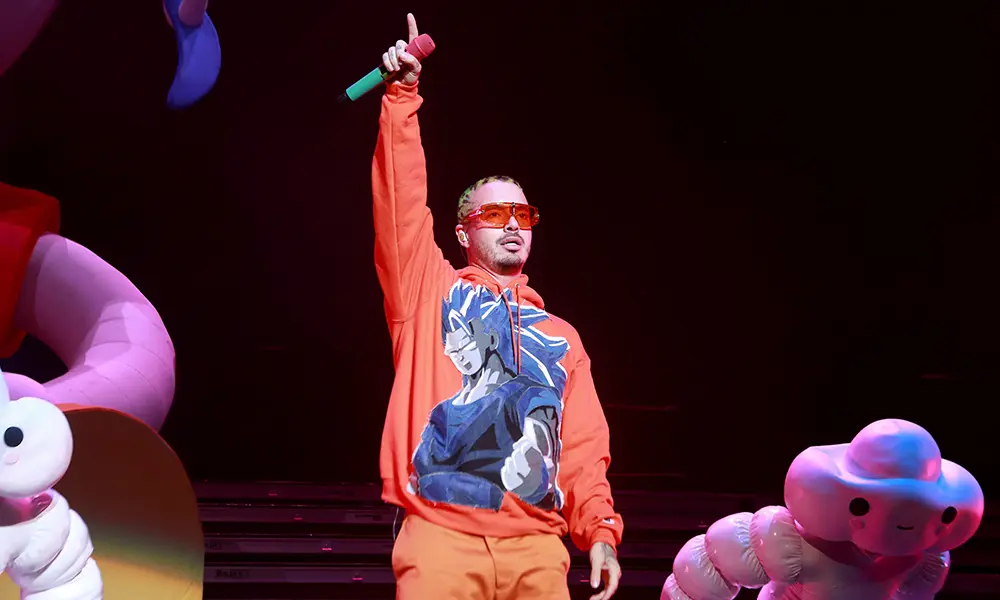 By the time a Latinx artist makes their crossover onto the US mainstream, they're most likely international megastars south of the border. It was no different for J Balvin, the Colombian reggaetón pop giant who in 2018 became the most streamed artist worldwide on Spotify.
Currently at the forefront of el movimiento urbano – the catchall term that encapsulates various Caribbean genres like Latin trap, dembow, and reggaetón – J Balvin is mainly known to the English speaking world for his high profile collaborations with Beyoncé on "Mi Gente" and Cardi B on "I Like It." To give you an idea of his current importance to Latin music and global pop overall, in early 2020, he performed on stage with Jennifer Lopez and Shakira during their Super Bowl halftime show.
But it was his status as a genre-bending, language barrier-breaking, pop infiltrator that got him to where he is now. Throughout the years, J Balvin has continuously diversified his sound. At the early stages of his career, he opted for a more direct reggaetón route modeled after the genre's godfathers. Now, his music is more sonically diverse and reflects an unrestricted, globalized pop sound with reggaetón at its base, as exemplified on his 2020 audiovisual album, Colores.
Listen to the best J Balvin songs on Apple Music and Spotify.
Reggaetón was born from the marginalized Afro-diasporic communities throughout Latin America as a counter-culture genre akin to – and heavily influenced by – hip-hop. In the past few years, it's crossed over into the mainstream, leaving behind many of its Black originators. Balvin, however, often pays homage to those who paved the way for him, like when he shouts out OGs Tego Calderón and Daddy Yankee on his song "Reggeatón," or when he collaborates with artists who were big in the genre's mid-2000's wave like Zion & Lennox and Wisin & Yandel. He also often works with veteran Puerto Rican producer Tainy (and his Colombian protégé Sky Rompiendo) on many of his releases.
Balvin is arguably the most influential Latinx artist of the moment. The largely positive, good-vibes-only aesthetic he creates has resonated with global audiences, which has resulted in him landing not only at the top of the Latin Billboard charts, but also on the Top 40 music chart.
In the less than ten years since his three-times-platinum sophomore album La Familia, J Balvin has become both a household name throughout Latin America and a highly-in-demand collaborator for international artists. With his popularity, the Colombiano has racked up a number of hits that play all over the world and is a leading figure of taking perreo pop — or pop reggeatón— into the future, across all borders.
J Balvin's Hits
(Ginza, La Canción)
If you want to point to the one song that shot J Balvin into international superstardom and put perreo pop on the map, look no further than 2015's "Ginza." With a catchy, repetitive hook and electro flourishes, "Ginza" single-handedly brought reggaetón back into the mainstream in many countries. One of Balvin's biggest hits is a collab with another of the leading artists in el movimiento, Puerto Rican latin trap artist Bad Bunny. "La Canción," from Balvin and Bunny's album OASIS, is a slow, dembow riddim sad boy anthem that reached No.1 in Mexico and the US Latin Songs chart.
J BALVIN x BAD BUNNY - LA CANCIÓN | OASIS (Video Oficial)
The Collabs
(Mi Gente (Remix), Ritmo, I Can't Get Enough)
Though Latin American fans on both sides of the US border got to know J Balvin through songs like "Ay Vamos" and "Safari," it's his high profile collaborations that busted open the door to the Top 40. The biggest one so far is, of course, "Mi Gente." The song, which features French artist Willy William, was already huge in Latin America before Beyoncé jumped on the remix. In addition to helping Balvin penetrate the pop music mainstream, Beyoncé also donated her profits from the song to hurricane relief charities for Puerto Rico, Mexico, and other Caribbean islands affected in 2017 by the horrific season of storms.
J Balvin, Willy William - Mi Gente ft. Beyoncé
Two years later, Balvin hopped on "I Can't Get Enough" with Tainy, Benny Blanco, and Selena Gomez. Similar to "Mi Gente," the track was a multilingual affair, with a chill electro feel that Balvin is known for. And then came "Ritmo," a collaboration with the Black Eyed Peas. The song mixes EDM, hip-hop, reggaetón, and everything in between. It's the sound of a globalized future music landscape that's not confined to the borders of genre or nationality.
The Throwbacks
(6 AM, Yo Te Lo Dije)
Panama is considered the birthplace of reggaetón, with Puerto Rican artists later adding the genre's hip-hop leanings. But it's Balvin's hometown of Medellín that's largely considered the place where reggaetón became mainstream music – and where it started to spread to the rest of the world. "6 AM," Balvin's breakout hit from his 2013 album La Familia, is a prime example of how his music traveled. Puerto Rican artist Farruko gave the song the street cred via his feature, but Balvin's magnetic personality made it a chart-topper. "6 AM" started off what would be a string of late-night, bright party anthems that would come to identify many of his singles.
J Balvin - 6 AM ft. Farruko
To many outside of Colombia, the singles from La Familia were the first introduction to Balvin, and the album's closing track, "Yo Te Lo Dije" dominated airwaves throughout Latin America. Reggaetón, traditionally, is overtly sexual, but on "Yo Te Lo Dije" Balvin is clean enough to not get censored, but nasty enough for some heavy, sweaty perreo — or grinding — on the dancefloor.
J Balvin's Club Bangers
(Morado, Qué Pretendes, No Me Conoce (Remix))
Before the coronavirus pandemic shut everything down, J Balvin's discography was on heavy rotation in dancefloors all over the world. Balvin knows how to write a great club lyric. On "Morado," he sings: "I asked for a drink and she ordered a bottle" over a clean reggaetón beat and a weaving grim synth.
Similar to Balvin, Bad Bunny's music is also a club staple at this point. So it makes sense that the singles off of their collaborative album, OASIS, would follow suit. The song of summer 2019, "Qué Pretendes," or "What Do You Want" in English, is the typical track about an ex-lover who wants to come back that you sing at the top of your lungs after you've got a few drinks in you. While el Conejo Malo showcases his signature booming flow, Balvin delivers one of his strongest vocal performances, perfectly balancing each other out.
J Balvin, Bad Bunny - QUE PRETENDES (Official Video)
Repping the Latino Gang — the moniker Balvin uses to group Latin American artists from the new generation — Puerto Rican singer Jhay Cortez enlisted Balvin and Bad Bunny for the remix of "No Me Conoce." Though he's a feature on the track, Balvin brings his own flair with his airy vocals. With its classic reggaetón riddim and the trap stylings that have come to define this generation's sound, the "No Me Conoce" remix broke into the Billboard Hot 100. And while every time Latin artists have a moment in the mainstream it's described as a wave that comes and goes, the proliferation of el movimiento signals what Latinx audiences have long known: perreo pop has washed up in our shores and isn't going away any time soon.
Think we've missed one of the best J Balvin songs? Let us know in the comments section below.