The Best Karol G Songs: 10 Unstoppable Hits
Bridging reggaeton and pop and exploring R&B, EDM, and Tex-Mex, Karol G's best songs showcase what Latin music can be in the 21st century.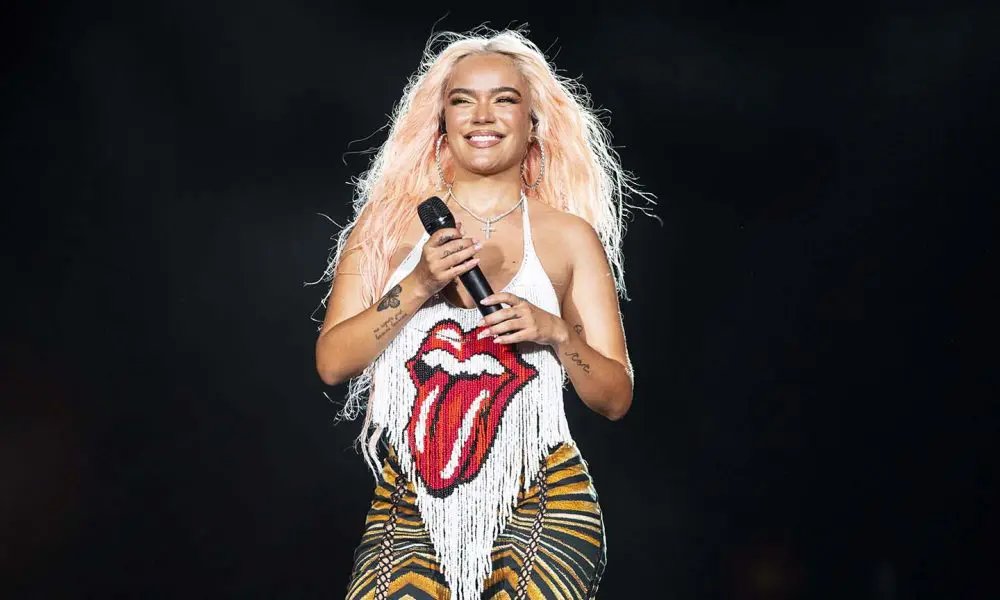 After the release of her prophetically-named debut album Unstoppable, in 2017, Karol G went on to pack stadiums up and down the Americas; and kept going. She's appeared on the cover of Rolling Stone and Mexican Vogue, she's performed at Coachella, and was heard on the soundtrack of the movie Barbie. As if that wasn't enough, in 2023, at age 32, Carolina Giraldo Navarro from Medellín, Colombia, became the first woman to ever top the Billboard 200 albums chart with a Spanish-language album, Mañana Será Bonito. Bridging reggaeton and pop and exploring genres from R&B and EDM to Tex Mex, Karol G is the incarnation of what Latin music can be in the 21st century, unbound by that often unwieldy term.
The at-once brazen and bubbly singer became a Latina icon by turning the machista bravado of reggaeton around. Feminist-inspired messages have been a constant in songs that burst with a sexual awareness that makes clear she's got plenty of "boom," but no interest in booty calls. Karol's hair color changes as if it were a mood ring, but her confidence as a performer is a constant, inspiring her fans to believe in themselves.
Listen to the best Karol G songs now.
Tusa (2019)
Karol G has described "Tusa" as a song that "marked my generation." It's also the song that made clear her gift for delivering breakup songs as glamor-filled female empowerment anthems. "Tusa," recorded together with Nicki Minaj, debuted at No. 1 on Billboard's Hot Latin Songs chart, crossed over to the Hot 100, and went on to become a No. 1 hit all over Latin America. While the reggaeton song brought Karol G's name to new audiences, it also internationalized a Colombian expression and musical genre. "Tusa" in Colombian slang, refers to a debilitating love hangover, and also a musical trend of revenge songs that surged in the 1980s (música de tusa).
KAROL G, Nicki Minaj - Tusa (Official Video)
Ahora Me llama (2017)
Before "Tusa" made her a global star, Karol G teamed with Bad Bunny, just as the Puerto Rican trailblazer was well on the path to remaking Latin music. The sultry trap track "Ahora Me Llama," included on Karol's first album Unstoppable, served as her breakthrough hit.
Karol G, Bad Bunny - Ahora Me Llama (Official Video)
Mi Cama (2018)
Accompanied by a video shot in Karol G's native Medellín, "Mi Cama" could have been just another pseudo-seductive bedroom track. But this is Karol G, and this is a definite party starter, complete with singalong-ready lyrics – "pom pom pom pom" – and frisky wordplay: "En mi cerradura ya no entra tu llave. Esa calentura que otra te la apague." ("Your key doesn't fit in my lock anymore. Let someone else put out that fever.")
KAROL G - Mi Cama (Official Video)
Culpables (2018)
Karol G's bubble-gum palette and glam wardrobe was replaced with a more relaxed black-and-white street style in the video for "Culpables" ("Guilty"), a duet with Anuel AA. The slow urban jam was written for Karol by the Puerto Rican rapper after he was released from federal prison, where he served time on gun possession charges. It would serve as his comeback hit, and a hint to fans that he and Karol were a couple. The meditation on love – and the seeming inevitability of betrayal – reached a billion views on YouTube in 2022.
KAROL G, Anuel AA - Culpables (Official Video)
Bichota (2021)
Bichota, Karol G's self-proclaimed nickname, turns a Puerto Rican term for drug lord – bichot = big shot – into an endearing, and very female, word for power. Literally in the saddle in the song's video, Karol indulges in dealer and gang references and an over-the-top-wardrobe. But she breaks her tough act with a wink and a smile, and goes for some classic reggaeton seduction, boasting that no one can keep up with her "boom boom." All in all, it's an infectious, old-school dance floor track.
KAROL G - BICHOTA (Official Video)
Mamii (2022)
Karol G teamed with Mexican American pop star Becky G to sing this send off to toxic lovers. The lyrics include both literary description: "Sin visa ni pasaporte mandé tu falso amor de vacaciones" ("I sent your false love on vacation without a visa or passport") and direct shade "Pa la mierda y nunca vuelves" (which basically translates as "f*** off and never come back"). A viral hit and empowerment anthem, "Mamii" won the Premios Juventud Girl Power award, as well as the Billboard Latin Music Award for Hot Latin Song of the Year (Vocal).
Becky G, KAROL G - MAMIII (Official Video)
Provenza (2022)
Winner of the Best Pop song at the 2023 Latin American Music Awards, "Provenza" is a declaration of independence, named after the singer's neighborhood in Medellín. The video turns Lanzarote, in Spain, into an island of women, beautiful, having fun, and happily free of the male gaze.
KAROL G - Provenza (Official Video)
TQG (2023)
Karol G has often name-checked Shakira as an idol and an influence; the first woman who took Latin music truly global. On "TQG," which stands for "Te Quedó Grande" (roughly, "Too Much for You"), the two Colombian artists join together for a double-fisted reggaeton revenge song. In the video, the duo dances in flames and taunts their respective exes (and imaginary ones) with lines like "¿Qué haces buscándome el la'o si sabes que yo errores no repito?" ("Why are you looking for me by your side if you know that I don't make the same mistake twice?").
KAROL G, Shakira - TQG (Official Video)
Watiti (2023)
A Karol G track was an obvious choice for the 2023 Barbie soundtrack. Karol's repertoire of girl-power anthems are both in synch with director Greta Gerwig's send-up of plastic perfection, and as mood-enhancing as the on-screen Barbie landscape. In the movie, "Watiti" accompanies Margot Robbie and Ryan Gosling as they roller skate in outdated day-glo aerobic outfits on the Venice Beach boardwalk after having escaped into the real world. Panamanian rapper Aldo Ranks joins Karol on the song.
KAROL G - WATATI (feat. Aldo Ranks) (From Barbie The Album) [Official Music Video]
Mi Ex Tenía Razón (2023)
The spirit of Tex-Mex and Latin pop icon Selena Quintanilla shines through on this cumbia track, a musical departure for Karol G in tune with the sounds of a wave of new Mexican music that crested in 2023. In the video to the bouncy song, Karol appears with a full band, wearing a Selena t-shirt and – do you really have to ask? – a cowboy hat.
KAROL G - MI EX TENÍA RAZÓN (Official Video)
Think we missed one of the best Karol G songs? Let us know in the comments below.