Best Christmas Gifts For Pop Music Fans This Year
Get some inspiration for your Christmas gifts this year with this list of our picks for the best presents for pop music fans.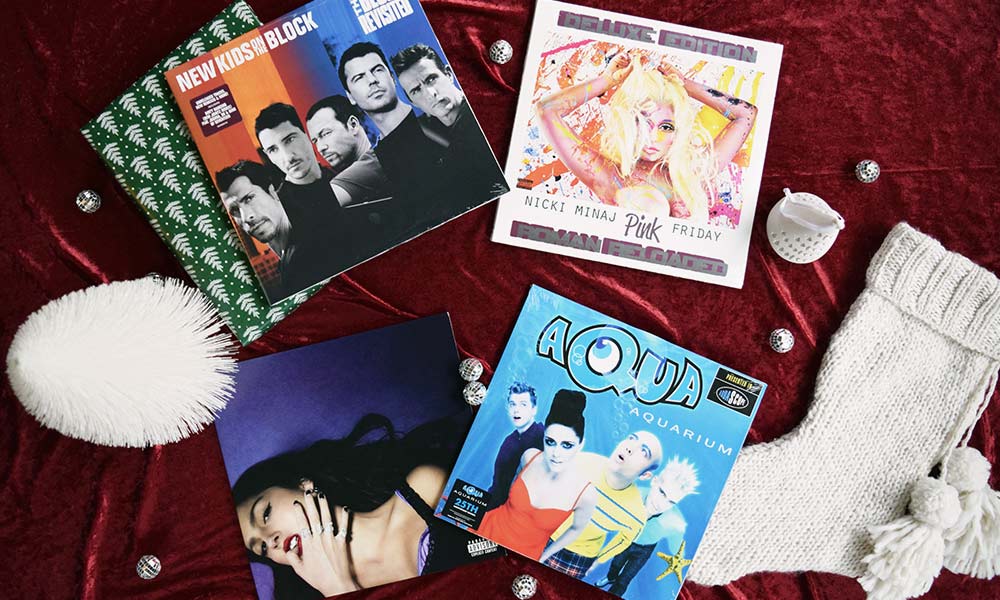 The pop music landscape is vast, encompassing every style and decade, but one thing unites all pop songs: a great hook. The best pop music gifts this year boast new reissues, newly discovered treasures for classic pop fans, and the best new releases from modern pop stars pushing things forward. In short: everything the committed pop enthusiast could want. Check out this list of our favorite gifts for pop music fans for this Christmas.
Taylor Swift – 1989 (Taylor's Version) Vinyl
The latest edition in Taylor Swift's re-recording campaign, this is the vinyl version of the beloved 1989. It includes five previously unreleased songs from The Vault and one bonus track.
Olivia Rodrigo – Guts
GRAMMY® Award winning recording artist Olivia Rodrigo returned this year with her new album, Guts. Guts was recorded with producer Daniel Nigro, who also collaborated with her on Sour, her chart-topping, 4x platinum debut album. "For me, this album is about growing pains and about trying to figure out who I am at this point in my life and exactly what I want to say in my songs."
Olivia Rodrigo – Guts Zip Hoodie
This stylish black unisex zip hoodie features Olivia Rodrigo Guts screen-printed graphics on front and back.
Olivia Rodrigo – Bad Idea Right? Poster
This 11″ x 17″ matte printed cardstock poster features a video still graphic from Olivia Rodrigo's "bad idea right?" video.
Holly Humberstone – Paint My Bedroom Black
Critically acclaimed and award winning singer songwriter Holly Humberstone's Paint My Bedroom Black represents Holly's coming of age, growing from unknown singer at her parent's piano to the most exciting alternative pop stars of her generation. The dark and otherworldly space Holly has built and invited fans into, both sonically and visually, has been lucid and visceral, with the camera always on her shoulder, a lens into her chaotic thoughts and deep feelings.
Sam Smith – Gloria
Following the global success of the unstoppable single "Unholy" featuring pop diva Kim Petras, Sam Smith released their fourth studio album, Gloria, in January 2023. The 13-track record is Sam's boldest statement yet.
Sam Smith x Kim Petras – Black Unholy Hoodie
This 100% Brushback cotton black hoodie has a front pocket print, and back Sam Smith x Kim Petras logo print.
New Kids On The Block – The Block Revisited
The Block Revisited is available for the first time on 2LP and a special deluxe 1CD edition. Working closely with founding member Donnie Wahlberg, there are never before released remixes and unreleased songs from The Block sessions that fit perfectly in an album that has stood the test of time. Fully remastered in hi-resolution sound, the digital deluxe edition contains a bonus eight tracks.
Nelly Furtado – Loose Limited Edition 2LP
Nelly Furtado's hit multi-platinum album Loose is finally available on 2LP vinyl. Featuring the #1 worldwide hits "Promiscuous (feat. Timbaland)" and "Say It Right", Nelly's 3rd album is still regarded as one of the biggest and best pop albums of the era. Also includes radio staples "Maneater", "Te Busque" and "Do It.".
Hanson – Middle Of Nowhere Limited Edition Colored 2LP
Hanson's debut multi-platinum hit album is finally available on vinyl for the first time. They shook the world with the #1 Classic "MMMBop," but Middle Of Nowhere showcases the true talent of the young trio as not just a boy band. Other hits included here: "Where's The Love," "I Will Come To You," and "Thinking Of You". This limited edition not only includes remastered audio, but a few newly released remixes as well.
Sheryl Crow – Tuesday Night Music Club LP
To celebrate its 30th anniversary, Tuesday Night Music Club now has a proper 1LP vinyl version of the 7x certified Platinum album. The album was not released on vinyl in 1993. Bernie Grundman, who originally mastered the album, recently used the original 1/2" flat master tape to create a new master and then cut the lacquers. The translucent sea blue with white marbling 140g vinyl is in a gatefold sleeve.
Troye Sivan – Something To Give Each Other
Troye Sivan's third studio album, Something To Give Each Other, is a celebration of sex, dance, sweat, community, queerness, love and friendship. Emerging from the tribulations of the last few years, Sivan found himself rewiring with the joy of human connection and dance music.
Reneé Rapp – Snow Angel
Reneé Rapp's debut album Snow Angel kicked off her new era of music by putting her heart on full display as she continues to round out her already-multidimensional artistry. Executive produced by Alexander 23, the album captures Rapp's ability to unabashedly speak her truth, whether it's through emotional ballads or infectious pop hits.
Kim Petras – Feed The Beast LP
Kim Petras' Feed The Beast is 15 tracks of pure pop perfection; an album about sacrificing every part of yourself to your biggest passion in life that sees her embody a modern-day pop Andromeda – a spin on the classic Greek tale. Her offering to her beast, its lead single "Alone" features diamond-selling hip-hop icon Nicki Minaj.
Kim Petras – Crawl Photo Muscle Tee
This stylish black unisex tank features Kim Petras' "Crawl" art screenprinted on the front.
Carly Rae Jepsen – The Loveliest Time Tee
Carly Rae Jepsen's new album is one of her best yet, and you can represent with this black, unisex The Loveliest Time tee.
Jessie Ware – That Feels Good
Jessie Ware's fifth studio album That! Feels Good! is the follow-up to 2020's What's Your Pleasure? which proved her status as one of the U.K.'s most influential artists. The new album features hit songs like "Free Yourself" and "Pearls."
Niall Horan – The Show
The Show is Niall Horan's third solo album and first since 2020's chart-topping Heartbreak Weather. Preceded by its lead single "Heaven," the album matches the pure emotion of his globally beloved past work with a powerful new element of soul-searching reflection.
Katy Perry – PRISM – Exclusive 10th Anniversary Edition Vinyl
This anniversary edition of the heralded Katy Perry album is pressed on "prismatic splatter" vinyl and comes with three bonus tracks. The packaging features rainbow holofoil lettering, and a 12 page deluxe photobook featuring the original album shoot + previously unseen imagery.
Katy Perry – Teenage Dream – Exclusive Teenager Edition Vinyl
This anniversary edition of the iconic Katy Perry album is pressed on red/white peppermint "pinwheel" vinyl and comes with bonus "Complete Confection" tracks. The packaging features matte and gloss varnishes, as well as a 24" poster featuring previously unseen imagery from the original album shoot.
Katy Perry – One of the Boys – Hello Katy Pack
This package features One of the Boys on standard vinyl, as well as a white and kelly green unisex raglan. The shirt is a reprint of the design from the 2009 Hello Katy tour, featuring "One of the Boys" text on the front and 2009 tour dates on the back.
Gracie Abrams – Good Riddance Deluxe
Gracie Abrams's debut album, Good Riddance (produced/co-written by her frequent collaborator Aaron Dessner of The National), finds Abrams documenting her emotional experience with more precision and impact than ever before. As she narrates the end of a fractured relationship with all of the confusion, frustration and longing that come with it, the 23-year-old artist achieves a new level of lyrical honesty and self-possession.
Lewis Capaldi – Broken By Desire To Be Heavenly Sent
On the heels of his latest single "Forget Me," Lewis Capaldi returns with his sophomore album, Broken By Desire To Be Heavenly Sent. Featuring hits like "Wish You the Best" and "Pointless."
Jonas Brothers – The Album
The Jonas Brothers took the world by storm in 2019 with the surprise release of their critically acclaimed and widely successful single "Sucker" following a six-year hiatus. They've finally followed that LP up with the simply titled collection The Album. Produced by Jon Bellion, it features songs like "Waffle House" and "Wings."