The Tragically Hip: 20 Essential Songs by Canada's Legendary Rock Poets
The Tragically Hip is both of and beyond its time, and capable of tipping one into a state of euphoria the way only genuinely exciting rock'n'roll can.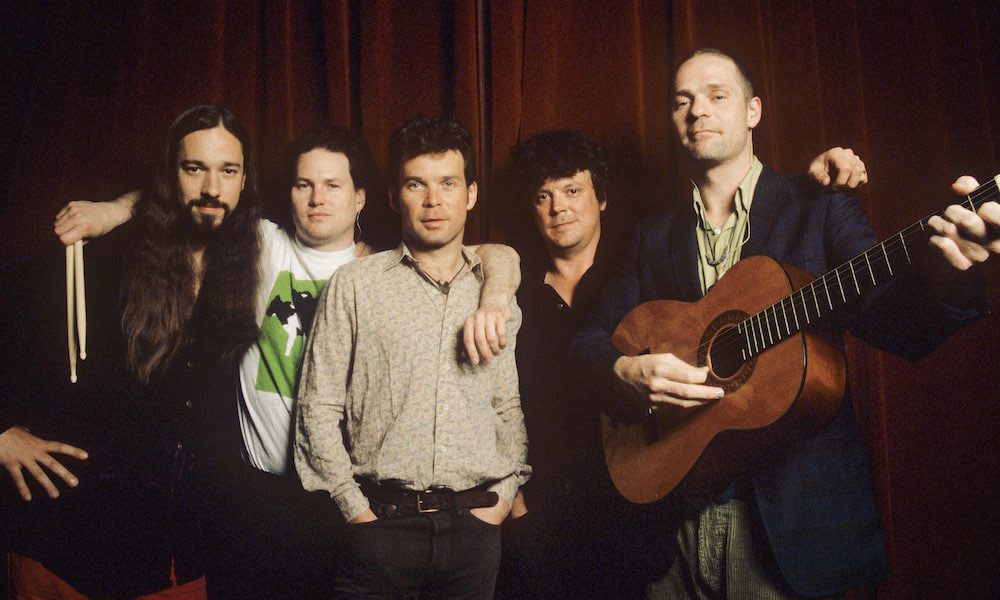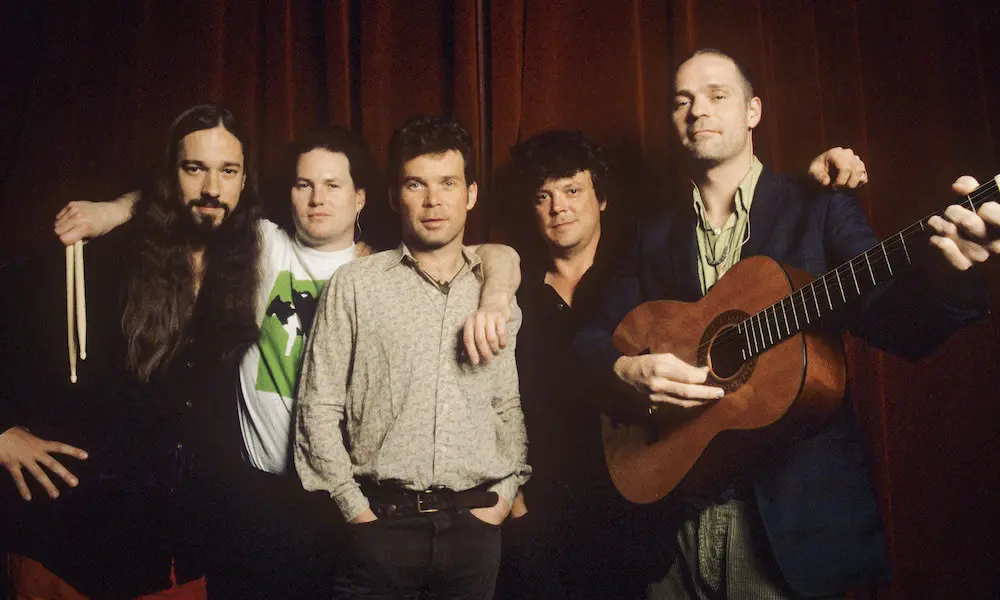 Discussing what are the "best" songs by The Tragically Hip is the wrong sort of topic to introduce if one finds oneself in a small Canadian town. It may seem like a great conversation starter because The Tragically Hip is an Ontario band that has been loved by its countrymen for decades, but it can easily go awry because fans also spend an inordinate amount of time weighing the pros and cons of every release since the eponymous debut EP in 1987.
That debut barely hinted at the kind of longevity these musicians — singer Gord Downie, drummer Johnny Fay, and guitarists Rob Baker, Paul Langlois, and Gord Sinclair — were destined for. Over the next three decades, The Tragically Hip would release over 14 albums, some more critically acclaimed than others, all appreciated by fans who grew up listening to the band and then followed them faithfully for the rest of the ride.
Why The Tragically Hip didn't achieve the kind of global renown enjoyed by some of their contemporaries is a question that pales into insignificance when one considers the music they left behind in the wake of Gord Downie's passing. It is vital, both of and beyond its time, and capable of tipping one into a state of euphoria the way only genuinely exciting rock'n'roll can.
This is a list of songs for casual fans or newcomers to The Tragically Hip sound. May you be welcomed into the tribe the way so many others have lucky enough to be.
Listen to the best of The Tragically Hip on Apple Music and Spotify, and scroll down for our list.
The Hard Rockers
(Little Bones, Three Pistols, So Hard Done By, Poets, Blow at High Dough)
The easiest way to let The Tragically Hip into your system is by allowing their no-nonsense tunes to barrel through and take over your sound system. "Little Bones" and "Three Pistols" are both from the 1991 album Road Apples, their first No.1 in Canada and still a fan favorite that refuses to get old. It's easy to see why they dive into these tunes without preamble, the guitars chugging from 0 to 60 just seconds after the opening bars. That momentum does not let up.
"So Hard Done By" exists in two versions, one on a reissue of Fully Completely, the other on the 1994 release Day for Night. Debating the pros and cons of each makes little sense because they both slither in the kind of way that makes young men play air guitar and dream of becoming rock stars.
It's the same sort of vibe that powers "Poets", a song that starts softly with the drums until the guitars and Downie's vocals clamber on board. Whether it's played at a bar or blasted at a stadium, the powerful rocker always gets people to tap and nod along: "Don't tell me what the poets are doing, don't tell me that they're talking tough."
A final rocker is "Blow at High Dough," the lead single off their first studio album, Up to Here. As a precursor to the blues-heavy sound that would only get stronger over the following years, it's a great introduction to their own influences as a young band.
The Poetry of Gord Downie
(Cordelia, Grace, Too, It's A Good Life If You Don't Weaken, Wheat Kings, In a World Possessed by the Human Mind)
New listeners to The Tragically Hip usually get their first inkling that this isn't an ordinary rock band when they move beyond the music and start spending a little more time on the lyrics. Road Apples, for instance, makes four references to Shakespeare alone, who is rarely a popular presence in rock. "Cordelia" refers to King Lear's youngest daughter, but becomes a powerful exploration of anger and betrayal that opens with the great line: 'Angst on the planks, spittin' from a bridge, just to see how far down it really is.'
"Grace, Too," off 1994's Day for Night, is deceptively simple but manages to capture a world of tentative emotion, highlighting how effective Downie could be when he wanted to freeze an image and hold it up into the light for everyone to see. By the time In Violet Light was released in 2002, he had honed that ability enough to make a song like "It's A Good Life If You Don't Weaken" possible. There are all kinds of images here, from the "forest of whispering speakers" to dreams involving forgotten skates, but the overall effect is one of wistfulness for something just beyond reach. It's heady in the way only poignant poetry can be.
The hypocrisy and ruthlessness of small towns are laid bare on "Wheat Kings," about a Canadian who served 23 years in prison for a crime he did not commit. The Tragically Hip's final studio album, Man Machine Poem in 2016, yielded "In a World Possessed by the Human Mind," which draws much of its power from what was going on in Downie's life at the time. It's about mortality, but also our ability to face it without fear, and that makes it beautiful.
The Best Live Cuts
(Long Time Running, New Orleans Is Sinking, Gift Shop, Locked in the Trunk of a Car, Montreal)
There is no right or wrong selection here, as anyone who sits through any concert by The Tragically Hip can attest. Not just because rock bands thrive in a live setting, but because it allows an audience to understand the deep familial ties that bind the group when they stand on stage together and share a spotlight. "Long Time Running", which lends its name to the 2017 documentary chronicling the band's last concert, is a powerful introduction to what made The Tragically Hip so mesmerizing in an arena. This is a slow-burning song that first appeared in 1991 but retains its popularity because of the sense of nostalgia evokes almost effortlessly.
"New Orleans Is Sinking" is an even older cut, but shines when played live because it allows one to sing along with Downie when he goes 'Sometimes I feel so good, I gotta scream; she said, "Gordie baby, I know exactly what you mean."' Meanwhile, "Gift Shop," off the 1996 classic Trouble at the Henhouse is another crowd-pleaser, with the opening bars hinting at the majesty of what's to come, right before the drums kick in and the audience rushes to their feet.
"Locked in the Trunk of a Car" is a haunting tune that retains its sense of mystery whether it's played in concert or while driving down a long, lonely road. It's the kind of tune that prompts listeners to get up and dance though, so a live version is always recommended.
Finally, there is "Montreal", making its official appearance on a record from the band, three decades after it was recorded for the album Saskadelphia. The studio take has yet to be found, so all we have is a recording from a performance on the anniversary of the mass shooting in the city in 1989. The reaction of the crowd is decidedly at odds with what the song is about which, ironically, only adds to its potency.
The Tragically Hip - New Orleans is Sinking (Live in Abbotsford: 08/08/2009)
The Tragically Hip's Most Canadian Work
(Bobcaygeon, Fifty Mission Cap, Courage (For Hugh MacLennan), At the Hundredth Meridian, Ahead By A Century)
There isn't a consensus on what defines the Canadian experience, but much of what The Tragically Hip sang about resonated with people living in the shadow of America. These were songs of quiet epiphanies and small battles, of victories by underdogs in a sometimes inhospitable climate.
There are some references only a Canadian can get, which usually happens the first time one hears "Bobcaygeon," a 1999 song named after a town 100 miles northeast of Toronto. It weighs the pros and cons of city life versus a simpler one and somehow touches a chord in the heart of every Canadian who presumably ponders that existential question often.
"Fifty Mission Cap" works in much the same way, by addressing the disappearance of Toronto Maple Leafs defenceman Bill Barilko half a century ago. "Courage (For Hugh MacLennan)", off 1992's Fully Completely, paraphrases lines from a novel by the writer mentioned in the title, and is another example of how Downie blurred the lines between literature and song.
The band celebrates their home country more overtly on "At the Hundredth Meridian" by calling out a longitudinal line marking the beginning of Canada's Great Plains. And then there is "Ahead By A Century," the most played song on Canadian radio the day Gord Downie passed away in 2017, covered by amateur bands and established musicians alike since it first appeared, and a continuing testament to The Tragically Hip's innate ability to tap into something vast and timeless while saying very little.
If you want a taste of what makes The Tragically Hip so magical, that's probably the best place to start.
The Tragically Hip have released a new album, Saskadelphia, that includes six previously unreleased tracks written in 1990, five of which were recorded that year during the Road Apples sessions in New Orleans (the remaining song is a live recording from 2000).