"We've Nothing To Hide": Beta Machine's Matt McJunkins Talks 'Intruder'
I'll be happy if people have trouble defining our music!" says Beta Machine frontman Matt McJunkins of the eclectic influences that resulted in 'Intruder'.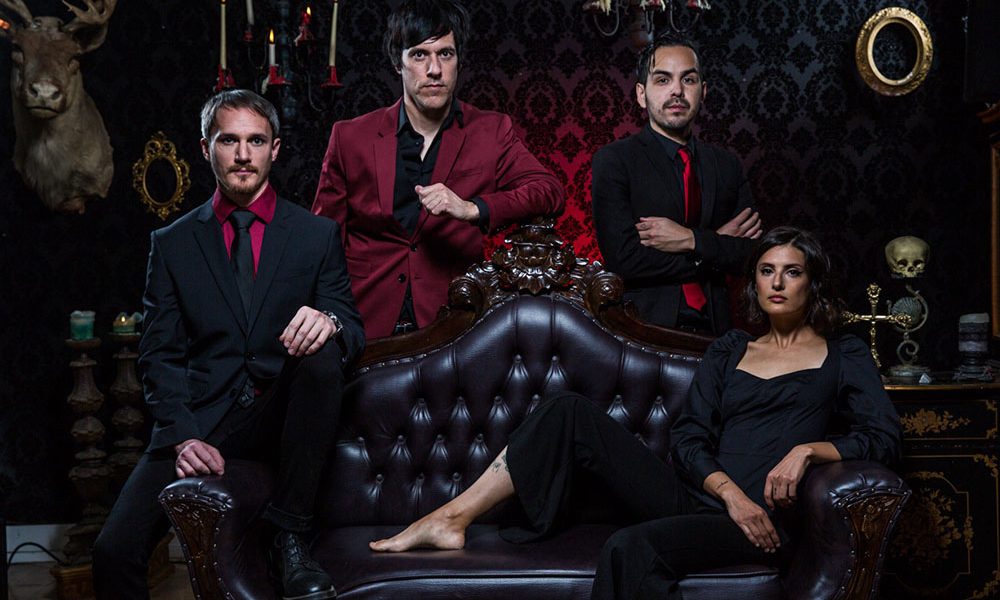 Is it really possible for a trusty sideman to become a limelight-hogging frontman without losing his or her credibility? Dave Grohl and Johnny Marr have already proved it can be done, and Matt McJunkins has also made the transition appear seamless en route to creating The Beta Machine's debut album, Intruder, which was released through T-Boy/UMe on 29 March.
Listen to Intruder on Apple Music or Spotify:
Often referred to as "musician's musicians", bassist/vocalist McJunkins and Beta Machine drummer Jeff Friedl have long since ranked among North America's most sought-after alt.rock sidemen. They've provided the rhythmic bedrock for A Perfect Circle since 2011 and their collective CV includes work with Eagles Of Death Metal, Devo and Thirty Seconds To Mars, not to mention Puscifer, the all-star alt.rock collective overseen by Tool/A Perfect Circle frontman Maynard James Keenan.
However, while this frenetic activity has meant McJunkins and Friedl have remained in gainful employment, they only began stockpiling original music when Keenan and Puscifer comrade Mat Mitchell encouraged them to use Puscifer's remixes as a springboard for creating fresh material for live performances.
"We had no idea what it would sound like"
"What eventually became The Beta Machine began with Jeff and I, with a little digital recorder, just jamming away in a rehearsal room," McJunkins says in an interview with uDiscover Music. "I guess it helped that we were already playing in bands together, but it was the first time we created stuff of our own volition. We kept the music we'd created that we liked and Maynard didn't want, but initially we had no vision as to what we could do with it."
However, as McJunkins and Friedl began to add layers of melody and create complete songs, the notion of starting their own band gradually drifted into focus. Originally, the pair envisaged something more like a collective ("A project like UNKLE or Massive Attack, where they have multiple guests singing on their records," McJunkins says) but after they realised how complicated this would be logistically, they struck out on their own.
"The thought of writing our own lyrics and singing on our own records was excruciating for us at the beginning," McJunkins laughs. "We had no idea what it would sound like as we had no precedent. But on the flipside it was exciting as we had zero expectations. It was the first time we'd been able to do exactly what we wanted since we were kids, so there was a lot of freedom in that."
"I was absolutely knocked out by her"
To make The Beta Machine a reality, McJunkins and Friedl drafted in a couple of talented and versatile musicians from LA's alt.rock scene. Astutely, they chose guitarist/keyboardist Nicholas Perez and McJunkins' vocal foil, Claire Acey, who they had previously encountered while backing Puscifer, along with Puscifer alumnus, UK-born singer-songwriter Carina Round, on a US tour.
Of this road trip, McJunkins says, "Jeff and I were pulling double duty, touring with Puscifer and Carina Round, who was the bill's opening act as well as performing with Puscifer. Claire [Acey] was singing with Carina and I was absolutely knocked out by her. She has a beautiful voice with a phenomenal range and I've never really heard anyone like her. Claire and I have also found that our voices complement each other very well in The Beta Machine too, so that's also given me a lot of confidence as a singer."
With Acey and Perez on board, The Beta Machine issued their well-received, self-released All This Time EP in 2017. A further bout of touring with A Perfect Circle resulted in a rapidly-developing fanbase and a bunch of new songs, many of which feature on the the bands's striking debut album, Intruder, released via former Rob Zombie/Guns N' Roses manager Andy Gould's new T-Boy imprint.
The Beta Machine - Embers
"The world is our oyster"
McJunkins freely admits that The Beta Machine have "a pretty varied fanbase". That's understandable. Intruder bears all the hallmarks of an enduring record with across-the-board appeal. Lead single 'Embers' is a memorable introduction to their filmic, synth-heavy sound, while the compelling album is an eclectic beast. Its many highlights ('Your Enemy', 'Precious Design' and the brooding 'Bones', to name just three) fizz with a contemporary energy, but their melancholic, arena-sized anthems also carry echoes of New Order and Depeche Mode – references which hit the spot for Matt McJunkins.
"They're certainly an influence and we're happy to wear those on our sleeves," McJunkins says. "We've nothing to hide as the way we sound is primarily the result of us trying to create music that excites us first and foremost – and both the EP and Intruder are snapshots of where we were at the time, what we were listening to and what we were feeling.
"It's a new band and the world's our oyster, so who knows where it will go from here?" He concludes. "If it's hard to put a finger on our overall sound, then I'm totally OK with that. I'll actually be really happy if people have trouble defining our music!"
Intruder is out now and can be bought here.
Listen to the album on Apple Music and Spotify.
Format:
UK English