'Blacks And Blues': Bobbi Humphrey's Sample-Friendly Jazz-Funk Classic
'Blacks And Blues' found flautist Bobbi Humphrey teaming up with Larry Mizell for a groove-laden album that provided future sample-fodder for hip-hop.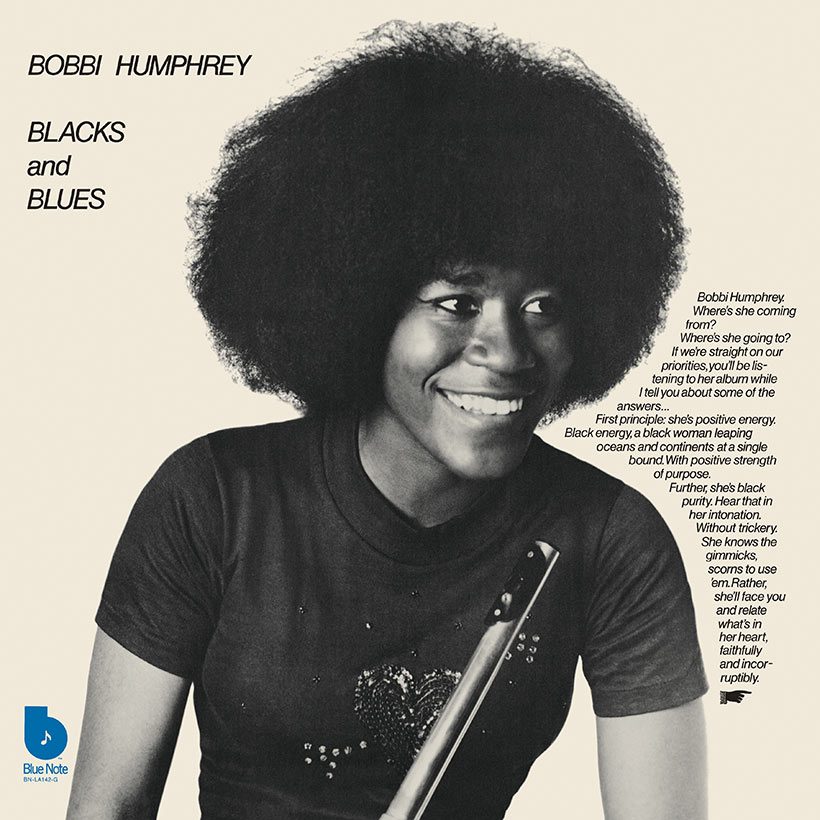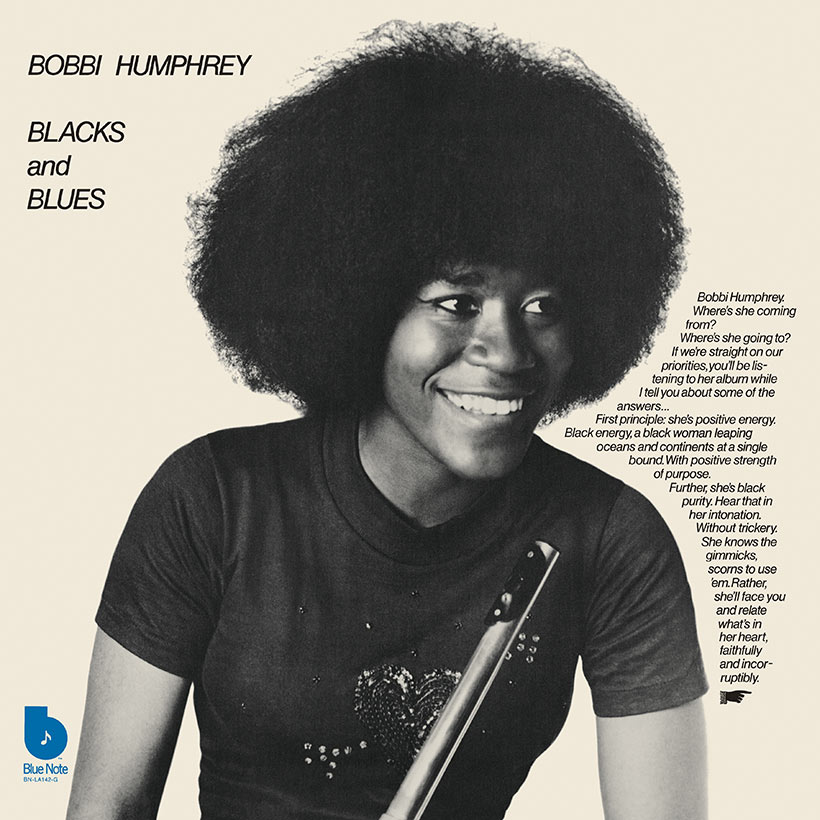 Born Barbara Ann Humphrey, on April 25, 1950, in Marlin, Texas, flute virtuoso Bobbi Humphrey had the distinction of being the first African-American female instrumentalist to sign with Blue Note Records. She was brought to the iconic jazz label in 1971 by the company's then-president and head of A&R, Dr George Butler, who helped to shape the label's trajectory in the 70s, when it was a subsidiary imprint of United Artists Records. It marked the start of a run of classic albums for Blue Note, including Flute-In, Dig This, and Blacks And Blues.
Listen to Bobbi Humphrey's Blacks And Blues now.
Brought up in Dallas, Texas, Humphrey was studying at the city's Southern Methodist University in the late 60s when she met and impressed jazz trumpet legend Dizzy Gillespie, who urged Humphrey to go to New York to seek her fortune. She followed his advice and went there in June 1971, armed with a demo tape which she took to a couple of record companies. When George Butler heard it, he immediately wanted to sign her. Happy to oblige him, Humphrey inked a contract with the label and recorded her debut, Flute-In, a collection of soul covers and straight-ahead jazz standards, later that year.
"I just played what I felt"
Her follow-up, 1972's Dig This, had a funkier and more contemporary vibe, so it seemed a natural progression when, in 1973, the then 23-year-old flautist joined forces with producer and songwriter Larry Mizell. The producer had just helmed Donald Byrd's highly successful Blue Note album Black Byrd, a record that put the trumpeter at the top of the US jazz and R&B charts.
Larry Mizell's calling card was a new kind of accessible jazz-funk style consisting of fluid, soulful grooves bolstered with catchy vocal refrains. It was this that Humphrey tapped into on 7 and 8 July 1973, when she went into Hollywood's Sound Factory studio and put her flute on six tracks written by Mizell, for an album that became one of Humphrey's most successful: Blacks And Blues.
According to Humphrey, speaking in a 2006 interview, the songs were already recorded and all she had to do was go in and blow: "They would play the track in the background and just tell me to play to it. There was no written melody. I just played what I felt off the top of my head against that."
Irresistible grooves
Blacks And Blues' opener, "Chicago, Damn," begins with the eerie sound of a gale blowing – no doubt alluding to Chicago's "Windy City" nickname – before we hear Harvey Mason's taut drum beat, followed by a deep bass synthesizer, laying the foundations for a heavy groove. Larry Mizell, his brother, Fonce, and keyboardist Freddie Perren combine their voices on the song's chorus, and it's only after that that we hear Humphrey's mellifluous flute, weaving darting arabesques over the throbbing backbeat. The track was issued as a single and reached No.9 on the US R&B charts (No.106 on Billboard's Hot 100) in April 1974.
Also released as a single from Blacks And Blues was the breezy "Harlem River Drive," famously sampled by hip-hop duo DJ Jazzy Jeff And The Fresh Prince on their 1987 track "A Touch Of Jazz." It consists of an infectious vocal chorus welded to an irresistible groove with Humphrey's mercurial flute improvisations flitting freely above.
Sample fodder
"Just A Love Child" is a shimmering midtempo ballad that has Bobbi Humphrey making her recording debut as a vocalist. Her delicate voice, which is complemented by male background vocals, is girlishly sweet but never cloying. She also contributes a wonderfully rangy flute solo.
The album's title track is a spacey groove in which long instrumental passages are punctuated by warmly-harmonized vocal choruses. It's propelled by Chuck Rainey's bass and features wispy synth lines which entwine with Humphrey's breathy flute melodies. Also prominent is Jerry Peters' tinkling piano. The track reached No.86 in the US R&B charts in 1974 and, 18 years later, in 1992, Eric B And Rakim sampled it for their track "Keep The Beat."
Eric B. & Rakim - Keep The Beat
"Jasper Country Man" is another addictive groove with a funkafied undertow. After a drum and conga intro, the instrumentation is gradually layered on top. It's looser than some of the other cuts on the album and, for once, it lacks a vocal chorus, which means that Humphrey is given free rein to flex her improv muscles. The rhythm track was sampled by rapper Ice-T for his 1991 song "New Jack Hustler."
"Baby's Gone" finds Bobbi Humphrey back on the microphone, as well as playing flute, on a dreamy song that features a guitar solo from David T Walker and whose laidback mood epitomizes Blacks And Blues as a whole.
Blacks And Blues broke into both the US R&B (No.18) and pop charts (No.84) in April 1974, but its success was eclipsed by that of the flautist's next album, 1975's Fancy Dancer. Even so, Blacks And Blues remains the go-to album in Bobbi Humphrey's canon, and the fact that all its tracks have been sampled by a variety of hip-hop artists in the decades since adds to its value.
Bobbi Humphrey's Blacks And Blues has been reissued on 180g vinyl as part of Blue Note's Blue Grooves reissue series.