Chuck D On Public Enemy's 'It Takes A Nation Of Millions To Hold Us Back'
Chuck D explains how Marvin Gaye and Earth Wind & Fire inspired the classic album.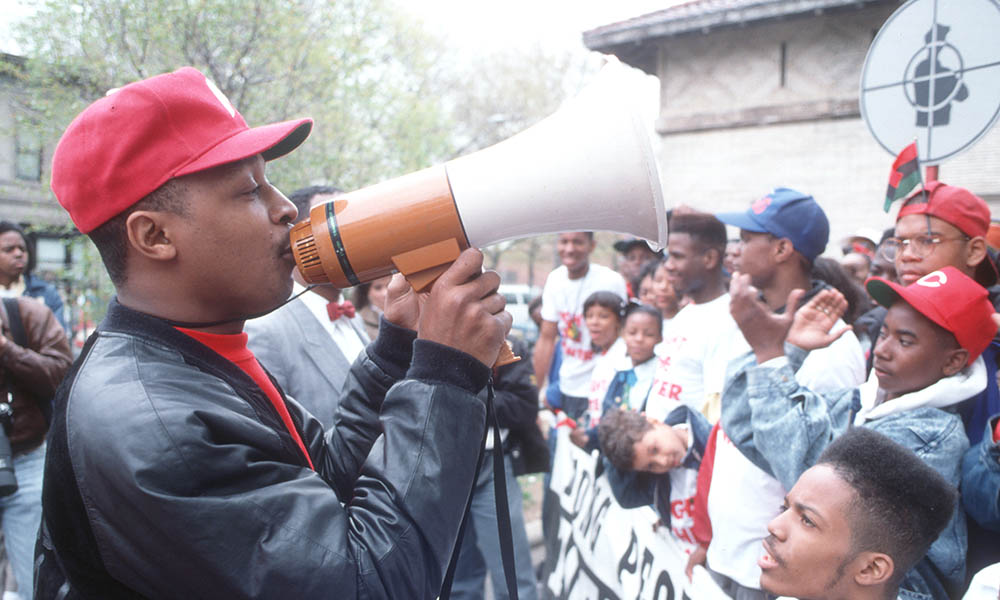 It was the summer of 1987. Public Enemy was on the Def Jam Tour alongside LL Cool J, Doug E. Fresh, Eric B. & Rakim, Stetsasonic, and Whodini. During those extensive rides on the tour bus, the blueprints for three classic albums were drafted — De La Soul's 3 Feet High and Rising, Stetsasonic's In Full Gear, and Public Enemy's It Takes A Nation Of Millions To Hold Us Back.
Chuck D, the legendary hip-hop group's mastermind, spent hours trying to figure out how to rap over the frenetic drums and abstract noises The Bomb Squad's Hank Shocklee injected into the single "Bring The Noise." Once he did, it was on.
Listen to Public Enemy's It Takes A Nation Of Millions To Hold Us Back now.
As Public Enemy's sophomore effort — and the follow-up to 1987's inaugural album Yo! Bum Rush The Show — It Takes A Nation Of Millions To Hold Us Back rocked the hip-hop landscape upon its 1988 release. With Chuck's brutally honest and politically charged lyrics, Flavor Flav's comedic relief, and The Bomb Squad's avant-garde approach to production, it became Public Enemy's most influential body of work.
In this interview, Chuck D reveals the unsung heroes of its production, how Marvin Gaye and Earth Wind & Fire played a role, and the story behind "Black Steel In The Hour Of Chaos."
Would you consider It Takes A Nation To Hold Us Back Public Enemy's magnum opus?
1986 was really when the rap album was official in the mainstream as being a legitimate format. Albums released before were more like compilations. Grandmaster Flash and the Furious Five and Run-DMC's first album were more like a collection of singles. Whodini was the first album in hip-hop that was kind of significant as being a mighty piece of work. Run-DMC's Raising Hell was really the album that broke that mold and that's my personal favorite album of all time. Then, you had the Beastie Boys' License To Ill.
By 1987 and '88, the major record companies finally got what they were looking for when they invested in hip-hop and rap. They didn't want to be in the singles market. Singles weren't enough for them. We were right there at the cusp of proving hip-hop was an album-oriented format. When we released that first album, we then knew what to do with our second album. After traveling the country and the world, we knew what an album was supposed to be like. I predicted in an interview that I wanted to make the record our What's Going On by Marvin Gaye.
Why did you feel that album was particularly important at that time?
We wanted to present an experience that was a bunch of different feelings all in one. One, we wanted to present what Run-DMC's Raising Hell was. We also wanted to present a record we could perform. We noticed when we did Yo! Bum Rush The Show, whenever a concert would happen, we would want to pick up the music on the turntable to join the hype of the crowd. We felt that recording wise it was one speed, so our BPM went up. We also wanted to present a live aspect. We were really influenced by the live Earth Wind & Fire album called Gratitude. It influenced It Takes A Nation when we finally had all our songs done. I had this tape of our live performances in London to intersperse within the album. That was the first album that was broken up. We used live excerpts from that point on. De La Soul had done it with skits, but we wanted to present an experience, so all of those elements went into it.
You hear that on the beginning of "Countdown To Armageddon." It starts with audio from a London concert.
We called it the 'London Invasion' when we went over there with the Def Jam Tour. We had the recordings to let people know that, 'Look, you might not be on to what we do, but we have a whole entire world on to what we do.' So, it takes a nation to hold us back.
That makes sense with the title then.
The album title was actually conceived from an interview from Now Magazine in Toronto, where they used it for the headline of their article. It comes from a line from a song that's on Yo! Bum Rush The Show called "Raise The Roof." Originally, the album was going to be called Countdown To Armageddon, but myself and Hank Shocklee, who was the other wall of noise, saw the interview together. We saw how long it was. It was so crazy long that it was actually kind of dope 'cause it stood out.
How did you market it?
Hank actually was working in a record store — he was the manager of Sam Goode up in Queens. One day he showed me Iron Maiden and he says, 'Yo these dudes are dope.' That stuck with us when it came down to marketing Public Enemy, like their titles and themes.
One of my favorite remixes you did was "Bring The Noise" with Anthrax. On It Takes A Nation, there a lot of metal samples in there. I know Rick Rubin did that with Beastie Boys and Run-DMC did that with Aerosmith, but did hardcore metal seem like a risk at all?
Nah, because we came from Long Island. We knew these sounds and we knew it worked. By 1986, we were masters of records. We had rooms of records. We understood groups, records, and sounds. We knew turntablism makes them all come to the forefront.
I read you tracked down a lot of the voice samples yourself.
That was my job. The scratching on the album comes from two DJs, Terminator X and Johnny Juice Rosado — the unacknowledged hero on the turntables on both Yo! Bum Rush The Show and It Takes It A Nation. Terminator X had a scratching style that was more of a funk rhythm and Johnny Juice was a sharp executioner. When we felt like certain scratches weren't going to work, Juice would knock them out.
I never realized it was a 2-for-1 deal.
That's one of the things that makes Juice upset because he feels his history is obscured.
At some point, you switched engineers when finishing the album. What happened there?
Hank felt like certain studios, in the beginning, didn't get what we were doing. Some engineers did not get it because a lot of the things broke the rules. Hank used Rick Rubin's connection and we started working with Steven Ett. He's another unacknowledged hero. He actually made "Public Enemy No. 1" work by cutting a two-inch tape and wrapping it around the room. He passed away years ago. But he is the unacknowledged hero on a lot of these sonic interventions. That was at Chung King Studios [in Manhattan], and Hank saw it was worthwhile to go back and use Rod Hui as an engineer. Run-DMC had abandoned Greene St. Studios and Rod Hui, who is also another unacknowledged hero. [laughs]
What role did Hank play throughout the album process?
Hank had the vision. He might not make the music with his hands, but he's the master of making it all work. His ears are no more evident than how he made it work in the mixes of all the noise. You gotta organize the noise and Hank organized the noise. He was able to teach Rod Hui how some of that noise was useful.
I remember Hank saying he had to match your voice because your voice is so powerful that he felt the music of It Takes A Nation really had to parallel your strength, your energy.
That was a combined effort of knowing that you can handle the speeds. It took me so long of getting everything down to be able to knock out "Bring The Noise" during the summer of '87 on the Def Jam Tour. We shared the bus with LL Cool J and Stetsasonic. Out of that bus ride came It Takes A Nation Of Millions To Hold Us Back, the developing of In Full Gear by Stetsasonic and also through Prince Paul, 3 Feet High and Rising, so you had three classic albums come out of one long tour on the bus in 1987.
Prince Paul has definitely never talked about that.
As he was contemplating ideas for De La Soul's beginnings, Daddy-O was putting together the album In Full Gear, which is just as good as It Takes A Nation. We had eight hours of trying to figure out "Bring The Noise" and how to rap over that. It was supposed to be for the movie Less Than Zero. Originally, we submitted "Don't Believe The Hype" for the film, but they thought it was too slow. Then, we recorded "Bring The Noise" in September and October of 1987. So when it came down to putting together "Rebel Without A Pause" and "Bring The Noise," it was the one time with had dispute with Rick. He wanted us to leave those two off It Takes A Nation Of Millions. We vehemently opposed it and we got our way, and they were two perfect fits on the A and the B side — or as we called them — the silver and the black side. Another trivia to the album is that the second side of It Takes A Nation was originally the first side, and first side was originally the second side. Hank flipped it.
One of the best lines from "Black Steel In The Hour Of Chaos" is "I got a letter from the government the other day / I opened and read it / It said they were suckers." How does that resonate today?
It does but the song was no surprise because it didn't come out of a fantasy. In 1967, I remember being at my grandmother's house and one of my uncles just got out of high school, and he was drafted from the Marines to go fight in Vietnam. He had gotten a letter and I was the kid who saw the look on his face as he dropped the letter. A military guy knocked on the door – and he'd just graduated so he's kind of celebrating like an 18-year-old would—he dropped the letter and disappeared. That was the letter that said my uncle had gotten drafted to Vietnam. He went from happy shit to, 'Oh shit.'
A lot of people tried to get out of it but you really couldn't because it was a serious deal. As a matter of fact, he got injured and got a Purple Heart that we'd put on our G.I. Joes [laughs]. That's what he thought about those medals. We were like, 'Oh wow you got a medal.' He was like, 'Yeah go fucking play. Get that shit up outta here.' It stuck with me, so yeah, "I got a letter from the government" — that's exactly what my uncle did.
Public Enemy - Black Steel In The Hour Of Chaos (Official Music Video)
And you describe the government as "suckas."
I can't stand most governments. I'm an artist. I'm like the world should be shared. I'm kinda like a hippie. I thought like a hippie, really. I'm a child of the '60s. But the thing about It Takes A Nation — we are all children of the '60s and '70s in spirit with music. That's what culminated in It Takes A Nation Of Millions To Hold Us Back in 1988. Remember, I graduated from high school in 1978, and Hank in 1976, so were able to bring to hip-hop a lot of things that people didn't realize we're already there.
Editor's note: This article was first published in 2018. We are re-publishing it today in celebration of the album's release anniversary. Listen to Public Enemy's It Takes A Nation Of Millions To Hold Us Back now.