'Dr. Octagonecologyst': Dr. Octagon's Avant Rap Masterpiece
With help from Dan The Automator and DJ QBert, this is Kool Keith's avant rap masterpiece.
In the spring of 1996, an interstellar gynecologist with dubious medical credentials docked on Earth and announced himself to polite hip-hop society. Going by the professional name Dr. Octagon, the deviant medic was an alias of Kool Keith, a maverick whose science-fiction-inspired lyrical abstractions sprang from his formative years as a lead force in the Ultramagnetic MCs during hip-hop's late 80s golden era. Backed by producer Dan The Automator's space opera soundscapes and embellished by turntable sorcerer DJ QBert's scratches, Dr. Octagonecologyst became one of hip-hop's finest exercises in exploring the creative potential of the persona.
"My skin is green and silver, forehead looking mean/ Astronauts get played, tough like the ukulele/ As I move in rockets, overriding levels/ Nothing's aware, same data, same system," raps Keith by way of introduction on the agenda-setting "Earth People." Backed by twisting lines of Automator's wormy synths, Keith proceeds to employ "supersonic bionic robot voodoo power" and practice a brand of mutant medicine that takes in non-typical conditions including moosebumps, rectal rebuilding, and a curious case of chimpanzee acne. (Naturally, at one point a horse gallivants through the hospital.)
Listen to Dr. Octagonecologyst now.
Presiding over the "church of the operating room," on "Blue Flowers" Dr. Octagon openly outlines a set of strange professional priorities: "With blood pouring down your mouth/ I come prepared with the white suit and stethoscope/ Listen to your heartbeat/ Delete! Beep, beep, beep/ Your insurance is high, but my price is cheap." Meanwhile, Automator's blend of rustling drums and a crawling violin line play the role of a particularly unnerving waiting room jingle. Fittingly, the song ends with Qbert's scratches revealing themselves to be a petrified human cry for help.
Kool Keith was already ready with a skewed turn of phrase, but Automator's production on Dr. Octagonecologyst animates the MC's lyrical eccentrics. Armed with nuclear LinnDrums and megasonic bass, Automator musters up a distinctly retro sci-fi atmosphere with grand sweeps of celestial synths and lonesome strings. Dr. Octagon's realm is futuristic, but it isn't slick – Keith's eccentric experiments take place in dimly lit operating rooms decorated with blood splatters and crusted bodily fluids.
In a hip-hop year that would ultimately be defined in mainstream pop culture by Jay-Z's hustler's playbook Reasonable Doubt, the pop ambitions of The Fugees' The Score, and 2Pac's personal All Eyez On Me, Kool Keith's Dr. Octagon was strictly outsider stuff. Appropriately, a version of the album was released in the United Kingdom on James Lavelle's influential trip-hop label Mo Wax, nodding to the album's leftfield appeal. But gleefully going against the grain has always been Kool Keith's motivation and the charm of his music – even if, in this case, it means listening to the details of a particularly grisly case of bees around the rectum.
Listen to Dr. Octagonecologyst now.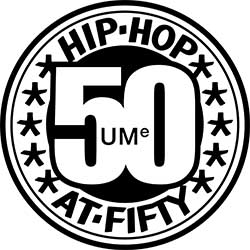 In celebration of hip-hop's 50th anniversary, uDiscover Music is publishing 50 album reviews throughout 2023 that highlight the breadth and depth of the genre. The Hip-Hop 50 logo was designed by Eric Haze, the mind behind iconic graphics for EPMD and LL Cool J.