Enrique Iglesias Facts: 10 Things You Didn't Know
From the most devoted fan to the newbie, these Enrique Iglesias facts should surprise anybody who thinks they know their 'Bailamos' from their 'Bailando.'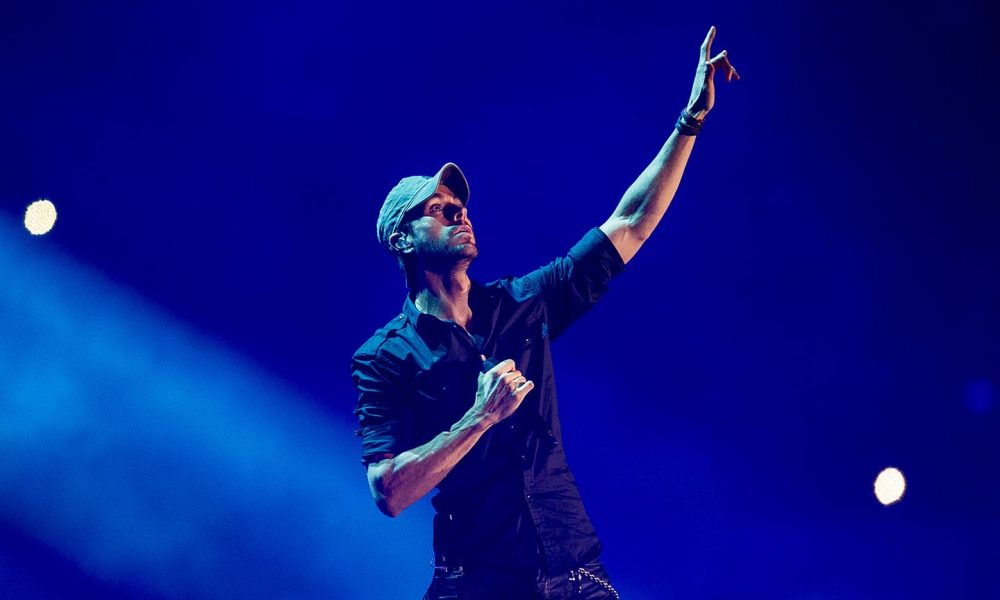 Enrique Iglesias has some of the most devoted fans in the world, but we're betting that even they won't know absolutely everything about the King Of Latin Pop. These ten Enrique Iglesias facts should surprise anybody who thinks they know their "Bailamos" from their "Bailando."
Listen to the best Enrique Iglesias songs on Apple Music and Spotify.
1: Whitney and Enrique recorded a song together without ever meeting
The celebrated duet "Could I Have This Kiss Forever," between soul super-diva Whitney Houston and Enrique Iglesias, reeks of sexual tension and claustrophobic desire. The recording process, however, couldn't have been more clinical, with both stars singing their parts in different continents for the original version of the cut, which appeared on Enrique's English-language debut album, Enrique. The pair did eventually meet when it was decided a more midtempo pace would suit the Diane Warren composition for single release in 2000, and a subsequent steamy video suggested that, despite the initial physical distance between them, the chemistry had been there right from the start.
Whitney Houston with Enrique Iglesias - Could I Have This Kiss Forever (Official HD Video)
2: He almost didn't record Bailando
When Cuban singer-songwriter Descemer Bueno cut the original version of "Bailando" with reggeaton duo Gente De Zona, they knew they had the makings of a major smash. The missing ingredient was an act with international appeal that could break the record worldwide. Enrique then almost turned his back on arguably the biggest hit of his career when he decided he didn't really get the song. Persuaded to give it a go, he liked his take after recording sessions for the Sex And Love album had concluded, and eventually decided it was his favorite cut on the collection. Good job, too – the track has been certified four-times platinum in the US alone!
3: Solo En Ti was originally a British synth-pop hit
What is the unlikely link between Enrique and synth-pop legends Erasure? His version of Vince Clarke's "Only You," which became the first hit for Vince after he left Depeche Mode at the end of 1981. Recorded under the name Yazoo, with vocalist Alison Moyet, "Only You" peaked at No.2 in 1982 and topped the UK charts the following year in a festive cover by The Flying Pickets. Enrique decided to record a Spanish-language version called "Solo En Ti" and it was picked as the second single from his second studio album, Vivir. It topped the US Latin charts and Enrique recorded the song again – this time in English – for a compilation issued in 1999.
4: His sex appeal got him in trouble with the Sri Lankan President
Enrique has never been coy about playing down his undoubted photogenic appeal, but he must have been surprised when a date on his Sex And Love tour landed him in trouble with the President of Sri Lanka. A few fans got a bit hot under the collar and threw their bras at the singer during a show in the country during 2015, eliciting a furious official reprimand. "This is most uncivilized behavior that goes against our culture," said President Maithripala Sirisena. "I don't advocate that these uncivilized women who removed their brassieres should be beaten with poisonous stingray tails, but those who organized such an event should be."
5: He still gets anxious before live performances
There's a reason why Pitbull has collaborated on so many of Enrique's biggest hits – the men really get on. "He's low-key and easygoing," the singer says. "We're just good friends." The pair hang out in their home city of Miami and have collaborated on two major tours: once in 2015 and then again two years later. Pitbull generally opens each show, but he appears onstage with Enrique for the 2010 mega-hit duet "I Like It." In 2018, Enrique started a solo greatest hits tour, which lasted almost 18 months with dates across the US, Europe, the Middle East, and South America. Despite his extensive live experience, Enrique admits he still gets anxious and sometimes has a shot of rum ahead of the show to calm his nerves.
6: He recorded an India Mix of Heartbeat
Whitney was Enrique's first collaborator, and he admits that she has proved hard to beat. "She was such an icon and it was incredible," he says. Nicole Scherzinger was on his record label and they recorded "Heartbeat" together, but did you know that a version for the Indian market was recorded with vocalist Sunidhi Chauhan? In 2003, Enrique recorded "To Love A Woman" with Lionel Richie, who is a personal friend. "I write the song and then I think about the collaboration," he said. "If I ever think about the collaboration before I write the song, I always jinx it and it never works out." It may have crossed his mind, but there's still no sign of a duet with his famous dad, though.
7: He put Howard Stern in his place
Right at the start of his career, Enrique squared up to US radio legend Howard Stern after the DJ shared footage of the Latin star miming on a broadcast where his vocals were off-key. He turned up at Stern's studio and performed "Rhythm Divine" and "Be With You" with just a guitar, forcing the shock-jock to admit the star really could sing. The confrontation earned Enrique acres of good press and established his credentials as one of the most exciting new pop acts of his generation. US fans rewarded Enrique with a No.1 song in "Be With You" soon after.
8: He has several acting credits to his name
Ongoing live commitments and a successful recording career don't leave much time for artistic left-turns, but Enrique has appeared on screen, too. In 2003 he took a part alongside Johnny Depp, Antonio Banderas, and Salma Hayek in the Robert Rodriguez movie Once Upon A Time In Mexico. Despite many offers, he has turned down the chance to take a judge's seat on one of the many music talent TV shows that are produced around the world, though he has appeared on plenty, as a performer.
9: There is a video for Sad Eyes… you just can't see it
The steamy video shot by David LaChapelle to promote "Sad Eyes" was considered too provocative for release when it was presented to Enrique's record label in early 2000. The Bruce Springsteen cover – Enrique is a big fan – had been picked as the fifth single from Enrique's English-language debut album but was reworked for release to radio. The track's Rodney Jerkins mix made the US club charts.
10: He has a special relationship with his fans
The Latin superstar is famous for his loyal fanbase and he works at hard at maintaining the rapport. He often invites fans onstage to share some personal time, but, in 2016, a close encounter at a date in Azerbaijan led to a lengthy interlude where a fan just wouldn't let go, causing security a few anxious moments until Enrique managed to gently prise her off! He dedicated his latest hits collection to his audience, telling Billboard that his 16-track Greatest Hits is his way of saying thank you. "Music has always been my passion and I am beyond grateful to be able to celebrate this collection with my fans," he said.
Looking for more? Discover the best Enrique Iglesias songs.