'Civilization Phaze III': Frank Zappa's Late Experimental Masterpiece
The album remains a fitting finale to a dazzling and uncompromising career, a masterwork that reveals new secrets with each listen.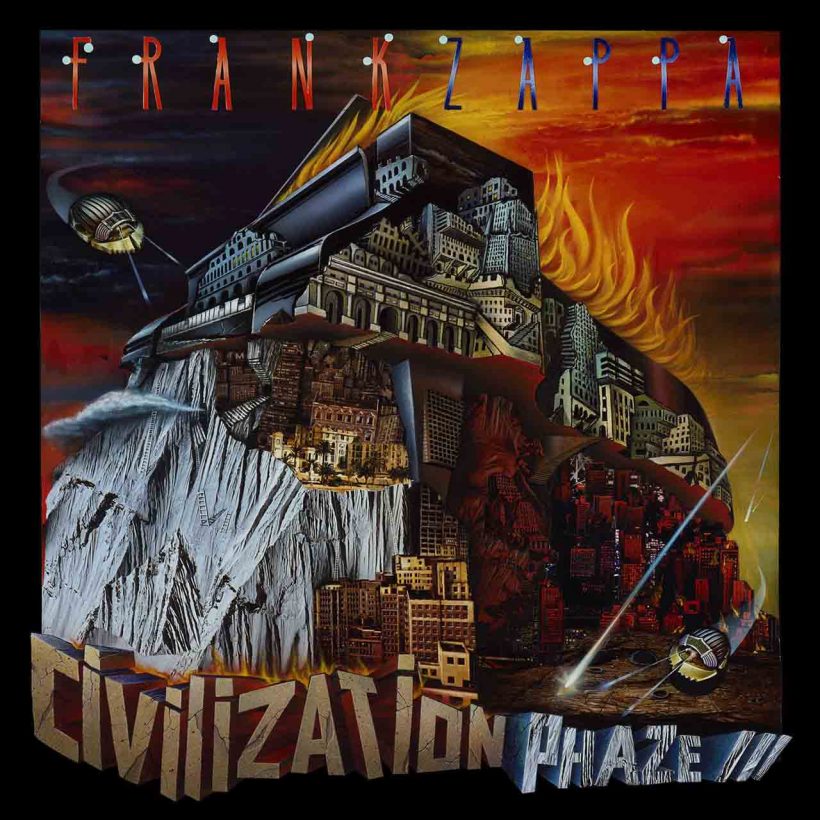 After being diagnosed with terminal prostate cancer in 1990, Frank Zappa did what he had always done. He devoted every possible minute to working on music. Released on October 31, 1994, Civilization Phaze III was one of the most important results of that work.
Unsurprisingly to those who had followed his career, Zappa's illness did not mellow him. Civilization Phaze III is a groundbreaking fusion of digital and orchestral music from a composer still intent on pushing boundaries. It's by no means an easy listen, but – as with so much of his work – music that initially sounds dense and incomprehensible reveals itself over multiple listens to become something uniquely rewarding. Across two discs, Zappa edited together snatches of surreal dialogue, painstakingly constructed electronic music, and improvisations from a chamber orchestra to create a mischievous, challenging, and exhilarating experience like no other.
Listen to Frank Zappa's Civilization Phaze III now.
At the time of release, Zappa's widow Gail saw Civilization Phaze III as a work that achieved closure. "I think it's very much about finishing his life," she told the Milwaukee Journal. "I would call this his masterwork. He said that after he finished this, he had nothing more to do. I asked him, 'Is there anything else you want to tell me about?' He said, 'No, I've done everything that I can.'"
Zappa took a pragmatic approach to work post-diagnosis, telling Playboy in 1993, "It's been the same for me since I got cancer as it was before… Once I've gone out there and dabbled on that fringe, I feel as if I may as well bring some artifacts back, in case anybody else is interested." But even Zappa was affected by the debilitating nature of the treatment, "Tomorrow I could be flat on my back in bed. So you get to be very time-budget conscious. Certain things are time-consuming and the time spent doing them is productive. Other things are time-consuming and it's like being hijacked. I have a low tolerance for wasting time. I try not to be irritable about it, but it's my main concern. I'm trying to live my life the same way that I lived it before, without indulging in any of the things that would waste time."
The origins of the project
Civilization Phaze III had been forming in Zappa's mind for some time. It had its roots in one of the most creatively fertile phases of Zappa's career – the four months of sessions in 1967 and 1968 at Apostolic Studios, New York during which he and the Mothers Of Invention worked on We're Only In It For The Money, Lumpy Gravy, Cruising With Ruben & The Jets and Uncle Meat. In the anything-goes spirit of the times, Zappa placed microphones in the studio's Steinway piano, covered it with a heavy drape, and put a sandbag on the piano's sustain pedal. He then invited anybody who was game (studio staff, curious members of other bands, Mothers) to put their head inside the piano and improvise dialogue based on prompts.
Some of this material was used on Lumpy Gravy, but much of it remained in Zappa's vaults. In a 1984 interview with the Berkeley, California, radio station KPFA, he revealed, "I'm building up another collection of found objects and I'm pretty sure that there is going to be a second installment of a Lumpy Gravy-type album, because… there's at least another hour's worth of dialogue of those people inside the piano, the missing elements of that story could be combined with these other things to make another real strange record."
In 1986, Zappa fans were teased with the imminent release of "Lumpy Gravy Phase III" in promotional material. And, in 1989, Zappa told Goldmine, "You'll be seeing, the beginning of this year, something called 'Phase Three', which takes all the missing dialogue parts of Lumpy Gravy and integrates them with all-new music, which will either be completely from the Synclavier or live from this [1988] tour, which is a mixture of an 11-piece band with Synclavier with audience, all of them fitting together to be in the same style of the original Lumpy Gravy album, but taking it to a level of technical perfection that was impossible at the time the first Lumpy came out."
A major factor in the delay was Zappa's quest for technical perfection. Technology was moving so quickly that he was constantly updating the Synclavier passages of the project to reflect these advances. Zappa was also using Sonic Solutions, a digital audio workstation, to work on the 1967 piano tapes. In pre-digital days, he would have found it extremely difficult to stitch together snatches of dialogue to create a convincing conversation. Using digital tools opened up new possibilities, as Zappa told Guitar Player in 1992, "You know how hard it is to edit any material that's ambient using a razor blade? You can't make it sound right. But thanks to the Sonic Solutions… people who were not even in the piano on the same day would talk back to each other in some strange conversation… It was truly a project that had to wait for technology to catch up and make it possible."
The album
While disc one of the set predominantly used the dialogue from 1967 and Zappa's solo Synclavier music, the second disc features new dialogue and a mix of Synclavier music and improvisations from the Ensemble Modern, a chamber orchestra that specializes in contemporary music. For the new dialogue, Zappa called upon a similarly disparate group (daughter Moon Unit, actor Michael Rapaport, the bass section of the Ensemble Modern) – this time talking inside the Bösendorfer piano at Zappa's Utility Muffin Research Kitchen home studio.
In his sleevenotes, Zappa described Civilization Phaze III as, "an opera-pantomime, with choreographed physical activity." It was originally intended to be performed onstage. Zappa's sleevenotes provide physical direction for each piece of music, along with the dialogue.
There is no clear narrative in Civilization Phase III. We are introduced to the "piano people" – a cast trapped inside a piano having placid and confused-sounding discussions about their situation and failing to understand one another. Throughout the album, the voices become agitated and desperate sounding. Zappa himself said, "Plot continuity is derived from a serial rotation of randomly chosen words, phrases, and concepts, including (but not limited to) motors, pigs, ponies, dark water, nationalism, smoke, music, beer, and various forms of personal isolation."
The music is similarly difficult to pin down. Composing on the Synclavier allowed Zappa to create ever-more intricate music. A case in point is disc one's "Amnerika," in which each successive note is played by a different synthetic "instrument" on the Synclavier, creating a disorientating effect. The 18-minute, six-movement piece "N-Lite" closes the first disc and is one of Zappa's most staggering achievements – he later said he worked on it for a decade and described it as a "frightening son-of-a-b***h." It's densely arranged, near impossible to digest on the first listen, and features a mind-boggling array of samples and textures, but it also features moments of rhapsodic beauty.
Disc two's highlight comes with "Beat The Reaper," which moves through passages of bucolic beauty, ominous discordance, cartoonish distorted voices, and orchestral magnificence as a thunderstorm is heard throughout the background. Zappa suggested in his directions that "the actions should illustrate the current fetish for life-extending or 'youthening' trends, including meditation, bizarre diets, pill and algae consumption, violent aerobics…" Even as mortality loomed over him, Zappa was as cynical as ever.
Also true to form: Civilization Phaze III's release was forward-thinking, direct-to-consumer marketing. Gail Zappa decided to initially sell it via mail-order only on Zappa's own Barking Pumpkin record label, explaining, "I'm doing it this way as an experiment, because I wanted to see who's really out there, and how much attention they're playing to the importance of having Frank's music in their lives… he gave this record to me. And [it is] of particular importance to me personally. I wanted to make it available to those people who are loyal fans of Frank in this country."
The album remains a fitting finale to a dazzling and uncompromising career, a masterwork that reveals new secrets with each listen. Even as his health was deteriorating, Zappa produced work that will always resonate with curious listeners prepared to be challenged and rewarded.