'We're Only In It For The Money': A Frank Zappa And The Mothers Of Invention Classic
This bleak and uncompromising portrait of the US in the late 60s was also packed with innovative ideas and unforgettable hooks.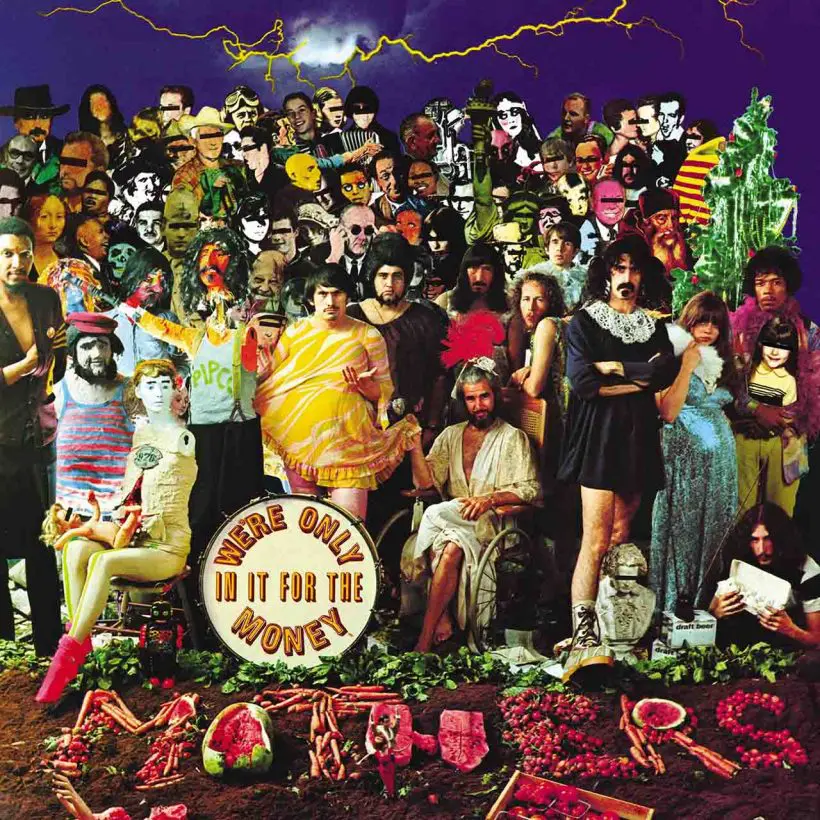 Let's begin with the cover. Frank Zappa knew exactly what he was doing by lampooning The Beatles' Sgt. Pepper's Lonely Hearts Club Band, released just seven months previously. While his previous album, Absolutely Free, had seen Zappa beginning to attack the counter-culture as well as the establishment, We're Only In It For The Money was a sustained and hilarious interrogation of hippiedom. And what better way was there to grab the world's attention than with a jab at the darlings of the pop world?
Ever the contrarian, not to mention an astute self-publicist, Zappa was aware of the fuss that the cover might cause. In an interview with Stereo Review from 1979, the composer looked back at the furor he'd caused, "If you stop and think about it, putting out an album like that would be a very courageous thing in the middle of hippie hysteria. I did two things that were definitely a no-no then. One, making fun of The Beatles, you couldn't do that; and two, I made fun of the hippies, and you couldn't do that either… Looking at it now, maybe it was an easy target. But you try it in 1967."
Listen to Frank Zappa and The Mothers Of Invention's We're Only In It For The Money now.
Zappa had a telephone conversation with Paul McCartney about the sleeve before Money was released, at which point the Beatle – who was known to be a fan of Zappa and the Mothers' debut album, Freak Out!, and later claimed to have no problem with the sleeve – suggested it was a subject for the acts' respective managements to discuss. Zappa publicly chastised McCartney for his reluctance to talk business and blamed record company politics for a delay in the album's release, despite it coming so soon after Sgt Pepper's.
Then there was that title. The very idea that an album as daring as We're Only In It For The Money was made with the sole intention of making Zappa and the Mothers filthy rich was preposterous. It begins in uncompromising fashion with the creeped-out ASMR of "Are You Hung Up?" (whispers courtesy of engineer Gary Kellgren) before bombarding the listener with a thrilling sound collage-like approach that lasts the duration of the album. It's packed with dramatic and unpredictable shifts of genre, spoken word, backward tapes, musique concrete, and (of course, this was Zappa) doo-wop. This was not an easy listen, it was complex and subversive. It was not made with radio hits in mind. Zappa pointed out the obvious sarcasm of the title in a 1972 interview with Down Beat Yearbook, "If we were only in it for the money, we'd be doing something else! I mean, to look at that cover and to see the people on that cover and say that these guys are only in it for the money… I thought that was the funniest thing we could have put together."
Zappa's lyrics sealed the deal. We're Only In It For The Money has a bleakness at its heart that its predecessors lacked, and he'd not return to often. This was most evident on "Concentration Moon," a melodramatic-sounding campfire singalong interrupted by a fab beat group passage and a deeply unsettling lyric. Zappa imagines a US in which the marginalized are taken to camps in buses, while the perspective shifts between hippies and cops. The song dealt explicitly with police brutality (as did the disconsolate psych ballad "Mom & Dad") and was based on real-life events, as Zappa explained to Studs Terkel in a 1968 Chicago radio interview, saying the song was, "A make-believe story about some very real concentration camps that the United States government built to house Japanese people during World War II… But the camps are still there. And it was a popular myth – let's hope it was a myth – among the hippies on the West coast that very soon, any dissatisfied, potentially nonconforming person in the United States is about to be rounded up by the government and stashed away in these camps." "Concentration Moon" is a tough listen today, even though the events of World War II are only a distant memory – back then, the war was relatively fresh in the collective psyche, and only an extremely brave and ferociously intelligent writer would dare go there. Frank Zappa, in other words.
Less foreboding but equally cutting were the near-constant digs on We're Only In It For The Money at what Zappa perceived as an inherent phoniness at the core of the hippie movement. "Who Needs The Peace Corps," "Absolutely Free," and "Flower Punk" are among the most potent putdowns of the tie-dye brigade. Speaking about the latter to David Reitman, Zappa was unrepentant, "I didn't really expect any group who was singing about flower power to believe in it. And that's the thing that was really bugging me about the whole thing, because the audience that was going along with the fad of flower power was being fed all this garbage and never stopped for a moment to question the integrity of the people who were whipping it on 'em. And when I made my statement of 'Flower Punk' I got cast in a negative light as being some sort of ghoul who wouldn't go along with the sweetness and light that was pervading the United States in 1967."
"Who Needs The Peace Cops?" was just as damning, sarcasm dripping from Zappa's voice as he sings, "Every town must have a place/Where phony hippies meet/Psychedelic dungeons/Popping up on every street/Go to San Francisco." Later in the song, Zappa pours scorn on how calculated and fashionable hippiedom had become, "First I'll buy some beads/And then perhaps a leather band to go around my head/Some feathers and bells/And a book of Indian lore… I will wander around barefoot/I will have a psychedelic gleam in my eye at all times."
Taken as a whole, the album is one of Zappa's most satisfying statements, a masterclass in composition, editing, and production with a lyrical sting in the tail. It was even added to the National Recording Registry of the Library of Congress in 2005. Next would come the audacious Lumpy Gravy, featuring music that Zappa later admitted he would have liked to have included in We're Only In It For The Money. After this, anything was possible.
Listen to Frank Zappa and The Mothers Of Invention's We're Only In It For The Money now.