How Aerosmith Reclaimed The Rock Crown With 'Get A Grip'
A reminder of why people started bands in the first place, Aerosmith caught the attention of a whole new generation with 'Get A Grip.'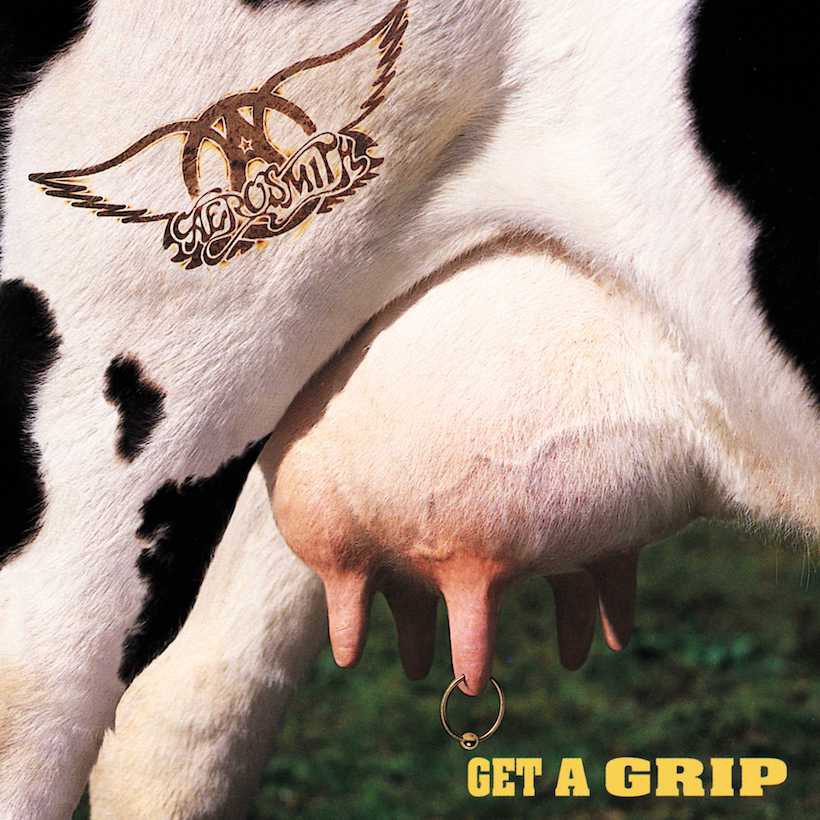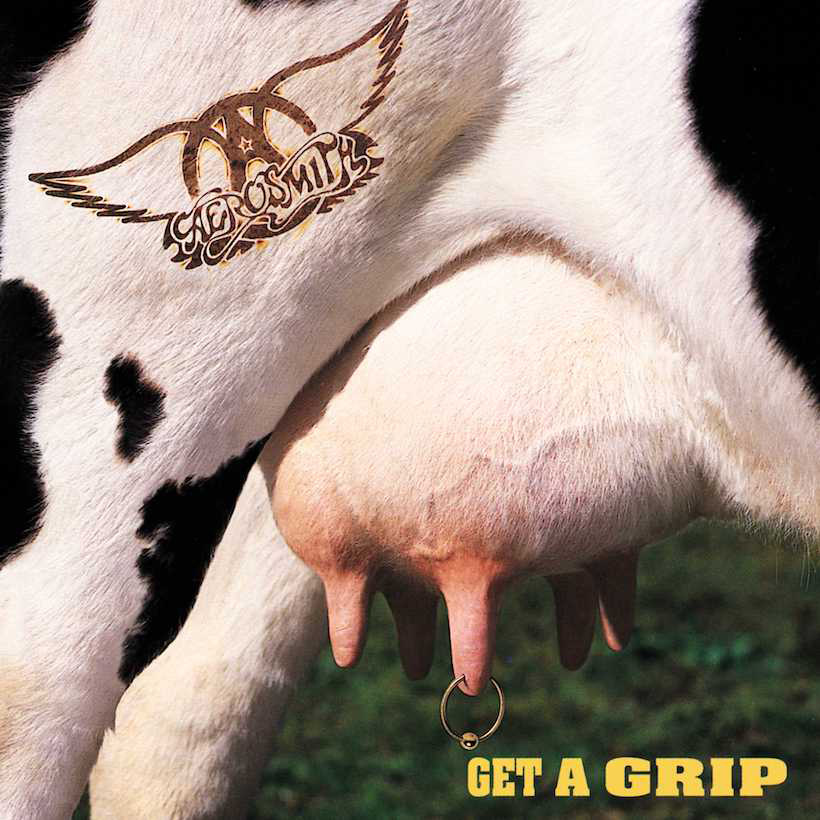 Everybody loves a comeback, and Aerosmith not only managed to survive the 70s but hit their commercial peak with their 11th studio album, Get A Grip, released 20 years into their career and amid the grunge-dominated landscape of 90s rock.
With its sneering cover of pierced cow udders (designed by prog-rock artist-in-residence Hugh Syme), Get A Grip was an injection of old-school arena rock excess that took over radio and MTV for most of 1993 and beyond.
Listen to Get A Grip on Apple Music and Spotify.
In the late 80s and throughout the 90s, Aerosmith experienced a mid-career renaissance that most stadium rock acts hoped for but rarely achieved. Sure, a legacy act can reassemble the original line-up and fill arenas, but they often rely on old hits, failing to add to their canon in a substantial or relevant way. Aerosmith escaped this cliché. By the end of the 70s, lead guitarist Joe Perry had left the band and rhythm guitarist Brad Whitford would soon follow. Even though Steven Tyler and company soldiered on, the magic and energy of early Aerosmith seemed to be gone. But the group would be back in their stride soon enough.
RUN DMC - Walk This Way (Official HD Video) ft. Aerosmith
While Perry and Whitford returned in 1984 to record Done With Mirrors, the band's second coming really bloomed with 1987's Permanent Vacation, buoyed by the massive success of the 1986 crossover remake of "Walk This Way" with hip-hop group Run-DMC. Permanent Vacation ushered in a renaissance that would continue with Pump and Get A Grip.
Released on April 20, 1993, Get A Grip is one of Aerosmith's most commercially successful albums; certified seven-times platinum, it is second only to Toys In The Attic – which was certified eight-times platinum. It topped the Billboard Top 200 albums chart and not only re-established Aerosmith as America's reigning hard rock band, it brought them global appeal. Out of the 10 million-plus people who purchased Get A Grip, nearly half of those sales came from outside the US. But the commercial success of the album is no fluke.
Musically, the album is classic Aerosmith: pounding backbeats from drummer Joey Kramer; basslines from Tom Hamilton, which range from bouncing and bubbly to galloping and growling; the interlocking guitar play of Joe Perry and Brad Whitford; and of course, the howls, screams, screeches of Steven Tyler.
RUN DMC - Walk This Way (Official HD Video) ft. Aerosmith
Thematically, however, the band continued to edge towards social commentary, as they had on songs such as Pump's "Janie's Got A Gun," specifically attempted to court an audience of political-leaning Gen Xers.
After an intro that includes a Steven Tyler rap (of sorts) and a quick "Walk This Way" tease, Get A Grip comes out all-guns-blazing on "Eat The Rich" – self-explanatory in its title and a song almost more relevant today than it was in 1993.
While the album's title track deals with the tolls of drug abuse, and the lead single, "Livin' On The Edge," tackles issues such as racism, religion, and politics, from a purely visceral standpoint, Get A Grip's success lies in a trio of power ballads, "Crazy," "Amazing" and "Cryin'," the latter of which features one of the most recognizable intros in pop history.
Aerosmith - Cryin' (Official Music Video)
Despite having come of age prior to the MTV era, Aerosmith inserted themselves into the 90s zeitgeist with some indelible music videos starring a young star named Alicia Silverstone, essentially creating a trifecta of short films for their three smash singles.
"Cryin'" and "Crazy" both appear towards the end of the album, but more than reward the listener with some larger-than-life vocal theatrics by Tyler, and Perry's blues-soaked fretwork. Even with their hard rock DNA, you can hear the band giving in to the heartstring-tugging country-pop ballad style that held court for much of the decade. (This also might explain why Get A Grip remains an ideal road trip record.)
Aerosmith - Crazy (Official Music Video)
Even though it's important to point out that Aerosmith brought in some big names to help with the writing (among them Tommy Shaw of Styx ("Shut Up And Dance"), Don Henley of Eagles ("Amazing") and Lenny Kravitz ("Line Up"), perhaps the best rocker on the record is one that Tyler and Perry wrote together. "Fever" has everything a good Aerosmith song needs: a driving rhythm, radio-ready harmonies, a catchy hook, and just a little bit of sleaze.
Get A Grip may be a departure from the Boston outfit's bluesier beginnings, but it served to remind a new generation just why people aspired to be rock stars in the first place.