How 'Oklahoma!' Birthed The Modern Musical
Rodgers and Hammerstein's pioneering musical 'Oklahoma!' paved the way for the modern musical and represented the golden era of Hollywood musicals.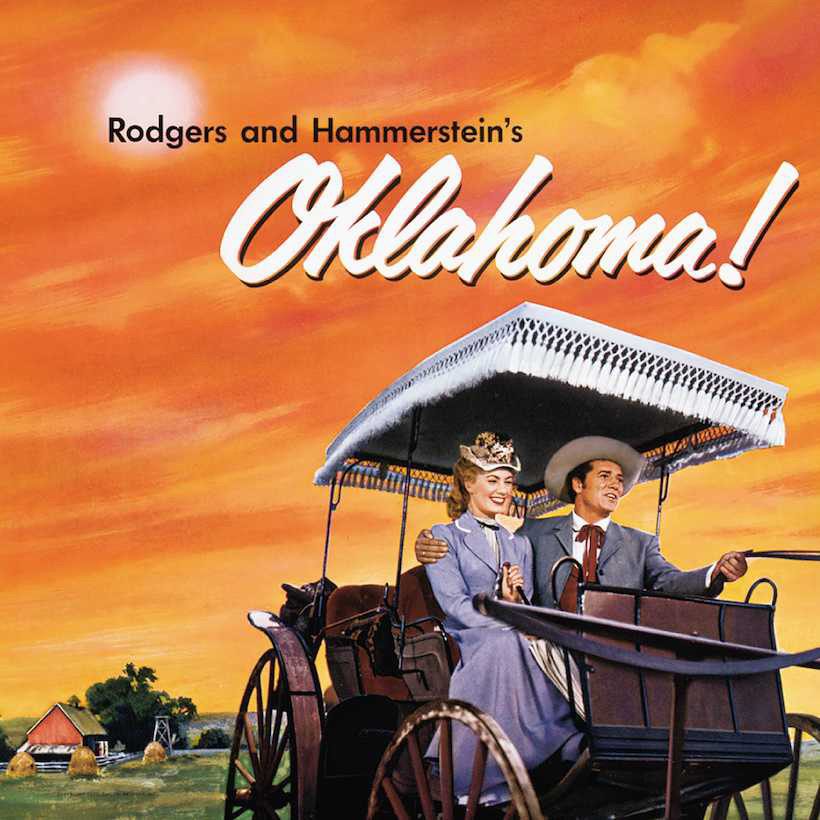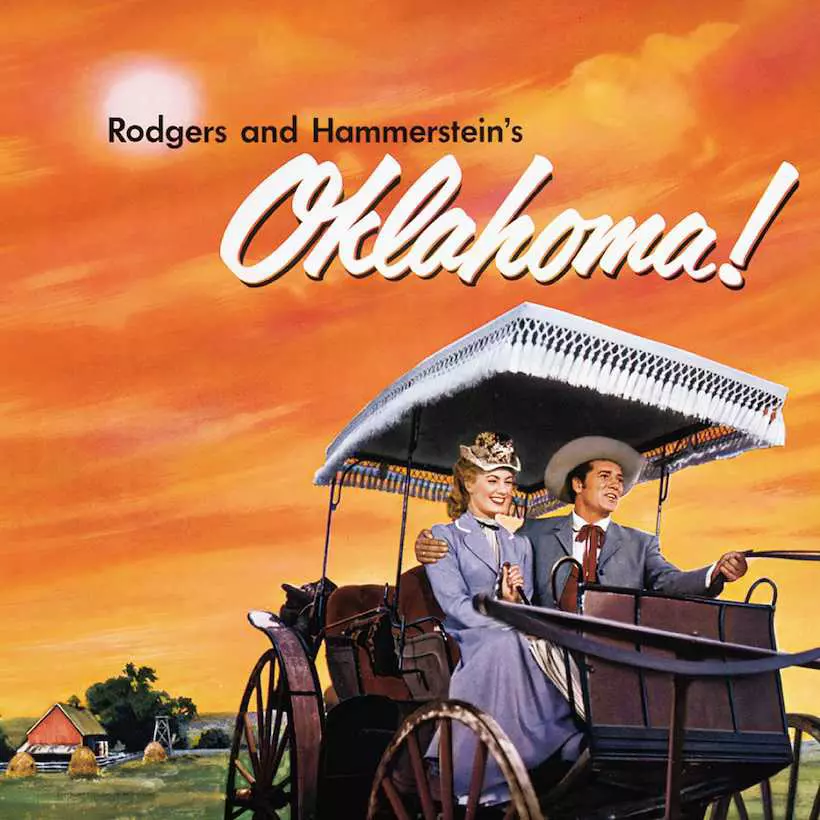 The history of musical theatre can be divided up thusly: there's pre-Oklahoma! and post-Oklahoma!, that's how influential this Rodgers and Hammerstein golden-era musical is. You didn't have to tread the boards of your local school production to recognize the opening lines of "Oh, What a Beautiful Mornin," in this timeless piece of musical Americana.
Listen to Oklahoma! right now.
Single-handedly revived the art form
But don't let the corn as high as an elephant's eye and fringed surreys trick you into thinking this is just some quaint piece of nostalgia about simple times and simpler people. Both the original Broadway 1943 production and the large-scale Hollywood adaptation in 1955 paint a much more complicated story of the American West that doesn't whitewash the darker undertones its Depression-era source material. How else do you explain a song like "Poor Jud Is Dead?"
Oklahoma! marked the first of nine Broadway shows written by composer Richard Rodgers and librettist Oscar Hammerstein II, who would go on to become the most successful team in musical theatre history and dominate the genre for the next two decades. It also single-handedly revived the art form, being the first stage production to seamlessly integrate themes, plot, and character into the score, and was the first musical to release an original cast recording.
The landmark stage production was an instant success and already studios were scrambling for film rights, but Rogers and Hammerstein wanted to wait until the show had finished its run, which led to an unprecedented stretch of 2,212 performances, national and international tours, countless revivals, and a film adaptation 12 years later.
Rodgers and Hammerstein: an institution
With the advent of Technicolor and new widescreen formats, (Oklahoma! would be the first film shot on Todd-AO 70mm), Rodgers and Hammerstein felt confident adapting the story to the big screen with wide-open theatrical sets at their disposal and full creative control as executive producers to cast talent that could actually sing. Songwriters rarely have so much clout over a film, but by the 1950s, the duo was practically an institution and their power over the production resulted in a faithful retelling of the stage show.
Based on Lynn Riggs' 1931 play, Green Grow the Lilacs, Oklahoma! is loosely a coming of age story set in the romanticized Western Frontier on the cusp of the Oklahoma territory joining the union. Like most musicals, the plot is more of a framework than a driving force and the songs revolve around the complicated romantic relationships of the farmers, cowboys, traveling salesmen, and other colorful characters that inhabit this rustic terrain. When it came to casting the leads, Rodgers and Hammerstein impressed upon their director that they wanted real singing talent and so some potential big names were excised from the talent pool including Paul Newman and James Dean for the role of the charismatic cowboy, Curly McLain.
Oklahoma ! Oh What a Beautiful Morning and More (HD 720p)
Instead, they enlisted stage and film star Gordon MacRae, mostly known for his on-screen pairings with Doris Day and whose clean-cut looks and rich baritone voice made him perfect for the role of Curly. As for the leading lady, Rodgers and Hammerstein brought in newcomer 19-year Shirley Jones to play the impassioned and naïve farm girl Laurey Jones. After being discovered during an open audition for South Pacific, Jones cut her teeth in various Rodgers and Hammerstein touring companies before she made her screen debut in Oklahoma!.
Unlikely casting
Their chemistry translated both on-screen and off, culminating in the beautiful duet, "People Will Say We're In Love," that later became a songbook standard with famous covers by Frank Sinatra and Bing Crosby. Jones and MacRae re-create this magic just one year after Oklahoma! in another Rodgers and Hammerstein musical film, Carousel in 1956. The two also shine on their own, with MacRae's voice floating above the ether in "Oh, What A Beautiful Mornin'" and "The Surrey With The Fringe On Top," while Jones is utterly enchanting on "Out Of My Dreams."
But not everyone in the cast was an experienced musical performer. Rod Steiger who played the menacing Jud Fry was a respected character actor who had just completed On The Waterfront along with fellow method actor Marlon Brando and created a much more complex villain than Hollywood musicals usually allowed. He also did all his own singing, appearing on the duet with MacRae, "Poor Jud Is Dead." However, the most unlikely casting was that of screen legend Gloria Grahame as the hilariously lascivious Ado Annie.
People Will Say We're In Love (From "Oklahoma!" Soundtrack)
Playing a country bumpkin was quite a turn for the former femme fatale and one of MGM's biggest bombshells. Director Fred Zinneman was dead set on casting Grahame, who brought a screwball comedic sense to her vocal delivery on one of the musical's most famous numbers "I Caint Say No," about a seemingly innocent farm girl who struggles with her more baser instincts. Rounding out the cast is the more traditionalist song and dance man Gene Nelson, a familiar face in 50s musicals and whose easy drawl brought the boyish, lassoing cowboy Will Parker to life.
Nelson gets plenty of screen time in the secondary romance arc with Ado Annie and a star-making turn in the song "Kansas City," joined by stage and screen veteran Charlotte Greenwood, who plays the wise-cracking matriarch Aunt Eller. The character had been created with Greenwood in mind back in 1943, but she couldn't accept the role due to a conflicting contract. Even with a decades-spanning career on stage and screen, the role of Aunt Eller would be the one she was best remembered for, thanks in part to her impressive high kicks in "The Farmer and the Cowman" at age 65.
A sumptuous score
Musical numbers aside, one can't talk about Oklahoma! without mentioning the sumptuous score. From the grand overture to the sweeping orchestrations throughout the film, conductor Jay Blackton and arranger Robert Russell Bennett (who worked on the original stage production) retained the impressive musicality of the original and translated it to the screen, resulting in a shared Oscar win for them both.
Released on Capitol Records in 1955, the soundtrack quickly hit No. 1 on the Billboard Pop Album Chart in 1956 and became the first album to be certified "gold" by the RIAA in 1958. Since then, it has sold over two million copies and remains continuous in print due to its unabated appeal. Even today, the Rodgers and Hammerstein office licenses 700 productions of Oklahoma! a year, that speaks volumes to just how influential this musical production has become.