'Rare Stamps Vol.1': A Special Delivery From JJ Barnes And Steve Mancha
'Rare Stamps Vol.1' found JJ Barnes and Steve Mancha taking the Detroit sound to Memphis for a series of great soul records.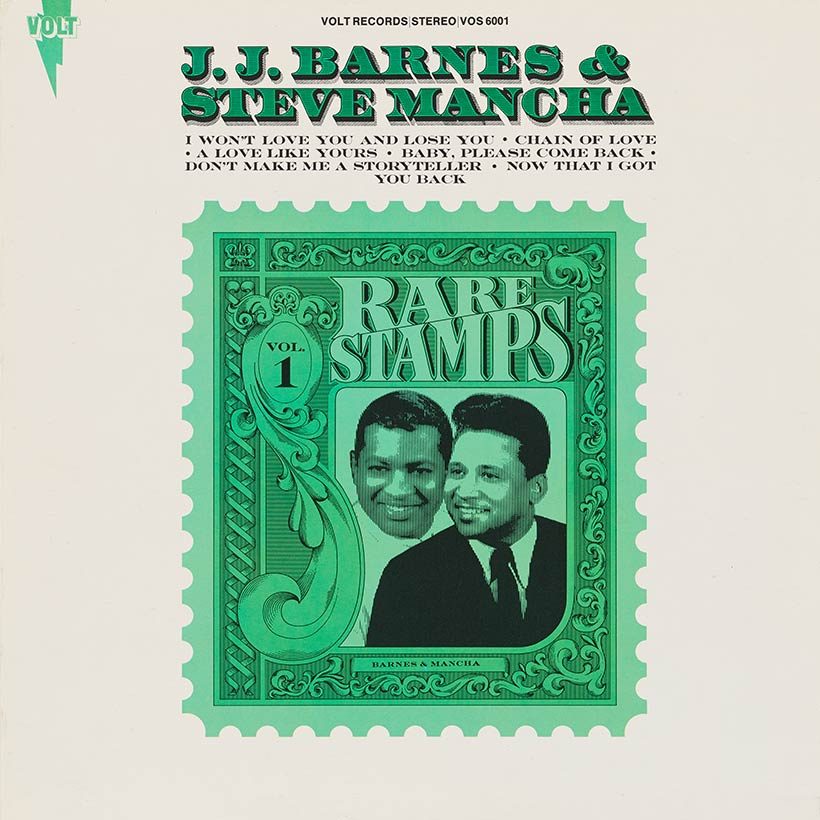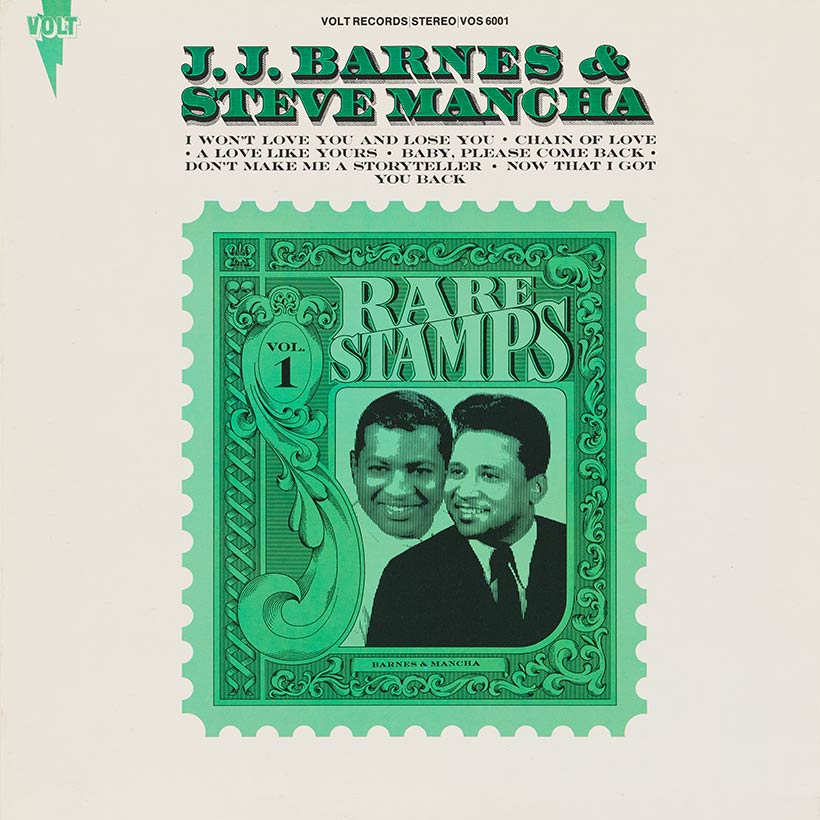 Rare Stampers Vol.1 might have been a better title, but the pun would not have worked. Back-to-back on one Stax album, one side each on the original 1969 vinyl, Rare Stamps Vol.1 matches two of Detroit's greatest soul voices, JJ Barnes and Steve Mancha – but Stax was a Southern label, right? What were they doing appearing on this Memphis citadel of soul? And why didn't either become stars? Both gained legendary status on the Northern soul scene, a sure sign that they didn't really break big during their prime, as many Northern fans prefer exclusive ear-ticklers to mass-market sounds. But it does not take much listening to Rare Stamps Vol.1 to learn that JJ Barnes and Steve Mancha had talent to match soul's superstars, even if they didn't get the breaks others enjoyed.
Listen to Rare Stamps Vol.1 right now.
Groovesville goes south
These two artists saw release on Stax when their producer, Don Davis, hitched his Groovesville production company and label to the Memphis corporation. Davis had been on the Detroit soul scene since the late 50s, and played on Motown sessions ( "Money (That's What I Want") by Barrett Strong, for example) before striking out as a producer. He cut a lot of records at United Sound Systems, Detroit's first proper recording facility, second only to Motown's Hitsville in the city's soul studio hierarchy.
Rare Stamps Vol.1 sounds Detroit; you'd never mistake it for a Memphis recording. This is one reason why fine sides such as Barnes' "Baby Please Come Back Home" didn't do as well as they might have when Stax issued them in the UK; DJs were probably nonplussed by this Motownesque material appearing on the label. The album also sounds earlier than its release date of May 1969, with Mancha's glorious tunes, in particular, sounding very mid-60s – which is when they were recorded. A further problem was that the world already had Marvin Gaye. Barnes' voice had an uncanny, entirely accidental resemblance to that of the Motown legend, and Mancha was also a tad Marv-like, as the wonderful "Don't Make Me A Story Teller" testifies (and, boy, does it testify). The odds were stacked against their success at Stax, then, but that doesn't make Rare Stamps Vol.1 any less, er, marvelous – and it means, unfortunately, that the album lives up to its title. These are great soul records that are collectors' items.
Don't Make Me A Storyteller
Top-quality 60s soul incarnate
Barnes' side is packed with thrillers. "Chains Of Love" is an awesome R&B groover fit to spin alongside any dancefloor-oriented Detroit smash of 1966-67. "Now That I Got You Back" has a bare and simple intro that offers few clues about the steadily-building majesty of the song proper. "Easy Living," which saw service as a UK B-side, has all the drama of a Norman Whitfield production, its striking piano, xylophone, and orchestral introduction more suggestive of a thriller-movie soundtrack, not a thrilling, moving soul track. "Sweet Sherry" became a Northern soul favorite, driving towards a chorus that's echoed on a thousand dancefloors. "Baby Please Come Back Home" has long since wrecked hearts and hips. This is top-quality 60s soul incarnate.
Steve Mancha gets six songs to confirm his credentials as a Detroit hero; one, the pleading "Keep The Faith" gave a credo to the entire Northern soul nation. "Don't Make Me A Story Teller" and the floating, heartfelt ballad "I Don't Wanna Lose You" made the US R&B charts in 1966 and '67; "Hate Yourself In The Morning," first issued as a 7" in 1968, is a smoldering tale of a man deceived; its original B-side, "A Love Like Yours," again has shades of Marvin Gaye in the vocal. The closing "Just Keep On Loving Me" is the most dated thing here, with a halting cha-cha-cha that's like soul '63 though it was first issued in '67.
Not only an album, but a resource
Rare Stamps Vol.1 didn't set the world on fire, but there's no doubting its soulful credibility. The label used the concept to release two further volumes, by Eddie Floyd and Johnnie Taylor. The latter is key to the release of Barnes and Mancha's edition: Stax brought Groovesville boss Don Davis to the label to enable it to keep up with developments in Detroit soul.
Davis delivered a smash with Taylor's "Who's Making Love," giving his catalogue considerable cachet at the Memphis company. Hence Barnes' and Mancha's Detroit thrillers receiving a release on an unlikely imprint. Two of the Mancha sides were covered on a further 1969 Stax album, Boy Meets Girl, with Taylor and Carla Thomas delivering a far more contemporary cut of "Just Keep On Loving Me," and Thomas and Eddie Floyd transforming "Don't Make Me A Story Teller." Rare Stamps Vol.1 was not only an album, then, it was a resource.
Barnes cut further fine records at the Perception, Contempo, Inferno, and Motorcity labels, but none delivered the breakthrough he deserved. Mancha became heavily entwined with the Hot Wax and Invictus labels owned by Holland-Dozier-Holland, singing with 100 Proof Aged In Soul and The 8th Day, and briefly worked with Parliament. Solo fame was never his, either. The best records of both singers, with just a handful missing, can be found right here, on their unlikely Memphis album.