'Buttons': The Story Behind The Pussycat Dolls' Ode To Burlesque
On their biggest hit since 'Don't Cha,' the girl group made a return to its racy roots.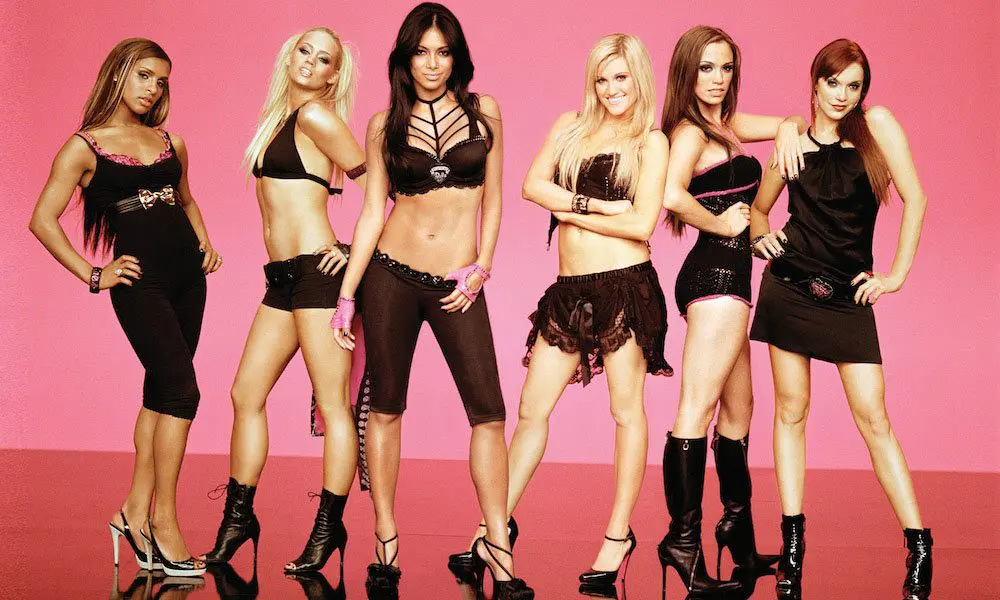 The Pussycat Dolls have never been your typical girl group. In 2003, the outfit arrived in a thriving pop scene that was moving on from a world-dominating boy band boom and had turned its head to powerhouse female vocalists.
The Dolls came out of the gate with "Sway," a cover of the big band hit "¿Quién será?" from Luis Demetrio. It was a fitting debut for a group that originally started as a burlesque dance troupe a decade earlier, but it did little to introduce the Dolls' transition into a recording act with staying power.
With the goal of reinvention, executives at Interscope Records had The Pussycat Dolls record "Don't Cha," the group's first and biggest hit to date, which teased: "Don't you wish your girlfriend was hot like me?" It was an early declaration that the six-piece could turn their sex appeal and self-confidence into classic pop hits.
Under the direction of Scherzinger, the group's lead vocalist and contributing songwriter, The Pussycat Dolls' fourth single "Buttons" checked all the boxes that "Don't Cha" did. It was sexy, assertive, and provocative – with a Middle Eastern-inspired rhythm and slick production that recalled the group's racy burlesque origins.
The Pussycat Dolls - Buttons (Official Music Video) ft. Snoop Dogg
When Interscope Records co-founder Jimmy Iovine first encountered the Pussycat Dolls, he had a clear vision of the group's future. "This could be Moulin Rouge meets the Spice Girls," Iovine told The Chicago Tribune in 2006.
Choreographer Robin Antin had been crafting the burlesque dance group since 1995, recruiting budding stars like Christina Aguilera and Gwen Stefani for special appearances at venues throughout West Hollywood. When Interscope jumped on board with Iovine's vision, along with executive Ron Fair, a lengthy audition process led them to Scherzinger, Roberts, Wyatt, Thornton, Bachar, and Sutta.
"Baby, can't you see / How these clothes are fitting on me / And the heat coming from this beat?" Scherzinger questions in the pre-chorus of "Buttons" before issuing a warning, backed by her fellow Pussycat Dolls: "I'm about to blow, I don't think you know / I'm telling you to loosen up my buttons, babe."
"Buttons" was a collaborative effort, with producers Jamal "Polow Da Don" Jones, Sean Garrett, Jason Perry, and Scherzinger in the writers room along with Jamal, Garrett, Ron Fair, Tal Herzberg and Young Smoke on production. But "Buttons" wasn't an immediate success. It spent 17 weeks on the chart before Snoop Dogg jumped on the track, propelling the single to No.3 on the Billboard Hot 100. It also became the third single from the group's 2005 debut album PCD to receive a platinum certification from the RIAA, joining "Don't Cha" and "Stickwitu."
The video
"It's really hot and it's really sexy," Bachar said on the set of the Francis Lawrence-directed "Buttons" music video. "It's pretty much an ode to where we've come from."
Snoop Dogg acts as the group's object of desire in the video, but they maintain their starpower with showstopping choreography. The video earned the Pussycat Dolls a nomination for Best Choreography and a win for Best Dance Video at the 2006 MTV Video Music Awards. Similar to a traditional burlesque routine, each woman vies for the camera's attention throughout the visual, but it lingers most on the group's default frontwoman.
With a group of this nature, synchronicity is always key, regardless of who is at the center. In one scene, the group makes its way through a wind tunnel, where they strip away their black corset ensembles mid-routine without missing a beat.
"We wanted to go back to the roots of the Dolls, go with the corset vibe, and have it be a little rawer and hotter," Scherzinger told the New York Post in 2006.
The reaction and legacy
At the time, the six-piece received backlash for the risqué nature of its performances, much like what has been historically thrown at other young women in pop and continues to happen even in the age of Cardi B and Megan Thee Stallion's "W.A.P."
"We were ahead of our time and now with the Cardi Bs and the Nicki Minajs, it's a completely different show, " said Scherzinger in a recent interview.
The Dolls would eventually disband in 2010, but a decade later, they reunited to release their comeback album React. While the Pussycat Dolls' seem a little more tame by today's standards, their unabashed sexuality and message of empowerment continues to resonate in today's pop landscape.
The Pussycat Dolls' "Buttons" appeared on NOW That's What I Call Music 23, alongside other hits like Nelly Furtado's "Promiscuous" featuring Timbaland.
Looking for more stories behind music's biggest hits? Check out the Now! That's What I Call Music page.