'It's The Best Album We've Made': Tears For Fears On 'The Tipping Point'
Their first album in 17 years, the much-anticipated new record is out now on Concord Records.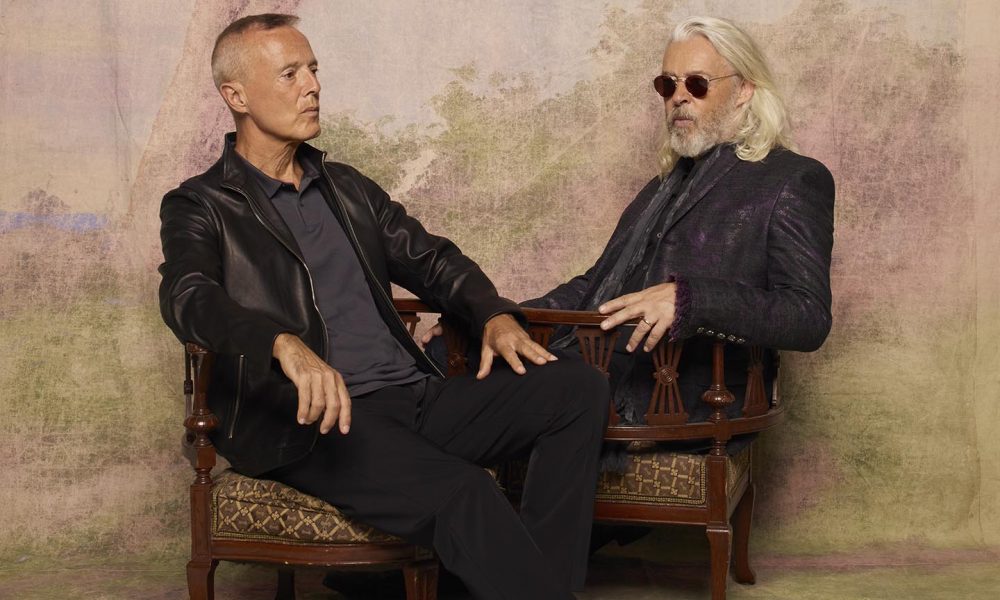 As a rule, rock and pop's most important groups tend to make their definitive artistic statements during their early days. Broadly speaking, that means they start with a widely-acclaimed debut to enhance their reputation and follow it with a monumentally successful, zeitgeist-surfing record which may well sustain them for the rest of their days. What most influential groups don't usually do is release their best album after 40 years – which is what Tears For Fears have just done with The Tipping Point – but then their co-founders Roland Orzabal and Curt Smith aren't typical of most pop stars. Then or now.
"I don't think we fit in with pop's current landscape, but then I don't think we ever did anyway," Smith tells uDiscover Music.
"I don't think it's important to fit in – it's important to stand out", he explains. "I think the best of our work has always stood that little bit apart. When [breakthrough hit] "Mad World" came out, that was different from most things out there, and then Songs From The Big Chair was big and anthemic and bombastic, which most people weren't really doing at that time. Then no-one expected us to follow that with The Seeds Of Love. So, for us, it's all about growing and doing something that's new and interesting to us."
Released on Friday (25 February) through Concord Records, The Tipping Point arrives with a sense of expectancy similar to that which greeted Tears For Fears' era-defining records during their halcyon days in the 1980s. Their acclaimed 1983 debut, The Hurting, yielded hits such as "Mad World" and "Change" and went gold, while multi-million-selling follow-up, Songs From The Big Chair (featuring signature smashes "Shout" and "Everybody Wants To Rule The World") was a watershed moment for the group and is now cited as one of that decade's key releases.
Songs of depth and melodic grace
Yet, The Tipping Point isn't dazzled by such stellar history. It comfortably lives up to the promise of its advance PR ("the bold, beautiful and powerful sound of Tears For Fears finding themselves all over again"), but while its ten songs have the depth, melodic grace and emotional impact fans have come to expect from this singular band, they also sound entirely contemporary.
"That's the weird thing, in that we originally set out to make a very modern-sounding record, but then we ditched it – but maybe we still absorbed some of that along the way", Smith suggests.
"It is very modern-sounding in that we used modern technology and recording techniques in the way we always have", Orzabal adds. "We've always kept in touch with the way technology has evolved since the 1980s, but the big leap we've achieved is that it's very organic-sounding – there's a lot of warmth and feeling in the record."
To Orzabal and Smith's credit, they make the creation of perfect pop sound effortless on The Tipping Point. In reality, though, their journey to completing the record was often fraught with difficulty. Indeed, there are a myriad reasons why it's taken them 17 years to finally release the official follow-up to 2004's Everybody Loves A Happy Ending.
"Completing [the record's opening song] "No Small Thing" was pivotal, because by that point we had effectively scrapped most of an album we'd already finished", Smith reveals. "We'd gone back over all the material and agreed that there were only five songs we wanted to keep."
"So then we had to start afresh and it was Roland's idea that we try and do a writing session with just the two of us on acoustic guitars, in my house in L.A", he adds. "No Small Thing" came from that and I always felt it should be the opening track, because – in the same way we were talking about trying not to fit in – it's not what you might expect from us. You know, the first thing you hear is this stripped-back, folk-y, acoustic guitar driven track, which will probably surprise quite a few people, so I think that immediately invites the listener in."
'Doing this can take its toll emotionally'
Elsewhere, the album's emotive titular song and the equally heartfelt "Please Be Happy" were inspired by a personal tipping point in Orzabal's own life. The guitarist and singer's wife, Caroline, lost her long-standing battle with alcohol-related dementia during 2017 and both these songs eloquently reflect the pain Orzabal himself suffered during the five years he endured as her carer during her life's final phase.
Tears For Fears have never shied away from wearing their hearts on their sleeves, but are there times when they feel they might be baring their souls a little too much in writing such cathartic songs?
"Yes, definitely, because by doing so, you are expressing your vulnerability and you're leaving yourself wide open to constantly refueling those feelings", Orzabal replies. "So occasionally, you get these little breakdowns. Like last night, we were doing a Q&A session and it just became too emotional for me. In fact, my wife was actually very good at dealing with this kind of thing. She taught me a lot of things about self-regulation when it comes to exposing my feelings."
"But certainly when you experience that sort of loss, there is a deep well of grief, which almost seems to be bottomless", he furthers. "My grief went into some of the songs, of course, because you need to share those feelings with people. I mean, it's also one of the many reasons Curt and I step away from doing Tears For Fears – sometimes for years at a time – because doing this can take its toll emotionally."
There were also business-related issues to overcome in making the record. In its initial incarnation, The Tipping Point was to be made in committee by the duo with some top present day songwriters, at the behest of Tears For Fears' previous management.
"We were forcibly made to open up the writing process to other people, the idea being – as Curt says – to drag us kicking and screaming into the modern world of pop", Orzabal says. "We found ourselves in rooms with strangers, who were listening to our back catalog and all the hits and were trying to recreate them in some form. Eventually, that pressure and tension divided us not just from our management, but from one another too."
'We've been able to nurture everyone's talents in the band'
However, after the band changed representation, and their new team were hugely enthused about the five tracks that the duo agreed should feature on the new album, Orzabal and Smith felt encouraged and they ended up writing some of The Tipping Point's best songs with members of their current live band.
"[Guitarist] Charlton Pettus, who previously worked on Everybody Loves A Happy Ending with us, was instrumental to [the song] "The Tipping Point" and "Long, Long, Long Time", Orzabal explains.
"Also, our keyboard player, Doug Petty, came up with the backing track for "Rivers Of Mercy." So I'm very happy with it because we've ended up with something which is immense, you know. We've been able to nurture everyone's talents and it's been great for Curt and myself too, because it's been ages – decades, maybe – since we previously sat down together with acoustic guitars. That's all been really positive."
"I would also say that, without question, the friendship between the two of us is much stronger these days", Smith adds. "We'd be the first to admit that we have times when it doesn't work so well, but we've also learnt that it's important for us both to have some space from one another."
Perhaps strangely, the one thing which failed to impact on the making of The Tipping Point was the COVID-19 pandemic. The ripples from that have spread to people all over the world, yet it barely affected the way Orzabal, Smith and their team worked.
"Well, we don't go to work on a daily nine-to-five basis, so we're lucky we had the flexibility to work around that", Orzabal offers. "But the pandemic has definitely had a psychological impact on society in general."
Smith adds, "It's nature's way of telling you to take a breath."
"Yes," Orzabal agrees, "But it triggers something inside you, I think because there's been a collective experience with the pandemic. Almost everyone in the world has experienced that stuff for the first time, so it was quite unique in a global sense. Because, like anything where you have to sort of knuckle down and batten the hatches – like getting on with life when your wife dies – then all that psychological stuff moves around under the surface, like some kind of dinosaur in the ocean. When the time's right, it surfaces, and it's partly the role of the artist to express the stuff that's been moving around in those murky waters."
One song from The Tipping Point which certainly plumbs these deep fathoms is "Break The Man." Superficially, it's one of the album's most sparkling pop songs, though its overarching anti-patriarchal message seems especially fitting at a time when issues including the #Me Too movement and salacious stories involving high-profile figures such as the UK's Prince Andrew are frequently in the news.
"I think the gender balance in society has at least improved, though whether it's improved enough yet is a question we can't answer", Smith reflects. "I mean, if you look back on our career, [1989 hit] "Woman In Chains" was about the abuse of women, so at least we're maybe getting beyond that to a degree and looking towards equality and parity, but there's still a long way to go.
"Certainly, being the father of two daughters, I want them to grow up with an equal voice to every man", he adds. "In the music industry alone, there are still so many areas where men tend to be more dominant. My eldest daughter is at music school in New York and, for example, you still get the feeling that most producers and recording engineers are still predominantly men, and there's no reason for that to be the case today."
An album that's timeless and contemporary
What undoubtedly is the case, though, is that with The Tipping Point, Tears For Fears have returned with a resonant new album that's both timeless and contemporary-sounding. It's a record that's surely destined to feature in numerous end of year 'Best Album' lists and the idea of Curt Smith and Roland Orzabal reclaiming their place as the thinking man and woman's favourite pop stars is by no means beyond the realm of possibility.
They're supporting the album's release with extensive tours of both the US and UK during the summer of 2022 and right now, it seems like the future is something Tears For Fears have every right to embrace.
"I honestly think this is the best album we've ever made", Smith asserts. "Neither of us wanted to finish the record thinking whether we could have done this or that better, and I think we've created something really consistent. Also, as lyrically deep as it is, it also leaves you with a feeling of optimism, which is really important."
"We're also really looking forward to touring", Orzabal adds. "We've already done some TV shows in America and we've gone into full rehearsals with the band. We've been playing "The Tipping Point", "No Small Thing" and "Break The Man", the three songs that have trailed the album, in the live set, and they fit in beautifully with our older music. It's an absolute joy to perform them, so I think going out to play shows is going to be a lot of fun."