'Empty Glass': How Pete Townshend Staked His Claim to Solo Fame
Pete Townshend's solo debut album established The Who guitarist as a major figure unbeholden to his bandmates.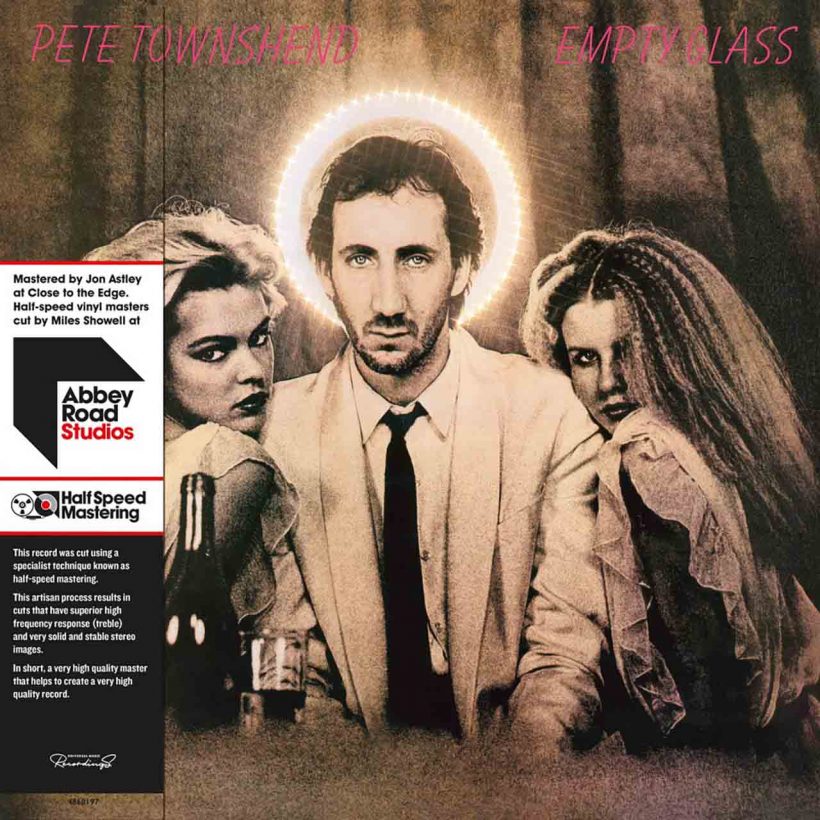 At the end of the 70s, when Pete Townshend started working on his proper solo debut, The Who was in a tight spot, and he was in a worse one. In the wake of Keith Moon's tragic death in 1978, The Who was struggling to soldier on. But between the loss of the larger-than-life presence who had driven them forward and the massive sea change in the British rock scene brought about by punk, they were having a rough go of it.
"What I should have done was left the Who and done a solo album," Townshend told MOJO's Alan Light in 2015, "and instead I signed a solo contract and – feeling co-dependency or grief or something – I signed an equally taxing contract with The Who. So I had double the amount to write."
Order Pete Townshend's Empty Glass on vinyl now.
Whatever it took to make it happen, Townshend did pretty damn good at both. The Who's Face Dances, while bolstered by a couple of killer John Entwistle compositions, helped forge a new identity for the band upon its 1981 release. And 1980's Empty Glass – his solo debut album – established Townshend as a major figure unbeholden to his bandmates.
Commercially, Empty Glass fared slightly better than Face Dances in the US (though both went Platinum), with "Let My Love Open the Door" becoming a Top 10 hit and several other tracks being slathered all over American rock radio. The romantic effervescence and hooky pop appeal of the aforementioned single remains impossible to deny, with Pete at his warmest lyrically. The track achieved an ideal blend of old-school Who-isms and New Wave energy. (Speaking of New Wave, this appears to be the first album on which future Big Country rhythm section Tony Butler and Mark Brzezicki played together).
Let My Love Open The Door
"Rough Boys," probably the album's second best-known song, is a flame-spitting rocker, with Townshend wringing some startling tones from his guitar synth. The song was apparently at least partially inspired by the spirit of the Sex Pistols and the first-gen UK punk coterie. But ultimately, it's a sendup of male machismo, with Townshend taunting the hooligans of the title, "I want to bite and kiss you," poking toxic masculinity right in the homophobia.
The title track, meanwhile, has all the hallmarks of a Who classic. "It's only in desperation that you become spiritually open," Townshend told NME's Charles Shaar Murray in 1980 about the song's message. "You hold up an empty glass and say, 'Right. If you're there, fill it.'"
"Gonna Get Ya" is an unvarnished lust song sans subtext. It was never released as a single, but it was all over the radio. Given the barnstorming riffs and boot-stomping beat that feel like the tune's true raison d'etre, it's easy to understand its ubiquity.
On the spiritual side, "A Little Is Enough" was inspired by the ideas of the late Meher Baba, whose teachings profoundly influenced Townshend (he's half the namesake for The Who's "Baba O'Riley"). Pete exults in the idea that any amount of love is the right amount, atop a joyful fountain of guitar and synth lines.
In their initial run, The Who would release only one more album after Face Dances, while Empty Glass was the auspicious start of a solo career that had no shortage of triumphs still to come.